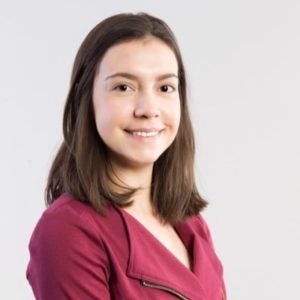 At Jobvite, our company culture creates a wonderful learning environment. We pride ourselves on having a workplace that's fun and engaging, and a smart and motivated team that loves coming to work every day and making the magic happen. Recently, we looked at our Marketing Intern, Casey Astiz. Today, our Employee Spotlight series showcases Abigail Montalvo, who worked as a Jobvite Engage Intern.
Q: What led you to intern at Jobvite this summer?
When I was first invited to be an intern at Jobvite this summer, I wasn't sure what to expect. Even after a fantastic interview and a little bit of background research on the company, I wasn't exactly sure what Jobvite does. All I knew was that I was intrigued by a very simple question, "How do companies attract talent or customers?"
Now, my interest in this question could easily have landed me an internship at a marketing or media firm (I was offered a position at one), but Jobvite stood out because they tackle the important task of helping companies attract people to come work for them. While hiring people and selling products to people are two entirely different facets of business, both involve marketing strategies. In both cases, the company has to "sell itself" to the prospect, and make itself known to a potential hire or customer. My work this summer revolved around this central principle, particularly in the form of social media.
Q: How important is social media in recruiting?
Unknown to many, social media plays a critical role in talent acquisition. From millennials to baby boomers, more and more people are active on various social media platforms, including Twitter, Facebook, and LinkedIn. Via Jobvite's Engage feature, companies and recruiters can tap into this population, share open positions, and establish company character. (Read more about Engage here.)
Q: What projects did you complete during your internship?
My primary project this summer was to analyze Engage customers and document their Twitter presence. After lots of Twitter scrolling and Excel data entry, I found that while some companies seemed to have success on Twitter via Engage, others had less. With two companies utilizing the same software, there should be no disparity, so what was occurring?
Filmmakers, writers, artists, and other creators all agree that "Content is King." This idea extends beyond the world of art and applies to online recruiting as well. Simply, a tweet that reads "We have an open position for an IT Specialist," will get much less attention than a tweet like the ones below:
Q: What have you learned from the internship?
What I've learned from this internship is that in order for companies to have success via Engage online, posts must be relevant, utilize an abundance of hashtags, and be creative. At the end of the day, marketing a product to customers and marketing your company to a potential hire involves the same process. Engage is the tool to ease that process and bridge the gap between companies and online talent. (Read success stories here.)
Overall, I want to thank Jobvite for an incredible summer experience. Also, a special thanks to Andre Boulais for being so welcoming and passionate about Engage.  #Eat #Sleep #Recruit!