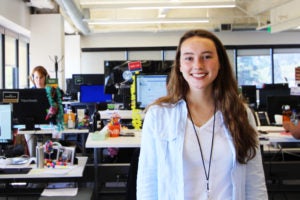 At Jobvite, our company culture creates a wonderful learning environment. We pride ourselves on having a workplace that's fun and engaging, and a smart and motivated team that loves coming to work every day and making the magic happen. Today, our Employee Spotlight series showcases Casey Astiz, who has worked as a Business Management Intern at Jobvite, and is currently a Marketing Intern. Her story highlights the growth a Jobviter experiences in as little as one year.
What drew you to Jobvite originally? And how has Jobvite changed since?
Growing up in Silicon Valley, I was exposed to tech companies and startups from a young age. While I looked for my first job, my interest shifted to tech companies because I wanted to find out what all the hubbub was about. I landed on Jobvite, finding all the quirks and progressive elements of the office to be exciting. Of my friends working at internships all over the country, only one other friend works at an office with no cubicles and snacks! I started working at Jobvite in the Fall of 2015 until January 2016, and came back for a second internship in June and I've found that nothing has changed– Jobvite is still an open community, like a family.
What are 3 words to describe Jobvite?
Friendly, Innovative, Fun
What do you find the most challenging about your role?
In my first internship, I found it challenging to enter the workforce. I'd never worked at a company before, and I quickly gained responsibility in most of the departments.
In my second internship, the challenge shifted to learning Salesforce and getting up to speed with Marketing operations.
What do you like most about your role?
I like how, in both of my internships, I was given responsibility and ownership over projects from start to finish. My managers were not shy about giving me work that helped me learn and grow into a viable member of the workforce. No one ever told me that I couldn't work on a project if I asked to be on it, and that has really let me explore my interests.
How has Jobvite helped you in your career development?
Jobvite has been extremely helpful in my career development — after all —  we do sell recruiting software. I've learned how business actually function, and where I fit in the overall organization. In addition to giving me almost a year of work experience by 19 years old, I also know I have people at Jobvite I can fall back on and ask for advice and help as my career progresses.
What has been your favorite project at Jobvite?
I've done a lot of projects at Jobvite, but I have to say planning our annual Sales Kick Off two years in a row has been one of my favorites. In my first internship, I helped with the flight and transport logistics, and worked on the final push the months leading up to the event. This year, I am working with my manager, and have been given free reign to research venues and explore our potential offers. Through this event, I've learned how sales and marketing interact, how to budget for a large event, and how to plan logistics for a large group.
What have you gained from working at Jobvite? 
Not only have I gained a lot of knowledge and experience, but I've also gained a lot of friends and good memories working at Jobvite. It's going to be hard to find another job like this one.
What is your proudest moment at Jobvite?
I'm not sure if I've had one specific moment, but in my first internship, I felt the most proud whenever I finished a project that helped or pertained to a lot of people. In my current internship, I've felt the most proud when my coworkers come to me for help with Salesforce, showing that I've mastered the tool in my short time here.
How do you balance your career and your personal life?
As an intern, I've found that my managers have done a good job making sure I'm not so bogged down with work that I have no personal life. Luckily, most of my friends are also working full time, so we carve out time on the weekends to go on trips and spend time together.
What did you want to be when you were a child?
I wanted to be a teacher or a lawyer. Seeing as I'm still in school, I may still choose to take either of those paths; however, I've gotten into computer science and look to explore jobs in engineering.
How have the skills you learned at school applied at Jobvite?
The main skills I've learned at school that directly apply to my work at Jobvite have been time management, public speaking, and general problem solving. As an economics major, I have also been able to connect the concepts I'm learning in class with the work I'm doing at Jobvite as a marketing intern.
How you were able to gain new skills, the opportunity to intern at different departments?
Working as a Business Management intern in the G&A department, I learned everything from event planning to problem solving. G&A is the department that handles all the problems and issues that most people think, "Huh, I wonder how this all happens." It's the G&A team. I was lucky enough to work under Veena Padmanabhan, who really took me under her wing and gave me opportunities to grow.

Conversely, as a Marketing Intern, my work is much more focused. I've been working mainly in Demand Generation, under Rob Crossley. He has taught me everything I know about marketing, and really shown me the ropes. The knowledge and skills I learned have given me the chance to work in other marketing realms, and also have some great take-aways for jobs in the future.