For all of us at Jobvite, the people are just as important as the work. We pride ourselves on hiring smart, respectful, kind and fun employees to fill our ranks—especially because we're such a collaborative workplace. Sudeep Patil, Senior Technical Lead at Jobvite, is one of those people. After spending years working in our India office, he moved to the United States to take a desk at headquarters—where he's helped build products that make life and work easier for our customers. Plus, thanks to Jobvite, he got pretty lucky in his personal life too. Meet Sudeep, our most recent "Employee of the Quarter."
Q: What is your day to day like as a Senior Technical Lead?
My focus is always to make Jobvite products simple to use for our customers. I work on the design and implementation of features in our product suite. There is no typical day but each one generally involves design, review and brainstorming sessions with architects and dev-ops; discussions with product and QA; and planning and rollout of features. I am currently working on our new search functionality.
Q: What drew you to Jobvite originally? How has Jobvite changed since you joined?
Before Jobvite, I worked on projects at larger companies where the scope of my work was limited, so I wanted to try a startup. I was referred to Jobvite by a former colleague who shared more about the work and opportunities at Jobvite. It was then that I became excited to join the team.
Q: What do you like most about your role?
Since I started, I have worked on many different projects—Smart Scheduler, Emails, Security and Search—and each came with their own set of challenges and learnings. That's the best part about my job.
I also get to collaborate with different departments—dev-operations, product, customer success, sales and customers. I especially enjoy learning about different ways to optimize Jobvite technology and products to meet our customers' needs. If I look at my professional growth, the learning curve has been great—architecture, design, frameworks, coding and communication, just to mention a few.
Q: What do you find challenging about your role?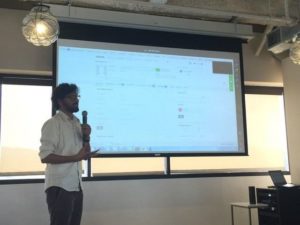 Building cloud-based enterprise software with a rapidly growing customer base, it's important to take care of things like reliability, availability, maintainability, scalability, serviceability, usability and security. It has been challenging, but inspiring.
Q: What is your proudest moment at Jobvite?
There is no one specific moment, but the updated search functionality that the team and I worked on makes me really proud. I had ownership of the entire project—from inception, delivery and rollout to customers. Search is the core of our system and getting it right was extremely important.
Q: What did you want to do growing up?
I always wanted to study computer science, but I was also interested in music and painting. Today, history and mythology fascinate me. There's a lot to learn in those areas, so I'm trying to catch up.
Q: What's your favorite thing about Jobvite, outside of what you're actually working on?
A game of foosball with my team! Aside from a really good product, a skilled team is equally important. Having worked in Jobvite's India and U.S. offices, I can definitely say that the people I work with are passionate and committed. It's a very friendly and fun atmosphere.
Q: Any favorite Jobvite stories?
I met my wife at Jobvite! She was working here before; I met her and we got married. So thank you, Jobvite!