Recruiter Nation Live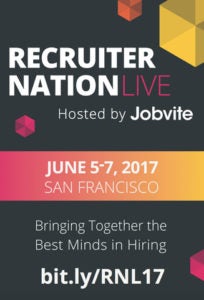 is coming to San Francisco June 5-7, 2017 and this is one event you can't afford to miss! Hosted by Jobvite, Recruiter Nation Live brings together the largest gathering of talent-focused professionals and experts under one roof. You'll hear the latest insight and trends in creative sourcing, employment branding, recruitment marketing, collaborative hiring, effective career websites, recruiting metrics, onboarding, and much more. And even better, you'll have plenty of time to network with the best and brightest in your industry. It will be an unforgettable two full days of total talent and recruiting enlightenment.
Join the best minds in hiring this June for a can't-miss opportunity to:
Connect with the best. Get inspired by our keynote speaker, Abby Wambach, Olympic Gold Medalist Soccer Player and equal pay advocate. Network with 600+ of the best minds in recruiting—including your peers, industry experts, thought leaders, and visionaries. This is the largest recruitment-focused event on the planet and you'll have an unmatched opportunity to learn from the best-of-the-best experts, while you build new relationships.
Solve Your Hiring Challenges. In today's competitive hiring market, you need every advantage you can get to find and recruit the best talent. Recruiter Nation Live is the only place to find powerful keynote presentations, learning tracks and breakout sessions, like:
Measuring the Hiring Manager Batting Average with Kris Dunn of Fistful of Talent

The Future of AI and Recruiting with Lydia Dishman from Fast Company
Get interactive. Visit the Recruiter Nation Live Expo for an in-depth look at some of the most innovative recruiting technologies and talent acquisition expertise in the industry. Meet our awesome sponsors and discover solutions from background screening, assessments, and job boards to recruitment marketing and advertising. Also, interact with the latest Jobvite products and pick up the best tricks from Jobvite experts. You might just score yourself some fun prizes in the process!
Ask the Experts. Calling all Jobvite customers! The Insiders' Bar is back. Register early and secure your one-on-one with a Jobvite Customer Success expert. Belly up to the bar to ask questions, share insights, and learn from Jobvite's own in sessions like:
"We can do WHAT?! Raid the Jobvite Treasure Chest," with Jobvite's Leslie Litzenberger and Larisa Wolf on Jobvite's customer success team
"Put the Numbers to Work," with Jobvite's product team
Glimpse the Future. You won't need a crystal ball. Join our speakers to learn about the new and upcoming trends in hiring and how to bulletproof your talent strategy this year and beyond. And for our amazing customers, get a sneak peek at some of the recently released and upcoming Jobvite platform enhancements.
Justify Your Trip
If you would like help justifying the time out of the office, and the budget, we're here to help. Here's a draft email you can send to your boss to help make the case.
And as if you needed more reasons to join us, come and enjoy spring in beautiful San Francisco. Don't wait a minute longer. Register for Recruiter Nation Live today, and enjoy early bird savings. We can't wait to see you!