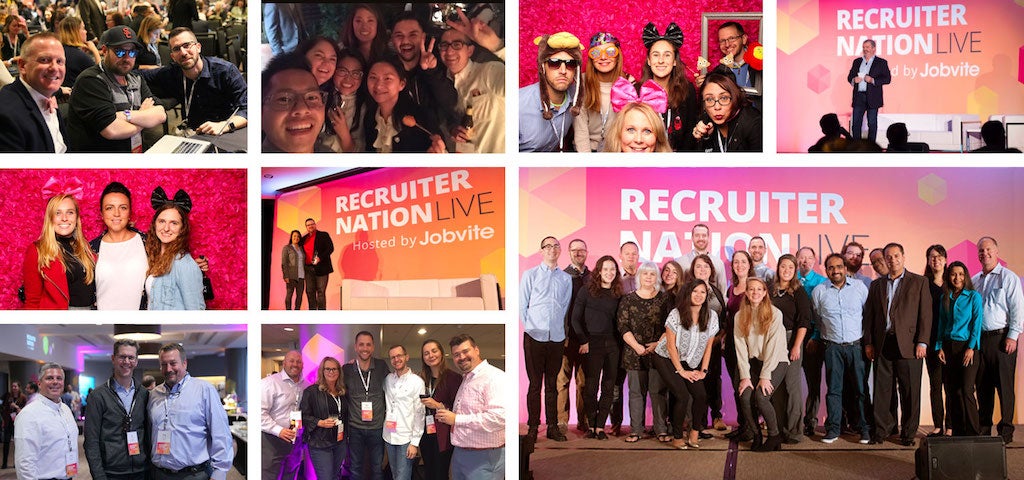 You're invited to Jobvite's Recruiter Nation Live — one of the world's greatest events for recruiters. Sure, we may be biased, but that doesn't make it less true!
On September 9-11, San Francisco will become a hub for recruiters gathering to get the peer-to-peer support, real-time thought leadership, and interactive technology demos they can only get when they're surrounded by people who spend their days trying to make recruiters' jobs as effective, easy, and fulfilling as possible. Sounds like a can't miss, right?
If that doesn't sell you, check out these 6 things you don't want to miss at #RNL 2019:
1. You'll feel accepted for the unique recruiter you are.
RNL 2019 is all about inclusivity. Of course, every year RNL embraces all recruiters, but this year, RNL is celebrating the idea that, just like the candidates we serve, every recruiter is unique.
With sessions ranging from recruiting Gen Zers at college fairs to hearing use cases about using text to recruit Baby Boomer welders, RNL is jam-packed with discussions and tools related to a variety of communication methods, recruiting strategies, and verticals. No matter your experience, background, or preferences, every recruiter will find something useful that will make them better recruiters.
2. You'll explore how political and societal issues affect recruiting.
Ever wonder how an upcoming election impacts people's desire for new jobs? Do societal and political unrest change what people are looking for in a new opportunity? We explore ideas like this in our session about how TA is disrupted during election years.
You also won't want to miss our keynote speaker, award-winning journalist, Soledad O'Brien, as she dives into how her work on CNN's "In America" documentary series reveals how diversity is the heart of America and how our workplaces need to reflect that truth or face the realities of becoming obsolete.
3. You'll hear how seasoned recruiters are balancing tech and human touch.
Yes, Jobvite is a recruiting tech company, but we're also a company made up of people who, well, like working with people.
You will experience a lot of sessions about the new and surprising ways AI is making recruiting easier, and you'll hear customers talk about how smart automation and chatbots cut down on time-to-fill and saved on costs. But you'll also hear our keynote speaker, best-selling author of Radical Candor and co-founder of Radial Candor LLC, Kim Scott, promote the importance of humanity in the workplace as she talks about using empathy to be a "badass leader."
4. You'll get the scoop on Jobvite's recent changes.
Our keynote speaker, CEO of Jobvite, Aman Brar, will touch on some of the changes that the public and our customers have been hearing about. In February, it was announced that Jobvite acquired Talemetry, RolePoint, and Canvas: three recruiting tech companies that all work to make the candidate and recruiting experiences better through recruitment marketing, smart automation, and leveraging data.
Aman will walk through how these acquisitions are a step to building recruiting technology for every part of the recruiting process, and many of the sessions at RNL dive into everything from attracting new candidates in unexpected places to engaging with employees beyond their first day.
5. You'll leave with professional credits.
This is not a drill! Even though the benefits of attending RNL are clear for both your professional career and for your company's success — it can be nice to go back to your team with a tangible reward. After attending RNL, you will earn Professional Development Credits (PDC) from SHRM and Credits from HRCI. Put THAT on your LinkedIn profile.
6. You'll get to enjoy beautiful San Francisco.
The average temperature in San Francisco is 71 degrees…with an average of 0 days of rain. Do I need to say more? Do I need to mention that qualifies as perfect sweater weather? Or that September hits right before the busy holiday season and why not go somewhere that feeds your professional and personal soul? I didn't think so. ☺️
If you're STILL on the fence about spending a couple of days with your fellow recruiting enthusiasts in beautiful San Francisco, we hope you'll enjoy our promo code for $100 off your registration!
Register today: https://www.jobvite.com/recruiter-nation-live/