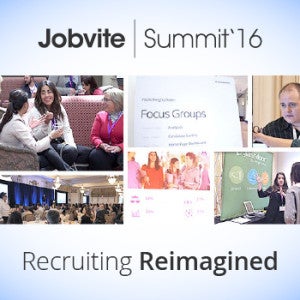 Jobvite Summit '16 kicks off in less than one month and this is one awesome event you can't afford to miss! Our theme this year is "Recruiting Reimagined" and our goal is to inspire you to reimagine your recruiting strategy. At Summit '16, we'll provide you with the tools to do just that. Nowhere else will you be able to hobnob with industry influencers and thought leaders, connect with your peers, and dive deep into the hottest topics in talent acquisition today. No question Jobvite Summit '16 provides a unique learning opportunity you just can't find anywhere else.
Still need convincing? Here's why Jobvite Summit '16 is the can't-miss event in recruiting.
1. Hear from the best minds in the business. From keynotes to deep dive workshops to breakout sessions, you'll hear from talent acquisition industry leaders who've been there, done that—and want to share their best practices and lessons learned with you. Learn how Schneider Electric reframed its strategy and made recruiting go viral. Hear how Zappos evolved its employer brand to deliver a world-class applicant experience. Explore how Curriculum Associates super-charged its career site. And join our panel of industry leaders as they break down play-by-play tactics for tackling talent acquisition in a changing world.
2. Catch a killer keynote. Learn the "art of enchantment" from Guy Kawasaki, entrepreneur, evangelist, bestselling author and Summit keynote speaker. In a talk based on his New York Times bestselling book, Guy argues that enchantment has the ability to transform situations and relationships, turning skeptics into believers and the undecided into the loyal. Learn how to wield that art and enchant top talent. And tune in as Kris Dunn of Fistful of Talent centers the conversation on talent—which includes recruiting as well as everything you do with the talent once you've got them in the door.
3. Dive deep into best practices. On Day 1 of Summit, immerse yourself in our Deep Dive Workshops. Join Jobvite thought leaders as they reveal which new trends will be industry game-changers in "Talent Acquisition Leadership: Strategies for Recruiting Excellence." Or join Jobvite's product braintrust as they share best practices for maximizing your investment in Jobvite Hire and Jobvite Engage.
4. Peek into the roadmap. We are entering a new era of talent. The hiring landscape is being reshaped by a shifting global economy and only those companies with the most innovative products, services, and tools will be prepared to compete effectively for talent. Are you ready to reformulate your strategies to attract and hire the best talent? Do you have the right tools in place to optimize your results? Luckily, Jobvite is equipped for the evolving workforce. Our product leaders will unveil technology updates and give a sneak peek of our product roadmap-filled with exciting innovations in mobile, analytics, and beyond.
5. Master the art of networking. There's no substitute for meeting your colleagues live and in person. Mix and mingle with your peers at the welcome reception. Join birds of a feather breakfast roundtables. Build new relationships and strengthen existing ones. Jobvite Summit '16 offers myriad ways to connect and network with people just like you. Get together with 400+ fellow talent leaders, hiring teams, and sourcing experts as we put a fresh new spin on recruiting.
6. Tackle the hottest industry topics. Our two-day program is chock-full of learning and exploring that will refuel your recruiting efforts with new perspectives, ideas, and approaches. We've got everything you need to revitalize your recruiting plan, captivate candidates, and hire smarter—all under one roof. From candidate experience, to referral hires, to employment brand, to recruiting for tomorrow. We'll cover the industry's hottest topics and give you pragmatic advice for navigating your biggest challenges.
7. Your all-access pass. Meet other Jobvite customers. Learn from Jobvite's customer success experts. Hear from our solutions partners. And get a sneak peek at new Jobvite product innovations. Jobvite Summit '16 gives you access to all the expert advice you need to navigate the exciting, evolving talent acquisition landscape. You won't look at recruiting the same way again.
As if you needed more reasons, Summit takes place in beautiful San Francisco. Register now to join us at Jobvite Summit '16. We can't wait to see you!