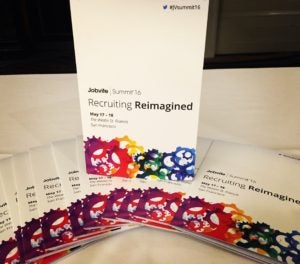 It's been an incredible and informative two days at Jobvite Summit '16! Thank you to the hundreds of customers, partners, industry experts, and recruiting pros who joined us for two jam-packed days full of learning and exploring how to "reimagine recruiting." I also want to extend a special thank you to all of the Jobvite employees who helped make this happen – hundreds of hours over work over many months goes into making this event happen each year. We couldn't do it without you guys.
Here are some of the highlights from two full days of killer presentations, connecting with peers, and tackling the talent acquisition industry's hottest issues:
Day 1 kicked off with our Deep Dive Workshops, where attendees heard from Jobvite leaders about which new trends are changing the game in talent acquisition or joined Jobvite's product braintrust for deep dives into Jobvite Hire and Jobvite Engage. Emerging from their deep dives, attendees were wowed by the evening's entertainment—none other than Jobvite CEO, Dan Finnigan, also known as "presenter by day, drummer by night"—who showed off his mad drumming skills at the Welcome Reception.
Day 2 of the Summit started bright and early with our morning keynotes. Dan Finnigan (in "presenter" mode) offered a reality check on the future of the workforce and what's next for recruiting, highlighting data that shows how market volatility is impacting how companies hire and how job seekers look for work.

Dan also shared recent Jobvite successes, from achieving a leader position in the Forrester Talent Acquisition Wave, to our outstanding Customer Service Awards, to the introduction of a brand new onboarding solution, Jobvite Onboard. Dan gave us some lasting advice, "It's time for companies to tighten their belts and invest in their employees."
Dan was followed by a fun and thoroughly engaging keynote by the one and only Guy Kawasaki who shared the keys to unlocking "the art of enchantment" while he imparted nuggets of wisdom, such as "do you default to yes?" and "take the approach of 'how can I help?'"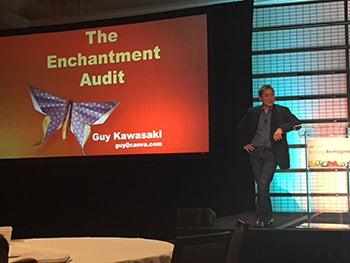 The keynotes were followed by a full afternoon of breakout sessions where we heard from talent acquisition industry leaders who've been there, done that—and shared best practices and lessons learned.
LaDonna Tucker shared how Schneider Electric reframed its strategy and made recruiting go viral.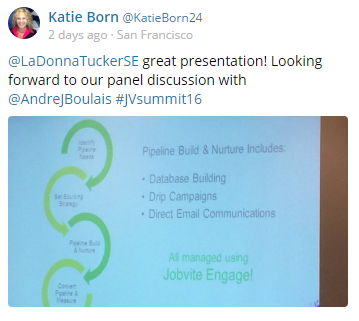 While Chris Forman of Appcast shared how programmatic ad tech is revolutionizing the talent acquisition industry.

And Rick Jordan wowed us with the Zappos employer brand story, complete with tips on how to reimagine your employer brand, with some wacky Zappos stories thrown in the mix.

Kirsten Davidson unveiled Glassdoor's best tips for helping job shoppers find the best fit.
And Jobvite Summit wouldn't be complete without a visit with Pancake, Jobvite's Top Dog, who was dressed to the nines and willingly posed for selfies, trading doggy kisses for belly rubs.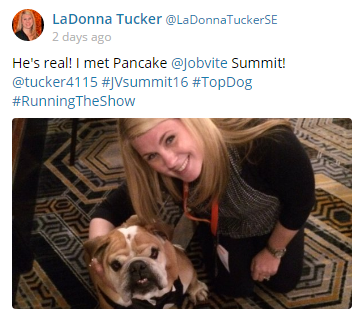 Two days of hobnobbing with industry influencers and thought leaders, connecting with colleagues, and diving deep into the hottest topics in talent acquisition today and there's no question Jobvite Summit '16 delivered on its promise to reimagine recruiting.
We couldn't say it any better than this. Thanks so much for joining us and we hope to see you next year!