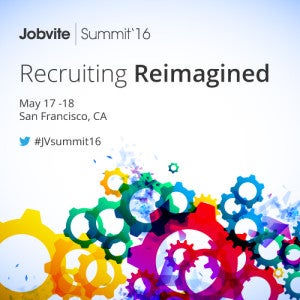 Jobvite Summit '16 is only six weeks away and we are gearing up for our annual user conference gathering May 17-18 at the Westin St. Francis Hotel in beautiful downtown San Francisco. This year's theme is all about "Recruiting Reimagined." In today's fiercely competitive talent market, the companies that recruit successfully are the ones that constantly find ways to innovate, optimize, and stand out from the crowd. At this year's Summit, we'll inspire you to reimagine every stage of the recruiting funnel—from hello to hire.
We are thrilled to welcome Guy Kawasaki as our Summit '16 keynote speaker. An entrepreneur, evangelist, bestselling author and in-demand speaker, Guy will share the keys to unlocking "The Art of Enchantment" with our Summit audience. In a talk based on his New York Times bestselling book, Guy argues that enchantment has the ability to transform situations and relationships, turning skeptics into believers and the undecided into the loyal. Done right, enchantment is more powerful than persuasion, influence or marketing techniques. You won't want to miss this opportunity to learn how you can reimagine your recruiting and enchant top talent.
Summit '16 is packed with insightful presentations from Jobvite leaders, including CEO Dan Finnigan, and industry thought leaders, including Kris Dunn from Fistful of Talent. These sessions promise to take your recruiting and talent acquisition to the next level. Choose your learning experience in our Day 1 Deep Dive Workshops, and connect with your peers during breakouts and networking sessions. With insightful keynotes and in-depth sessions, we'll redefine what it means to be on the cutting edge in today's market. You'll walk away ready to revitalize your recruiting plan, captivate candidates, and hire smarter.
For a sneak preview of what you can expect at the Summit, check out these highlights from Summit '15. And who better to evangelize the Summit than our attendees? Here are just a few comments following last year's event:
"Thanks a million! It truly was a spectacular event. You guys had me thinking all weekend." Laura Carey, Vocera Communications
"To be a successful recruiter, you need to be a successful marketer. Jobvite Summit 2015 provided us with the right tools to do just that." Andrea Sherrill, Sumitomo Electric Wiring Systems, Inc.
"Walking away from Summit '15, I feel more inspired, motivated and empowered to really leverage Jobvite's strengths for my team." Terri Souder-Basa, Pactiv
Are you ready to take recruiting to the next level? Register before April 15th and save $250! Stay up to date on everything Summit related by following our hashtag #JVsummit16!
We can't wait to see you!