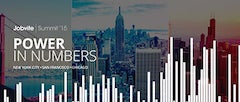 That's right—it's once again time for Jobvite's annual user conference! But heads up: Summit'15 is now a regional event! We are hosting three one-day events in San Francisco, Chicago, AND New York, so more users will have an opportunity to join us.
This year's Summit theme is Power in Numbers. We're gathering valued customers, users, Jobvite experts, and thought leaders from many industries to discuss and demonstrate the tremendous impact of recruiting. In particular, we'll focus on ways we can recruit for exponential value—from understanding key metrics to leveraging talent analytics, from increasing social reach to optimizing technology.
Each regional Summit'15 event will feature multiple keynote addresses, breakout sessions, networking opportunities, a partner Showcase, and the Jobvite Demo Center. We're gearing up for our most insightful year yet—and we hope you'll be a part of it.
Early bird registration discounts for Summit'15 are now available, so take a look at our website for more details on how to reserve your seat today. We've also got a few limited sponsor opportunities left, so if your company is interested, look for details on how to get in touch.
Here are the dates for each city:
Pricing and hotel info are available on each city's details page. And keep checking the Summit'15 site for the latest news, as we continue to add keynote and session descriptions in the upcoming weeks! See you at Summit'15!