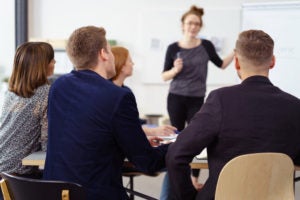 Have you registered for Jobvite Summit '16 yet? This is a can't-miss event for those of you in the talent acquisition industry. There are so many ways to maximize your time—and your return—at Summit this year. Whether you're interested in growing your professional network, seeking an in-depth education on the latest recruiting techniques, taking a deep dive into Jobvite technology, or re-connecting with your peers in the talent industry, Summit has something for everyone. And what's more, you can even earn HRCI credit for attending Summit sessions. It's hard to beat the learning opportunities at this year's Summit. You'll hear presentations from Jobvite experts and talent industry leaders who will have you reimagining your recruiting strategy in no time. In fact, on day one of Summit immerse yourself in our Deep Dive Workshops, half-day sessions that offer a close look at recruiting and talent industry best practices. Choose from one of three afternoon workshops:
In

"Talent Acquisition Leadership: Strategies for Recruiting Excellence"

join Jobvite thought leaders as they reveal which new trends will be industry game-changers. This workshop will guide you through the development of a stellar recruitment business plan. In the process you'll learn how to create a world-class employment brand, how to engage your leadership and hiring teams, and how to measure recruiting success.

Or join Jobvite sourcing experts to explore

"Jobvite Engage: Crack the Code on Sourcing and Employment."

Learn how to take full advantage of

Jobvite Engage

to get more from your talent pipeline. In this in-depth discussion, you'll get hands-on experience leveraging social media to boost your reach and learn how to build winning email campaigns to recruit the best talent. You'll also get a sneak peek at the roadmap for Jobvite Engage and learn about some exciting innovations ahead.

If you're ready to optimize Jobvite for maximum hiring capacity, join us for

"Jobvite Hire: Increase Your Hiring Velocity Like a Racing Pro."

In this session we'll help you benchmark your recruiting process against industry standards, learn the latest measurement and reporting techniques, and how to maximize your

Jobvite Dashboard

. And finally, hear real-world stories and compelling results from other Jobvite Hire customers.
Need some one-on-one time with our customer success experts for help solving a particularly tricky challenge? Reserve time at our Insider's Bar for dedicated training and problem-solving support from our Jobvite product specialists. There's so much learning to take advantage of at Summit '16. We guarantee you'll walk away ready to revitalize your recruiting plan, captivate candidates, and hire smarter. And you'll be invigorated with new knowledge and ideas to share with your team. Jobvite Summit '16 is only weeks away, so what are you waiting for? Register now using promo code JVsummit16 and save $100. We can't wait to see you!