Today's talent acquisition leaders face a fragmented, diluted, confusing technology landscape. What began with application tracking systems has rapidly expanded over the last 10 years to become a very fragmented landscape of varied technologies. Today, talent acquisition solutions alone can fill up an entire infographic. We see companies using multiple point solutions to get the job done.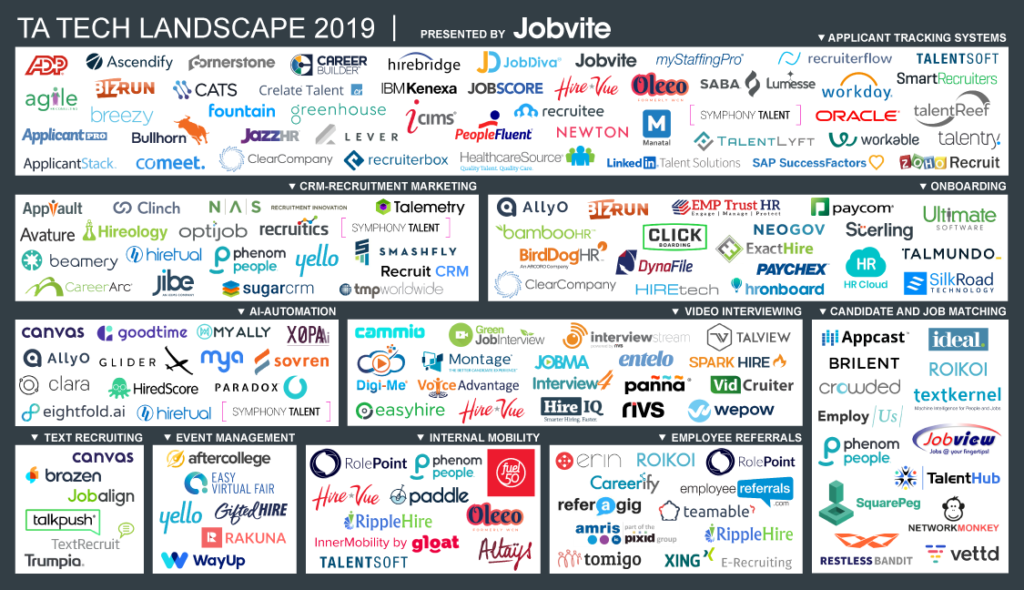 As a result of this landscape, talent acquisition teams suffer from:
Incomplete and fragmented tools
Process inefficiencies
Lack of data visibility
According to Deloitte, 94% of recruiters believe they have inadequate recruiting processes and technology. There's a hole in the enterprise market for a more unified, automated, comprehensive talent acquisition-focused solution that is built specifically for the recruiter to drive business results.
To address this issue, Jobvite is building a comprehensive, talent acquisition-focused suite based on the powerful combination of key functionality areas:
branding
recruitment marketing
bots and automation
applicant tracking
new hire onboarding
employee referral
internal mobility
This is possible through Jobvite's recent acquisitions of Talemetry, Canvas, and RolePoint.
These exciting acquisitions offer recruiters and TA leaders:
Technology simplicity: Integrated, end-to-end workflows and data that save you time and money
Smart automation: Intelligence to automate most of the administrative work while keeping recruiters and candidates at the center of the conversation
Better candidate and recruiter experience: More streamlined, connected processes that support a seamless journey from first look to beyond the first day
Better data visibility:  End-to-end recruiting data gives you the context to make smarter, proactive decisions that deliver more predictable business outcomes.
Jobvite's mission is to help talent acquisition transform into a more strategic function that proves its value with C-level by driving business growth. It's time for TA leaders to be recognized for all that they do. Join the Twitter conversation at #rnl19.