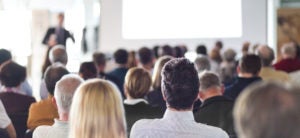 Today's the day! Jobvite Summit is open, and we've hit the ground running. Our attendees are dispersing to hear keynotes, check out partner solutions, and immerse themselves in our breakout sessions. And this year promises to be our best Summit ever. I know—sounds like hyperbole, but I'm honestly not exaggerating. I truly believe that we have all been through a year of massive change, and when you group together so many people with shared dynamic experiences, you're bound to spark some of the most exciting and passionate discussions. Today's keynotes, for example, cover the core elements of the ongoing evolution in recruiting, and I can't wait to hear the conversations these speeches ignite. We'll be hearing about:
Technology, and what's in store for us. Our own Adam Hyder & Kevin Nanney will walk you through the 2014 Jobvite Roadmap. Don't miss the exciting advances we have in store.
Service, and why it matters. Jobvite's David Lahey talks about our commitment to customers & how we've applied the feedback you've provided.
Candidates, and what they want. Todd Owens, President & COO of TalentWise, reveals the secrets behind a winning candidate experience, so you can prepare to attract the high-quality talent you need.
Authenticity, and its role in your business. Finally, I'm going to talk about why candidates crave transparency today—and why the future of recruiting and business depends on your ability to be authentic.
Don't forget we also have a day packed with insightful breakout sessions, covering more topics than I can even summarize here. I know I was drawn to a few right off the bat, including those regarding the importance of employment branding, how to create killer career sites, and driving excellence in your recruiting process. Visit the Jobvite Summit'14 agenda page for the full schedule. If you're just catching this post after a full day at Summit, chime in with your thoughts & comments. I'd love to know what you think. And tomorrow…well, that's another day, with more incredible speakers planned. Check back here in the morning to see what not to miss!