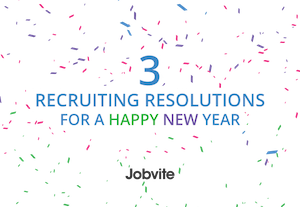 As we head into the New Year, the Jobvite team is giving 2014 a thorough evaluation: What worked? What did we accomplish? What did we see the recruiting industry respond to best? What are our customers (and their candidates) asking for? As you might expect, we're using this insight to map our plans for next year. We want to ensure that what we've got in store—and we have a lot in store, believe me—effectively aligns with the needs we've seen. And we want to share the actions we think will have the greatest positive impact for recruiters and their companies.
Based on our analysis, here are three of the most critical things we believe companies should do in the coming year in order to find and hire the highest quality talent, quickly and efficiently.
1)     Spread the word. 
For many folks, a major resolution in 2015 will be looking for a new and more satisfying job—and what better way to get started than by asking friends and connections for referrals? Don't miss out on this gold mine of opportunities. Make your employee referral program a big part of your Q1 focus.
Big year for hiring? Be sure you're filling the right positions. Take some time early this year to communicate with your teams across the globe and discover what they need in order to do their jobs better. Are there any specific skill gaps? Are you adequately staffed in each region? Are you covered in terms of management? Get that dialogue running.
When employees repeatedly deliver great referrals, celebrate that success. Let the whole company know who the rock stars are when you have all-hands meetings or send company-wide emails. This will keep the momentum going year-round.
2)     Create candidate-driven experiences.
I really believe that 2015 will be the Year of Conversion, where candidates will purposefully select employers that help them progress through the recruiting funnel faster, easier, and with greater engagement. In order to remain competitive, businesses have to start thinking more about what job seekers want, what will attract them and maintain their loyalty, what will turn them off, and what technology will help tip the scale in your direction when a candidate has multiple offers on the table.
Remember: From a candidate's perspective, no news is not good news. Candidates crave information, and they will always want to know where they stand. Be sure you're positioned with an applicant tracking system that can provide that data, particularly when it relates to the interview process. It's the most visible to the candidate and can be the most painfully opaque.
Get feedback! It's hard to improve your candidate experience if you don't know where you're hitting or missing. Ask candidates, both hired and rejected, what they thought about their interview processes, the company's culture, your career site, the application process, and so on. Then use that info in conjunction with your candidate relationship management tools to fix what isn't working and build a stronger employment brand.
3)     Aim high.
Just because candidates have more options this year doesn't mean you have to lower your standards or take what you can get. Create a wish list of your ideal candidate skills. You might not find everything you're looking for, but you'll have a way to measure how actual candidates stack up—and you'll give hiring managers and their teams an up-front picture of where a new hire might need future development.
Candidates like to see a company that knows what it needs and that isn't afraid to ask for people who are extremely skilled and passionate about what they do. The higher you aim, the better quality talent you'll attract.
While this is not an exhaustive list by any means, I think focusing on these three areas will help your company establish a good foundation for the coming months. I personally am very excited about what's on the horizon in terms of recruiting solutions and improvements to the hiring process at large, and I'm looking forward to the journey. Happy New Year!