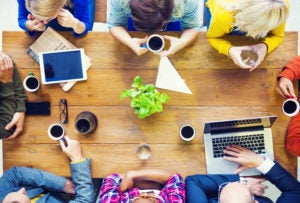 Has your business fully embraced social recruiting? Is it now a key element in your talent attraction strategy? Or are you worryingly one of those businesses being left behind by your competitors? Here are 7 ways recruiting teams are adapting to the social world to attract talent and win candidates over. Do stop to ask yourself "How many are we doing?".
Boost your recruiting brand + attract hires using social media
There are two powerful reasons you ought to have a strong recruiting or employer brand presence on social media. The first reason is that this boosts the returns you get from every other recruiting activity you undertake. Whether it's being receptive to your calls, responding to your job listings, or replying to your LinkedIn InMails, the more candidates have seen and interacted with your recruiting brand the more likely they are to respond.
Alongside improving the ROI of everything else your recruiting team does, a strong recruiting brand on social media attracts new candidates as well. Think of your social media followers and fans as your talent pool and your advocate network. They are a ready-made audience of potential candidates that can be enticed to submit their resumes in the future – and a network of people who believe in the business and who will become more and more willing to share your updates with their networks too.
Engage with influencers to multiply the reach of your social recruiting messages
The core idea here is that there are already lots of people and organizations out there who have built sizeable engaged followings of the exact types of candidates your business would like to recruit. As a recruiting team, you want to build relationships with these influencers to quickly see the reach of your recruiting brand skyrocket on social media. Reaching 20 or 30 times as many people as you have followers is what you're aiming for and will be most quickly realized by cultivating influencer relationships rather than going it alone. Do you have a strategy in place to do this?
Use carefully targeted social media adverts to reach your ideal candidates
Those who don't know better incessantly pump out job listings across their Twitter streams, Facebook pages and LinkedIn accounts. This makes you look desperate – and deters passive candidates and influencers from following your accounts, the exact opposite of the outcome we desire. Think about it – who wants their social media streams clogged with a barrage of untargeted job adverts? Only the most desperate job seekers!
More experienced recruiters realize that social media provides a means of defining the exact candidate audience (passive and active) that your recruiting team wants to reach – and then paying to advertise to that specific audience – be that advertising your company or a specific job vacancy.
Implement a social referral programme to drive more employee referrals
Social media has significantly increased the potency of employee referral programmes by multiplying the reach a company has into its target candidate market. The upsides from engaging your staff to provide employee referrals are threefold. Firstly, by tapping into the networks of all your existing staff you can potentially reach a lot of your target candidate audience, in a way that's more personal and engaging than simply advertising to that same audience.
Secondly, because candidates will receive an invitation to consider a vacancy from someone they know, the chances of them acting on the opportunity are greatly enhanced. Plus, the likelihood of them warming to the company – and ultimately succeeding in the role – is similarly improved if they already know people in the organization.
Last but not least, paying existing staff – rather than external suppliers – to generate candidate interest clearly improves the remuneration of your staff, while bringing on board staff members that the team are more likely to integrate well with. So there's the added benefit that your own staff retention rates are likely to be strengthened and the pressure to actually make additional hires is relieved.
Adapt to the realities of mobile recruiting
Consider for a moment that most users access their social accounts from a mobile device. Logically it follows that attempts to generate candidate applications via social media can only ever fulfil their potential if the steps that candidates have to follow in order to apply have been mobile optimized! Have you modified your careers site enough to not fall foul of this development?
Make Social Sourcing part of your Social Recruiting strategy
The principle here is simple. Given that today there are vast "resume databases" available to anyone who wants to start working as a recruiter, the barriers to sourcing candidates have been significantly reduced. This has particularly empowered in-house recruitment team to find and approach candidates directly, but has also massively reduced the barriers to entry for someone leaving a recruitment business to go and set up their own competitor.
How to effectively mine LinkedIn for top talent, how to track down tech candidates on GitHub when you find they've deserted LinkedIn, how to leverage the more sizeable profile databases that Facebook and Google+ provide, how to find the in-depth social profiles of candidates who've caught your eye on Twitter. All these are competencies that recruiting teams will have invested in if social recruiting has been put at the heart of their talent strategy.
Improve the candidate experience and improve hiring success ratios
Last but no means least is the impact that all your social media activities are likely to have on candidate experience. At various points during the research, application, interview, and offer acceptance stages, it's now possible that your candidates will have interactions (or a lack of interactions) with your company and its staff that influence whether they ultimately end up being hired by you. All these touch points contribute to the overall candidate experience that you offer – and therefore to the acceptance rates that your whole recruiting process is able to achieve.
Closing Remarks
This checklist has hopefully empowered you to determine whether or not your company is being left behind in the social recruiting race. If it's left you with any unanswered questions then please do feel free to submit any questions via the comments section below. Likewise if there are topics you would like to see addressed here in the coming months please do share your ideas. For now, wish you a successful year of social recruiting in 2016!
About the Author
Tony Restell is the Founder of Social-Hire.com and helps candidates and recruiters leverage social media. You can find Tony on Twitter; or join him on one of his forthcoming webinars where he'll walk you step by step through the processes he uses to get results for recruiting teams on social media.