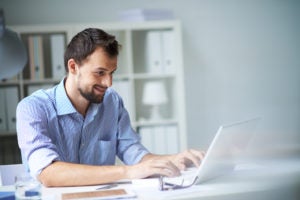 In my recent series on social recruiting here on Jobvite's blog, I've helped you with specific tactics and approaches to be more effective at recruiting on LinkedIn, Twitter, and Facebook. In today's post I'd like to take a step back and talk more about the big picture of being successful on social media. Thinking back on my own experiences, I can think of specific things I've learned from Andy Headworth, Neal Schaffer, Stacy Zapar, Rebekah Radice, and Will Thomson that have all played a key part in making me more successful. By sharing them here, I hope they can help you in turn.
Engaging and Helping Others is Key (@AndyHeadworth)
Back in the earliest days of marketing Social-Hire, I remember Andy taking the time to feed back to me his impressions of our presence on social media. In a nutshell he said we were pushing our messages too much rather than trying to be valuable and help others. Too much promotion and too little engagement.
This was sound advice then and it's sound advice now. Show me a business that's been investing in social media but struggling to get results and the chances are that I'll show you a business that is being too promotional and salesy – and not going the extra mile to befriend people and win over an army of friends and advocates.
Nowhere is this truer than in the recruitment industry, where the pressure to make hires and earn placement fees means that there's always a major temptation to promote, promote, promote rather than play the long game. But fight for social media to be a medium term investment – rather than something that produces miracles overnight – and you'll find that the results are quite different. You'll also have a lot more fun. It's much more enjoyable to interact with people and make friends all day than to push out promotions and get dejected at the lack of results being produced.
Thanks Andy for the insight!
Another invaluable lesson I learned in the early days was care of Neal Schaffer. Neal was already a highly regarded social media expert with an impressive web presence to back it up. Seeing that I specialized in using social media in recruitment, Neal invited me to become an expert contributor on his social media blog.
I gleaned many insights from partnering with Neal in this way – and from our interactions since – but the big picture lesson was the importance of doing your marketing in a way that is scalable and that allows you to maintain consistency of both presence and quality.
Whether you're trying to build a presence across multiple social media platforms, have a website that generates a consistent stream of new content that you can share on social media, or are pursuing a guest blogging strategy, scalability is key. Which aspects of this work can you delegate? Are there win-win partnerships you could form that would allow you to fulfill your objectives, but that leave you needing to deliver on less of the work yourself? Are you always on the lookout for ways that your social media processes and workflows could be improved and refined? If not then your success on social media is always going to be constrained by your ability to devote enough time to the task.
This is particularly important in the recruitment sector, because time spent on social media could be considered time not being spent on winning clients or talking to potential hires – both of which are high value uses of a recruiter's time. But with the right approach you can have your company brand and all your individual recruiters far more active and effective on social media, without impacting the hours your recruiters have available to actually make placements.
Thanks Neal for showing me the importance of thinking about how you will scale your results!
I struggled to put this into words initially, but then hit on the notion of "brightening people's lives". When I think back to my days in sales, I remember the saying that "enthusiasm sells". Enthusiasm and positivity are infectious and they make people warm to you. The same is absolutely true on social media!
Three people I first came into contact with many years ago are Stacy Zapar, Rebekah Radice and Will Thomson. All are people I dearly hope to meet one day in person. I just feel a warmth towards them from the way they are on social media and from the positive, enthusiastic interactions we've had there.
It helps, of course, that all three of them share insights that are highly informative and valuable for their followers. It helps that all of them are givers – constantly giving their followers more than they expect from them in return. But more than anything, it's the fact that they all come across as real people that you feel a bond with, that's where the real magic comes from.
We've tried to mirror this on our Social-Hire accounts, meaning our business is unusual in being one that has a personality, that tries to help others and looks to have a positive impact on people's lives. The impact in terms of the interactions we generate, the relationships we form and the overall success of our social media presence shows the importance of this. Don't be robotic, automated or sterile on social media – brighten people's lives and add a human touch instead and your results will be transformed.
This is of the utmost importance in recruiting, where people are taking decisions about their futures and are far more likely to go through the full hiring process if they feel that they have connected with your business, like its culture and feel the beginnings of a bond with some of its staff. So this element will be of critical importance both for attracting potential hires and then in persuading them that yours is the job offer that they should accept.
Thanks Stacy, Rebekah, and Will just for being you on social media (and I hope one day we have the chance to meet!).
Concluding Remarks
When it comes to getting business results from social media, so much is written in terms of short-cuts, tips, hacks, and how to articles. Yet looking back, I think these bigger picture learnings have been some of the most important I've had in my time on social media. I hope they help you focus on what are maybe some of the missing parts of the jigsaw puzzle when it comes to you getting far more compelling results from social media.
About the Author
Tony Restell is the Founder of social media agency Social-Hire.com and helps candidates and recruiters leverage social media. You can find Tony on Twitter; or join him on one of his forthcoming webinars where he'll walk you step by step through the processes he uses to get results for recruiting teams on social media.