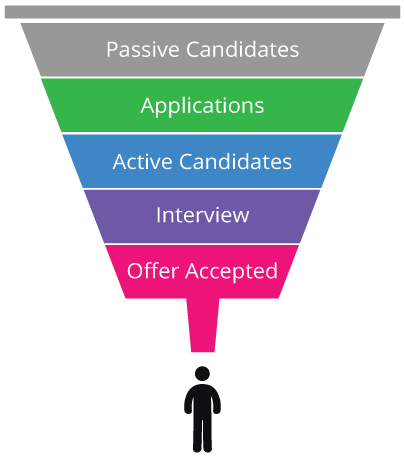 Last week Kimberley Kasper posted a great infographic that defined the recruiting funnel. If you haven't seen it yet, please take a look—because this graphic offers powerful visual insight into the best practices employed by modern day recruiters, the challenges they face, and opportunities for improvement. When you look at this image, you'll see that recruiting is becoming more and more like sales and marketing every day. Here are a few examples:
1. Marketing and recruiting both have the same basic flow through the funnel. Sales and marketing professionals generate large numbers of leads, winnow them down to a set of qualified opportunities, and then focus to close new customers. Similarly, recruiters need to source prospective talent, convert prospects into qualified applicants, and eventually make new hires.
2. To succeed at their goals, marketers and recruiters both require specific tools and technology. Today's sales and marketing pros spend a good part of their day inside a CRM or Marketing Automation system like Salesforce.com or Marketo.  These tools help them manage leads through the various sales stages and determine the best lead sources so they can optimize and reallocate their marketing spend.  Marketers use these tools to launch targeted campaigns that build their in-house lead database, and then remarket to this house list with drip campaigns to keep the leads engaged until they are ready to buy.  These systems manage multiple inbound and outbound lead sources,  outbound lead campaigns, analyze and evaluate multiple lead sources, score the leads from each source, and track these leads all the way from opportunity to close. 
Recruiters need similar innovative technology.  Just like their Marketing counterparts, recruiters need sourcing tools that connect and manage multiple candidate sources (e.g., open web searches, employee referrals, company career website, LinkedIn profiles, job boards, etc.)  They also need tools that allow them to easily create and manage outbound recruitment campaigns — via email, social, SEM and customized landing pages — in order to engage and attract target profiles into their talent pool of potential candidates.  Recruiters are using these Candidate Relationship Management systems to continually "fish" within their in-house talent pool for passive and active prospects that are ready to opt-in to the hiring process.  Once a candidate applies, the Applicant Tracking System (ATS) manages applicants through various candidate stages (screening, interviews, assessment, feedback, background check), and helps recruiters narrow down the number of candidates so they can spend more time with those most qualified candidates and convert them to new hires. 
3. Both marketers and recruiters need services that enhance their technology platforms. No major technology vendor works alone. Partnerships, and the services that partners provide, can make a major impact on your success. For example, Salesforce.com offers the AppExchange to leverage partnerships with over 2,000 companies that enhance the sales and marketing funnel, so companies can further increase lead volume, better qualify leads, convert leads into opportunities, and (hopefully!) win new customers.
The same is true for recruiting. When you use a recruiting platform from a vendor with strong partnerships, like Jobvite, you get the added advantage of a number of complementary services that round out the hiring process to make you even more efficient, such as background screening (through partnerships with Talentwise or HireRight, for example), assessments (through partnerships with companies like SHL and LogiServe), and employer reviews (through partnerships with companies like Glassdoor). This last area is particularly important today, as the best passive candidates use the Internet more and more to research jobs, companies, management, and career possibilities. And with millennials changing jobs every 1.5 to 2 years, companies really need help standing out as great places to work.
Jobvite is excited to be bringing a lot of these partner services to life for our customers. Stay tuned for more partnership announcements in the weeks and months ahead.