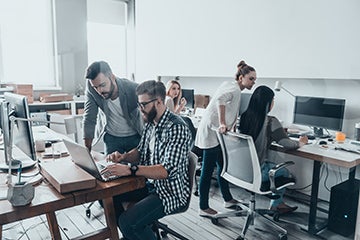 Attempting to build a team quickly can result in a lot of headaches for HR managers. Whether recruiting full-time employees or temporary hires for a special project, hiring managers face a multitude of problems in today's corporate environment. Competition for top talent is intense, and each generation of workers often has its own ideas about how companies should recruit, hire and manage the workplace. Vague job offers, strong efforts from competitors, lack of work flexibility and failure to provide immediate post-interview feedback can thwart the hiring process.
Using applicant tracking software can speed up hiring by identifying qualified candidates faster and narrowing down choices for new hires based on the project, succession needs, cross-training capabilities and other qualifications. All these recruitment tasks can be handled through an applicant tracking system, which can electronically identify the best candidates for hiring through resume keywords, qualification criteria, work histories, social media posts and demographic data.
Best Practices for Tracking Job Applicants
The first step to making the most of your recruiting software is to agree on the criteria that make a strong hire. It's important to review current and former recruiting efforts to determine which ones resulted in the best hires. Consult any company stakeholders in the process to get their recommendations. Over 90 percent of companies now use social media when recruiting, so try to devise a strategy to follow job candidates through their social media posts and activities. This is a way to identify personal qualities such as leadership or ability to work on a team. Some best practices for designing a tracking system include:
Integrating recruiting software with existing systems such as human resources data, work verification systems, social media platforms, onboarding systems and payroll
Understanding what information the system captures versus the information needed to make good hiring decisions
Determining the right questions such as certifications held, years of experience in key areas, willingness to travel, flexibility requirements, etc.
Branding the company favorably to attract a wider range of top talent
Familiarizing decision-makers with all the features and operations of the tracking system
Simplifying the recruitment process as much as possible by gathering intelligence from social media and other online sources
After determining the best practices, questions to ask and branding strategy, those responsible for implementing the tracking system need to develop a detailed implementation plan that involves all stakeholders such as department heads, team managers and hiring staff. Ask for feedback and suggestions before implementing the recruiting software. At this point, it is important to work with the software vendor to get the project online quickly. Implementation should remain flexible enough to incorporate new approaches during the planning and early days.