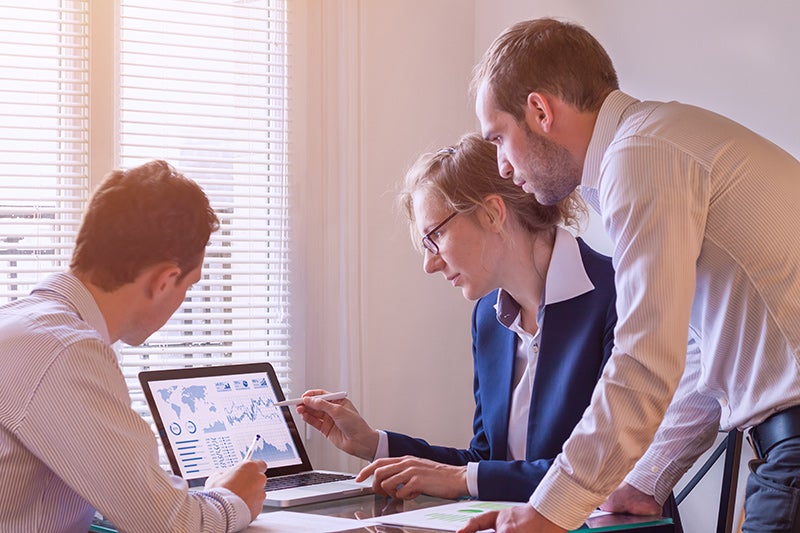 Which measures matter? With dozens of different recruiting metrics available, how do you know which ones are most valuable to your company? The tools that recruiters and employers use to measure the effectiveness of hiring practices are always evolving. The sheer volume of data available in the recruiting industry and the growing appreciation for analytics have led to better understandings of existing metrics and development of new ones, but they've also created an area with great potential for noise. Competitiveness in recruiting and talent acquisition requires an understanding of the most important metrics. Here are the top five metrics you can use to determine, discuss and analyze the state of recruiting at your company in 2019.
1. Quality of Hire
This is one of the most important metrics to get right for many companies, but it's also among the most difficult to accurately measure. Quality of hire is, roughly, the value a new person brings to the organization. Historically, quality of hire has been measured based on retention, time to fill and satisfaction of hiring managers. Some systems take into account the new hire's ramp-up time and cultural fit.
2. Time to Hire
The most recent Jobvite Benchmark Report indicates that the average time to hire was approximately 38 days during 2017. Time to hire is among the most important recruiting metrics because it shows how efficient the recruiting process is. This is a data point to measure how quickly your company is screening applicants, how effective you are communicating job offers and how efficient you are evaluating and interviewing candidates.
3. Application Conversion Rate
The application conversion rate is a glimpse at the beginning of the hiring process. It's simple: number of applications begun compared with number of applications completed. Applicant tracking system software can show the employer levels of candidate engagement during the application process and highlight areas where potential hires get bogged down. Calculating the ratio the other way gives the Application Drop-Off Rate.
4. Source of Hires
Source of hires is a strong metric for employers who attract new employees using several different recruitment methods. This metric tracks how effective your recruiting channels are by comparing them to each other. If your company is having more success sourcing new employees via social media, for example, it might be worthwhile to dedicate more resources toward that recruitment method.
5. Source of Applications
Closely related to the source of hires metric, source of applications indicates how many applicants are coming through different channels. This could be important data for budget planning in 2019. It allows you to determine how many applicants a particular source is producing so that you can focus your hiring efforts on sources that provide good value.
Efficient Use of Recruitment Data
Attracting the right people can make the difference between success and failure in almost any enterprise. Technology and tools like recruiting metrics and talent acquisition software can help. ATS recruitment software saves time for human resources and hiring managers. It makes the hiring process more efficient, less costly and more effective by giving you access to the most important recruiting metrics.