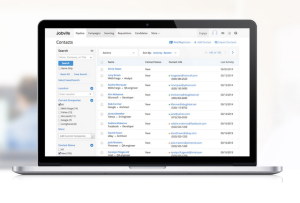 Recently, I had the good fortune of attending SourceCon in Orlando. The conference was all about how to optimize your sourcing strategies and technology. As the distinction between recruiting and marketing has steadily blurred, many talent acquisition organizations are struggling to figure out how to strike the right balance. There's no question relationship-centric recruiting has become a critical component of attracting top talent today. More and more companies are recognizing that recruitment starts well before the application process and goes far beyond job postings and simple job alerts. But how to do that effectively? That's where technology comes in.
I see considerable confusion around sourcing tools and technology—which tools are needed and when, particularly the role of a CRM system vs. an ATS.
Interestingly, many people believe they don't need a CRM since they already have an ATS. The reality is that you need both. And here's why: both serve distinct functions in each section of the talent funnel. An ATS automates the application process and provides a repository for applicants, but it doesn't allow you to market to your candidates. A CRM is a sourcing engine that allows you to create a private talent pool and automate the nurturing of job candidates. The two tools serve different, but interconnected purposes and they complement each other.
Your ATS serves several vital functions
.
It's a repository for applicants and it automates the application process. But, your ATS isn't is a unified database of passive candidates. It's also not a marketing engine to deliver targeted, contextualized content to different audiences like: "silver medalists," alumni (or "boomerang" hires), and the often-forgotten rejected candidates. The difference is simple: your ATS serves applicants while your CRM serves job seekers and candidates.
Your CRM is an ecosystem of all active and passive candidates.
Today's active candidate is tomorrow's passive candidate and you need a CRM to nurture all candidates based on where they fit in the hiring process. With a CRM, you can segment your proprietary bench of candidates (or talent community), define appropriate messaging and frequency, deliver those messages, and most importantly, measure the effectiveness. A CRM helps you easily deliver the right message, to the right people, at the right time.
Ask yourself if you're truly employing a proactive, nurture-centric talent acquisition strategy
.
The competition for top talent is fierce. To attract the best candidates you need to market your employer brand and communicate a compelling narrative about your company. If your sourcing strategy is focused only on your ATS, then you're missing out on an opportunity to engage with and nurture all your prospective candidates.
Both an ATS and a CRM are critical components of a comprehensive talent acquisition strategy, and they complement each other.
Think of it this way: If your ATS is the "party," then your CRM is the "invitation" to entice people to come there. Do you have the tools in place to make sure you're inviting the right people to your party?