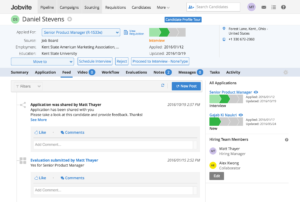 No matter how much money is spent on recruiting software and staffing salaries, we're still seeing a massive disconnect between recruiters and hiring managers
Each side thinks they know more than the other about a position, its requirements, and the best candidates to fill the spot—in fact, each side grades themselves an A while giving the other side a C.
With such an obvious lack of communication, it's no wonder we're seeing longer time-to-fill metrics. Candidates are getting hung up on bottlenecks in the hiring process. Emails shoot back and forth endlessly, while interviews are missed, unqualified applicants are sent through phone screens, and high-caliber talent is stuck in limbo.
What's Missing is Real Collaboration
Not just the kind where people shake hands and promise to work together nicely—but the kind where technology streamlines processes continuously and naturally, so that both sides can interact whenever and however and as frequently as it makes sense. Too often, we see technology solutions that manufacture artificial stopping points where recruiters or hiring managers are supposed to jump in and do something. Approve an applicant for an interview, perhaps. Or provide feedback on a resume before a phone screen can proceed. And when someone fails to move at one of these junctures, or needs to backtrack, the whole process goes haywire.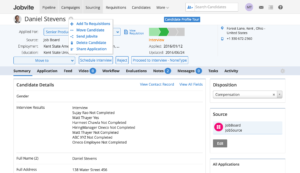 The reality is that people don't work like this anymore. We live in a world where collaboration and messaging tools like Slack enable us to act and react instantly. We need recruiting and hiring technology that emulates this kind of feed-based communication in real time, on the platforms and devices that we use daily.
Collaborative Hiring Gets Everyone on the Same Page and Extends the Hiring Team
Fortunately, Jobvite Hire is addressing this need— on desktops and mobile devices— with some pretty groundbreaking collaborative features—kind of like Slack for the whole hiring team. In addition to expanding who can collaborate and what they can see and share, we're enabling a social media-like feed where you can have actual conversations around a candidate, providing feedback and discussion opportunities throughout every stage in the recruiting funnel—not just at those one or two predetermined stopping points.
For example, when a candidate submits a promising application, recruiters can share it immediately and request feedback from specific hiring managers. Have a busy hiring manager or want to get feedback from others in the team? "Share Application," to the rescue, again.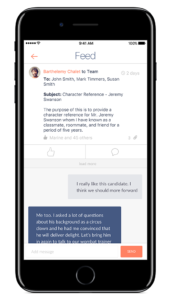 Everyone can chime in with their posts (akin to submitting a candidate review), or like/comment on other's posts. These conversations can begin when screening a candidate all the way through interviews and even to post-interview decisions. And of course, the collaborative feed stores all the chatter about candidates, so everyone stays in the loop.
We're excited to advance collaborative hiring not only because it will accelerate a candidate's movement through the funnel, but because it also creates more opportunities to increase candidate quality. The more people can easily engage in discussions and share information about candidates, the more diverse opinions you can collect about a potential hire. The more employees have an opportunity to provide feedback, the more they feel connected to the process—and the more likely they'll submit referrals. In addition, enhanced collaboration cuts the risk of errors and helps everyone on the team delegate tasks more efficiently, which greatly improves the candidate experience and, in turn, your employer brand.
Have you been frustrated by lack of communication with your hiring team? Let us know what's holding you back in the comments below. And post your questions, too. We'd love to hear your thoughts on collaborative hiring.
Start Collaborating!