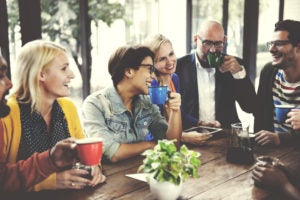 HR professionals know the importance of company culture. It engages employees, boosts morale, and even helps with recruiting great talent—but only if that talent knows about the culture. And who can talk about your culture better than the employees who live it day-to-day?
According to a 2015 CareerArc survey, 75% of job seekers consider employer brand before applying for a job. That means, if you have a great culture, you should be doing everything to make it known. However only 57% of organizations have an employer brand strategy.
If given the right tools and information, your employees can be a powerhouse of recruitment. Here are four strategies to help your employees promote culture:
1. Embrace Your Brand Ambassadors
Employees are surrounded by company culture, and often, they are crazy about it. Sometimes, they're more effective at communicating it than the company.
Take Adobe. The design company's department of Social Business Center of Excellence does nothing else but figure out how to incorporate social media into how the rest of the business. The head of the team found one day that one employee's social media pages were bringing in more revenue than the company's social pages.
This phenomenon can be explained by an Edelman Annual Trustbarometer Study that found everyday employees are trusted two times more than a company's CEO. That means the great talent you're looking for will listen to your employees more when it comes to learning about the culture.
Giving your workforce the skills, resources, and encouragement to harness their love for the company and turn it into promotion will make your workplace attractive to the talent out there. Even better, these passionate promoters will likely attract talent as passionate as they are.
2. Teach Social Media
Not every employee will be as active as a brand ambassador—and that's ok. There are different levels of communicating a great culture, and they all will help attract talent, as long as they have the right tools.
Providing information and trainings for all employees will build an online community who advocates your culture. By encouraging employees to tweet, post, and share stories and fun facts about the company, it can become second nature and solidify the image of the company's culture in the eyes of job seekers.
There is another side to teaching social media: explaining what not to do online. While social media can be an employee's greatest tool for promoting an employer brand, it can also be a company's largest threat (Read: employee social media embarrassments). With so much activity online, it's important to teach employees social media etiquette. Trainings are the perfect way to avoid those culture disasters and keep the social media positive.
3. Make Assets Universal
Once employees know how to use social media, it's necessary to give them the collateral for promoting the company's image. Not only does this make it easy for employees to promote their brand, but it guarantees a unified image across all of your people.
That can include Twitter banners, example employee bios, suggested tweets, and any other social collateral you can think of. Let the employees use their creativity to show potential employees a little more about their future workforce. Provide choices and be flexible: have each person add a fun fact about themselves at the end of their twitter bios.
4. Make the Brand Strategy Fun
Want to encourage employees even more? Make branding a game. In the last few years, gamification has been introduced to many aspects of the workforce to engage employees more.
Walmart launched their own form of gamification in 2013 to improve their safety training process. The program made training competitive and users began to talk about the importance of safety compliance to grow their rank in the game. Two years later, the superstore had experienced a 54% decrease in incidents among the distribution centers using the program.
Gamification gets employees excited about their activities—and pulls on their competitive nature—to increase engagement. To get employees engaged in sharing the company's culture, create a reward system. Use an online platform to give stars to each employee for attending trainings or sharing posts. Then, have a brander of the month and distribute prizes.
You can give the competition your own culture spin to fit to your workforce. No matter the specifics, making it a game gives employees a chance to be competitive and have fun while telling everyone about their culture.
Whether you have a workforce of employees who are extremely active online, or a group of social media newbies, you can reach the great talent you're looking for. Just follow these steps to show the world your culture.
About the Author
Klein Aleardi is an HR Specialist at Namely, the all-in-one HR, payroll, and benefits platform built for today's employees. Connect with the Namely team on Twitter, Facebook, and LinkedIn.