In our current entrepreneurial atmosphere, a successful start-up's demand can grow by leaps and bounds, and as such, staffing is always a top priority. Managing by crisis, especially in a fast paced environment against stiff competition, seldom produces good results. It's unsustainable for a business to scramble wildly to find new employees every time the workload increases. If you take the time needed to screen all the candidates for the absolute best fit, you will fall behind. On the other hand, if you hire too quickly and take on staff that doesn't fit well, over time it will diminish the efficiency of your workforce.
The best way to avoid these pitfalls is getting a backlog of highly qualified candidates that are on hand when you need them, and thus getting your rush work done ahead of time. The only problem is that it's easier said than done, few people can afford to sit and wait for an opening in your company. Good thing you can always ask the experts how they do it! We caught up with several leading professionals and asked: How do you create a pipeline of candidates (candidate inventory) for future job openings?
Dedicate Resources to the Task
Kathleen Steffey runs a blog called SalesJournal and is the CEO and Founder of Naviga Business Services. Naviga is a specialized recruiting agency dedicated to finding top sales and marketing talent across North America. Through her experience, Steffey has found that the act of keeping an inventory of skilled candidates on hand has to be a deliberate effort, and a good way to start is by outlining some parameters, establishing accountability, and then building a database.
"It just can't be a thought in the air saying we really should be doing this. It's not going to work out that way. It needs to be deliberate discussion and partnership with somebody who will go after your competition and your targeted candidate list and give you the results that you need.
Whether the function is being performed in house or by a retained recruiting firm, you need the dedicated resource to hold accountability. Ask your resource what their candidate prospect list looks like? What are the company names that these people are from? Who are they? What are their phone numbers? What are their email addresses? Where are we at? Are they interested or are they not? Are they future candidate prospects? If the resource that you're working with, whether internally or externally doesn't have this data at their fingertips, they're not doing this for you."
Bring Candidates in as Interns
Brendan Burke, Director of Business Development at Headwaters MB, feels that a great way to keep a talent backlog is to maintain a healthy internship program. At Headwaters MB, a Colorado-based middle market investment banking firm, Burke manages recruitment in an ongoing fashion, while still making the experience advantageous for both parties. He admits that his firm asks a lot out of their candidates, but they get a lot in return, often times finding placement in other top companies if they end up not being a fit with his firm.
"I manage a bullpen of junior Investment Bankers as well as a small and growing stable of investment banking analyst interns. We ask our interns to commit to a 6-9 month paid program. We're agnostic about what time of year they start their program. (This is a departure from the standard 10-week summer internship.) As such, we perform this recruiting on a rolling basis and always maintain a backlog of strong candidates.
Headwaters offers a minimum 6 month internship to rising Juniors and Seniors in college and MBA students. In contrast to the typical 10 week summer intern program, we find that the 6-9 month part time program allows the candidates to experience more of the investment banking business and participate in more long term projects with our professional investment bankers. And, our interns are paid. Our interns have been hired on as full time Investment Banking analysts at Headwaters; many others have gone on to full time positions with Raymond James, Montgomery Securities (now Signal Hill), JPMorgan, Google, Zayo Group, Liberty Media, Newmont Mining, Piper Jaffray and Jeffries."
Don't Wait to Be Found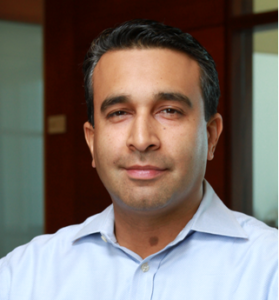 Vinay Bhagat is a serial entrepreneur based in Austin, Texas, and CEO of TrustRadius, a site where professionals share candid insights about business software to help each other make better decisions. Bhagat feels that even if you are a start-up, time on the prowl for new talent is time well spent. He also thinks that some of that time should be spent with a more boots-on-the-ground approach, seeking out individuals who may not even currently be on the job hunt.
"We're a small start-up – 10 people today. As CEO, I believe I should spend at least 20% of my time recruiting. Recruiting extends well beyond interviewing candidates for active positions. It means getting out and meeting top talent who are not actively looking for new opportunities, to get to know them, get them excited about your company etc., and staying in touch, both as future potential candidates but also to generate positive word of mouth and referrals. I also encourage my management team to do the same thing, and actively try to help them fill their pipeline too."
Next Please!
Building a solid candidate inventory is a wise step in securing sustainable business growth. It's a strategy that's worthy of your consideration no matter how big or small your company is and regardless of the field you work in. Rapid growth, unforeseen resignations, or the formation of new departments or services can send you scrambling for potential employees, and the last thing you want to feel when sitting down to interview is desperation. So plan ahead for your next openings, build a backlog and get your business to the point where all you'll have to do is say- "next".