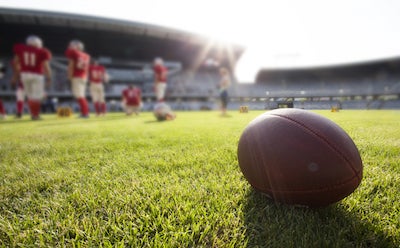 Today's recruiting market is evolving at a faster speed than ever before. Retiring Baby Boomers are being replaced by Millennials, causing an epic shift in the way top companies attract, hire, and retain talent.
There's no better example of how to win the war on talent than this year's Super Bowl teams. Both the Broncos and Panthers reached Super Bowl 50 by not only attracting top talent for their teams, but also by being able to mine the hidden gems on the bench.
You need to look past the players on the field and engage with lesser-known talent. Luckily, Jobvite has already drafted the perfect game plan to ensure your hiring success through our revolutionary recruitment marketing solution, Jobvite Engage.
Launch email, web page, and social communication campaigns to "warm up" your candidates until they're ready to join your team. These tactics will keep the lines of communication open, so you can fill openings on the team quickly and efficiently. Once you've won over some talent that's ready to fight and win for your company, measure your campaign results with Jobvite's robust engagement analytics and reports.
If you're interested in this strategic recruiting, you'll need some guidance from a Hall of Famer to customize your own Talent Acquisition playbook with Engage Strategic Services. Quarterbacked by a former global talent acquisition leader and former Jobvite Engage customer, you'll have access to an all-star team to help up your game across social media, mobile-optimized web page, and email campaigns.
For a sneak peek of how industry-leading talent acquisition organizations have recruited their winning teams, check out the top 5 Jobvite Engage web campaigns of 2015:
#5 Schneider Electric's, "The Future is Now…" Campaign – International Recruiting and University Recruiting
Faced with attracting and hiring for several key university positions for their prestigious Advanced Development Program, the talent acquisition team at Schneider Electric got creative with utilizing both web and email campaigns to grow their pipeline from zero to hundreds of ideal prospects in a matter of days. These campaigns took them all the way to the end zone; in less than 2 months, they were able to exceed their goals and get 31 first-round interviews, resulting in 9 hires (even some Engineers!).
#4 GroupM APAC's, "You can't stand still if you don't stand out…" Campaign – International and University Recruiting
The GroupM team knows their stuff when it comes to talent acquisition. In 2015, they won the Asia Recruiting Awards and were recognized for overall best recruiting program in all of Asia. When it came to putting together a unique web campaign to attract key university hires using Jobvite Engage, they had no problem. Part of the key to their success was creating a campaign that could be easily shared across social media and mobile.
#3 UCSD's, "Change the World" Campaign – University Recruiting
While colleges spend the majority of time focusing on wooing top students, it's also important to have a great team of educators and faculty members. No player chooses a team without assessing the coach and staff. UCSD used YouTube to educate job seekers on why their workplace is unique and the kind of candidates they believe will take them to the next level.
#2 Juno's, "Do You Hate Cancer…" Campaign – Building Talent Pipelines
With great success comes increased job applications! 2015 was a big year for Juno, from going IPO, to being named one of the smartest companies by MIT, to raising $1 billion. To support all their recent positive recognition and subsequent high applicant rates, they brought in Jobvite to maintain communication with potential candidates and alert them of any new job openings – all while staying top-of-mind with passive job seekers.
#1 Tenable's, "Rugby World Cup" Campaign – Event-Based Talent Acquisition, International Recruiting, and Building Talent Pipelines
If you think working for one of "The Best Places to Work" attracts candidates, you should have seen what happened when news broke that Tenable raised $250 million in funding. To even further accelerate their EMEA hiring, they launched a brilliant Rugby World Cup-themed campaign. They made such a splash across social media that within the first weekend, their campaign was viewed by over 1,500 prospective candidates. With Jobvite Engage's Candidate Relationship Management (CRM) capabilities, as prospects came into the system, they were instantly tied to an email campaign. Tenable's recruiters were then able to reach hundreds of leads in an instant, with minimal effort. We'd like to think these next-generation recruiting efforts were a big reason why investors happily raised a cool quarter of a billion to fund Tenable's future.
Closing Remarks
These examples range from all types of companies, from established global energy companies to tech startups in hyper-growth mode – even to universities. No matter the size, type, or location of your organization, Jobvite Engage will provide you with the tools that will lead your team to the championship game. How will you prepare your team to win the talent Super Bowl?