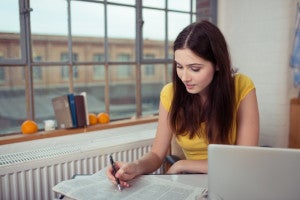 This is part one of our HR Full Cycle Series.
You just opened a new requisition and now you need a job posting. Many people don't give the job posting the thought and time it deserves—it's too easy during our busy workday to just cut and paste an old job posting and tune it for the new role. But this is your time to make a great first impression with the right candidates. You have only a few seconds and a few hundred words—but that can make all the difference in attracting the candidate of your dreams and helping them decide your position is a must-have.
A job posting is essentially an advertisement. It's an opportunity to market the role and your company to attract the right, high-achieving candidate. Too often I see job postings written from the company's point of view—what they seek in terms of skills, experience, cultural fit. The next time you sit down to write a job posting, I'd like to suggest that you first make sure you have a crystal-clear idea of who your target candidate is, and then put yourself in their shoes. What would they want to know about the role? About the company? What makes your company and this position unique? If your post answers these questions, that alone is guaranteed to make for a more compelling result.
But that's just the first step. Here are my top three tips for creating a stellar job posting:
1. Tell a story. People respond to stories and narratives. Unfortunately, the vast majority of job postings follow a fairly formulaic template with a basic paragraph about the company, then a lengthy, bulleted list of experience, skills, knowledge and education required. Cast that formula aside. Weave a narrative about your company, use language that resonates emotionally, and underscore with visuals or quotes from current employees. Instead of a rote list of requirements, how about describing the characteristics of the perfect candidate? And pairing that with some color on your company culture and what's unique about it? And make sure your tone is consistent with your company persona. If you're a fast-moving, scrappy start up, don't use overly formal business language in your post.
2. Be realistic. As I mentioned earlier, understanding your target candidate is the key to being able to market your open position effectively to them. It's just as important to understand the job market and landscape and tune your job posting accordingly. For example, in a highly competitive job market, you need your post to stand out to catch the eye of top talent and entice passive candidates. If you have an extensive and stringent list of experience, skills and requirements, you might want to rethink which are must-haves and cast aside the ones that aren't. Your job seekers need to know enough to be able to see themselves in your post. With a lengthy and strict requirements list, you run the risk that your perfect candidate could self-select themselves out of the job.
3. Keep it brief. By some estimates the average job seeker spends a mere 30 seconds reviewing a post. So you have only a short window to capture their attention. This is only one of the reasons why it's important to be brief, clear and to the point. Our own 2016 Job Seeker Nation study found that an increasing number of people are searching for jobs on their phones. Brevity is an important part of making your job posting mobile-friendly. Your posting should be able to be scanned in seconds. Use bullets for readability. Be succinct. The goal of your post isn't to share every last detail about the position, but rather to share just enough to intrigue your ideal candidate and make them hungry for more.
By following these guidelines, you might find that it takes a bit more thought and time to pull together your job posting. But the result will be well worth it as it will move you one step closer to finding the candidate of your dreams.
What do you think makes for stellar job posting? Leave a comment and share your tips.