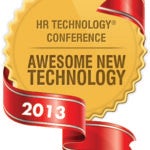 Here's some exciting news to start your week: Jobvite Engage just won Product of the Year from Human Resources Executive. As if that weren't enough of an honor, Jobvite Engage was also named an "Awesome Technology" winner and will be highlighted during the "Awesome Technologies" session at HR Tech next week. 
Naturally, we're thrilled with this recognition—as it highlights how important a Candidate Relationship Management system is in today's changing recruiting world. As you've heard us state before, recruiting is becoming synonymous with marketing in many respects. Candidates are like customers, and your job is to find them, woo them, and then close the hire. Much like marketers use Customer Relationship Management tools to track and communicate with their prospects, Jobvite Engage positions you to source the quality talent you need and keep them interested over time using social platforms, relevant content, and easy-to-use templates. These awards from HRE help hammer home the idea that Jobvite Engage is setting a high bar for feature-packed innovation.
If you haven't looked into Jobvite Engage, now is a great time to investigate. Check out our product tour and if you've got questions, feel free to post them below!