Social profiles have become an increasingly important part of job search and hiring over the past two years since we first introduced social network integrations on our recruiting platform. In February 2009, we made it possible for people to submit LinkedIn profiles with their job applications; and now, 12% of the applications our customers receive include LinkedIn profiles submitted by candidates.
Today, LinkedIn announced a new Apply with LinkedIn plugin, an embeddable button for career sites that allows you to preview and update your profile in real-time before submitting it, as well as check your connections at the company. We've now included the new plugin on our customers' career sites (for an example, go to the LivingSocial career site and hit apply).
This is good news for job seekers who have built professional profiles and connections – but perhaps haven't spent as much time polishing a resume.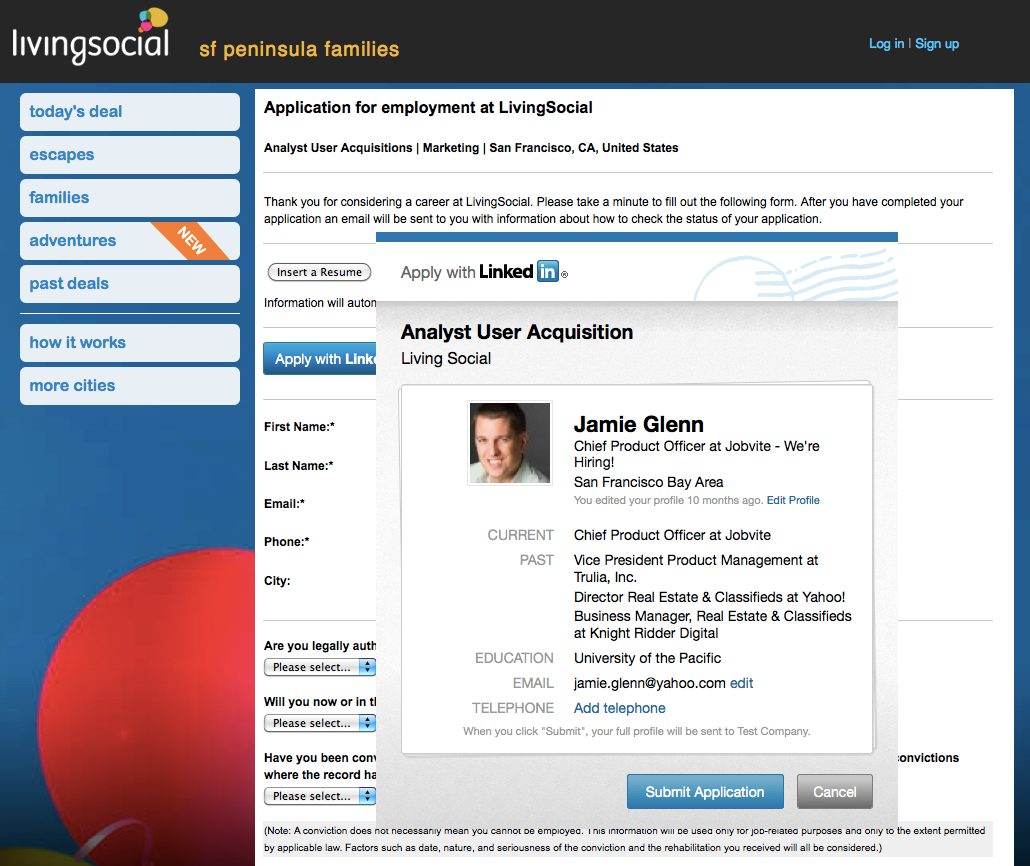 We only expect the rate of job applications submitted with professional profiles to grow. Here are some data points from our recent studies:
Companies need to appeal to the 53% of the workforce that are open to a new job but not actively looking; this group of talent may have resumes that are several years old – but it's easier to keep a professional profile current.
Recruiting passive candidates is the top strategy reported by employers for competing against competitors for talent.
Recruiters already use social profiles extensively to research candidates. Almost half (45%) of all recruiters said they always look at candidate's social profiles, up from 32% in 2010. Another 29% occasionally search for the online profiles of candidates.
87% of U.S. companies use LinkedIn to recruit.
One in three job seekers have LinkedIn profiles with a higher level of penetration among those with a college degree or higher.
By accepting professional profiles with job applications, companies can appeal to the majority of workers who'd be open to a new job if the right one came along.
(The data above comes from surveys we've conducted among job seekers, Job Seeker Nation 2010, and 800+ recruiting and HR people, the Jobvite Social Recruiting Survey 2011.)