At Jobvite, we recognize that there are times where as a Jobvite Engage user you really wish you could easily share the ultra rich contact records in your pipeline with your recruiting team, hiring managers, and even external stakeholders, to move passive candidates down the recruiting funnel.
With Jobvite Engage, you can now easily share contacts in a few clicks.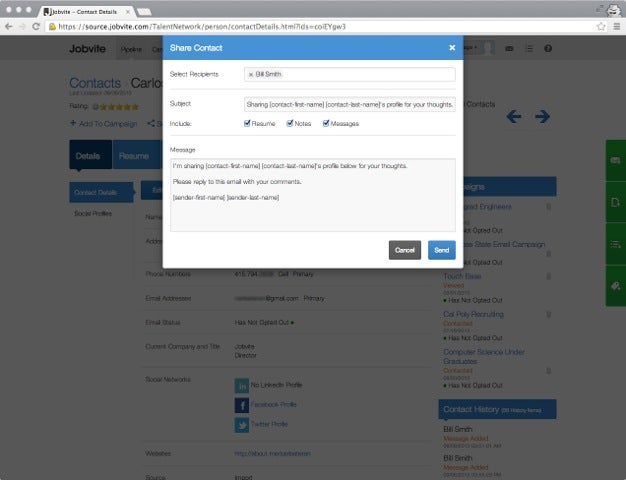 Say you want to get the hiring manager's thoughts on someone you've been communicating with via Jobvite Engage email campaigns.  You want a "green light" from the hiring manager prior to sending them a Jobvite to apply for the opening.  Select "Share Contact" in their contact record, the next screen allows you to select internal recipients (hiring managers, employees, recruiters, etc. – it auto fills so it's super fast) or add email addresses for recipients not in your organization.  You can even edit the included default message to personalize it or include specific questions.
Recipients receive an email that includes the contact's profile information, including their latest resume, notes, and messages if the sender selects those options.  The email has even been designed for optimal viewing on mobile devices so they can easily respond while on the go (we have desktop email clients covered too).
When a recipient responds via email, their response is added as a "Note" in the contact's record and available to every Jobvite Engage user in your organization.   So next time you're sourcing and moving passive candidates down the funnel to active candidates  – don't forget to share!