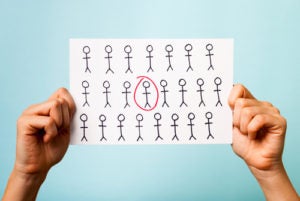 If you've ever used a hiring agency to find candidates, then you know the service costs mega bucks. In fact, Jobvite's 2016 Recruiter Nation Survey found that nearly 40% of companies plan to hire 100+ new employees in 2017, yet  no one has the budget for agency fees.
So what's a savvy recruiter to do? You can turn to sourcing alternatives like LinkedIn, but nowadays every company is seeking all the same skills in all the same places. That means you need to get creative about attracting new talent in order to stand out from the crowd.
Here are our top three unique sourcing hacks designed to optimize your talent search and get you noticed by the most desirable candidates.
Hyper-Personalize Your Emails
We've all been the recipients of utterly generic emails and they go right into the "delete" folder. If you want to create more meaningful connections, generate more leads, and improve your conversion rates, then you need to customize your communication to a candidate's specific interests or needs. We call it "hyper-personalization," and while it requires some investment of time at the outset, the payoff is an increase in overall response rates that will potentially cut hours off your search down the road.
How do you get started?
Join the candidate's conversation.

See what candidates are talking about on social media and find common ground. Use that as an introduction to engage with them

Throw in an element of surprise.

Break out of typical recruiter-speak and get creative. Ask yourself: What would grab your attention?

Speak opportunity and not the job.

Don't limit your search to people who are actively seeking new employment. Research shows that at least 45% of people are open to new opportunities even though they're satisfied with their current positions. If you're courting a passive candidate with specialized skills, make sure your emails promote the possibilities for professional development and career growth
Use Twitter to Find Sales Winners
Looking for sales experts? Then you want the ones who consistently exceed quota and win all the awards. But where to find them? Make Twitter your first sourcing stop—because chances are the people who earn those bragging rights are posting pics and tweeting about their well-deserved tropical vacations.
Here's how to find winning sales talent on Twitter:
Put hashtags to work.

A quick search for terms like #PresidentsClub will give you a handy list of passive but phenomenal candidates letting the world know they're committed to excellence

Be prepared.

Have a plan of attack ready to introduce yourself when you find qualified prospects. And don't be afraid to tell them how you found them—good salespeople like to know their work is appreciated
X-ray Meetup.com
With over 29 million members and more than 262,000 Meetup groups, Meetup.com is a very valuable source for identifying talent. Although the site search is limited, you can find more specific results by x-raying using zip code radius to search groups and group members on custom domains.
Look for groups based on skill sets.

For example, if you need Java programmers in a certain location, search for Meetup groups in that area that are specifically for professionals working in that field.

Use x-ray and Boolean search combinations.

To find Java programmers in San Bruno, for example, try something like this: site:Meetup. com 94066 AND (Java OR "Java Programmer")
To find and attract the best talent in 2017, resolve to toss aside by-the-book recruiting approaches. Instead, give one of our top sourcing hacks a try and see how they expand your talent search.
Get The Other 7 Hacks
Ready put even more creative sourcing techniques into action? Download our eBook, "Top 10 Sourcing Hacks," and accelerate your path to new prospects and improved hiring conversions today.