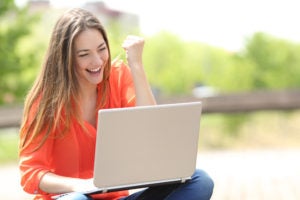 There's a hot new term in HR and recruiting and you've probably heard of it  — recruitment marketing. Just so we're all on the same page from the get go, recruitment marketing is the strategy and tactics used by an organization in order to source, manage, and nurture passive talent — before they apply to your job.
Today, recruiters need to start thinking like modern marketers and consider candidates more like customers. This involves building awareness, trust, and engagement in your brand that's targeted towards a specific pool of talent, who may or may not be looking for a new job. When a recruitment marketing program is working, it keeps your company top-of-mind when candidates are looking for a new job and also inspires them to refer your company as a great place to work.
Here are three things that you can do to drive better results by thinking like a marketer:
Attract Candidates with Your Employer Brand
Would you buy a product from an online business without a sleek and modern looking website and without content that's meaningful for you? Most likely not. Just like your customers, the candidates that apply to jobs today have already done their research and made a decision on whether or not they would be willing to join your company.
That means that it's time to invest in a great career site that delivers an exceptional candidate experience with compelling content that's engaging and authentic to your brand and culture. Don't forget to create a streamlined and easy to use application process without a mandatory login, provide social ways of connecting without resumes, and most importantly — be mobile optimized. According to Jobvite's 2016 Recruiter Nation Survey, 45% of recruiters have mobile career websites (compared to 37% in 2015), because recruiters are realizing that this is an imperative. We expect that number to be even higher next year.
Target and Segment Your Talent Pools
So you've grown your pipeline of passive candidates — now what? Segmentation. What does segmentation even mean? It's the act of breaking your audience into various groups of people. For example, you can segment your talent pools by groups, such as university recruits, or even narrow a pool down very specifically, such as Stanford computer science students.
Often times, you come up against two great candidates and are left with the choice of only hiring one. Recruiters and hiring managers refer to these candidates as "silver medalists." It's crucial that you segment and continue to build strong relationships with these "silver medalists" so you can always keep a reserve of great talent for future opportunities. The beauty of segmenting your audience like this is that you can engage with them about topics that resonate with their interests and keep your brand top of mind.
Nurture Your Talent Pools and Pipeline
Communicating to candidates with a proper message and at the right cadence will help your candidate pipeline from collecting dust. Don't overdo it and start spamming them, which will inevitably result in unsubscribes. The point here is to encourage them to consider your company a valuable partner in their job search and career.
Pay attention to email marketing best practices such as creating professional looking emails with images or videos, writing a good subject line, testing email delivery times, and adding a call to action. Utilizing a system like the Jobvite Engage recruitment marketing solution enables you to segment your talent pools, build out personalized nurture campaigns, and make it easier to provide relevant and valuable content to each segment in your pipeline. For example, you can send immediate follow up campaigns to students from a university recruiting event, or just insightful interview tips, that will help candidates or build a trusted relationship with your brand.
This all may seem a little bit intimidating, but the key here is to start early and work with a partner who can guide you in the right direction when it comes to recruitment marketing best practices. Jobvite customer Talend implemented a recruitment marketing program and they realized a 67% increase in their talent pipeline and decreased their agency spend.
If you'd like to stay ahead of the recruitment marketing game and win the race for better qualified candidates, then start here.
Learn More