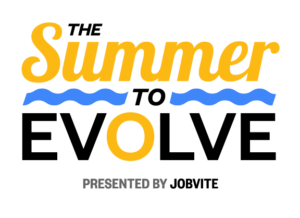 We hope you enjoyed our kick-off week for Jobvite's "The Summer to Evolve" program all about Recruitment Marketing. If you missed some of the fun, make sure to head to our YouTube channel to listen to one of our first sessions and register for more sessions this week. 
Hot Takes from Week 1 of The Summer to Evolve 🔥

 
Highly effective

r

ecruitment 

m

arketing

organizations spend less than 30% on recruitment costs and hire in 30% less time.
60% of applicants abandon the app

lication

process in the middle due to its complexity and length.
38% of

job seekers

 in April said they would preemptively reject a potential employer due to publicly available reviews (vs. 35% in February).

 
Want more relevant stats? You have to read the Jobvite's 2020 Job Seeker Nation Report!
Top Ways to Get Started with Recruitment Marketing

THIS WEEK 
🔲 Check to see if your job postings show up in a job board during a Google search.  
🔲 Put yourself in the shoes of a candidate by filling out an online application — then go through the process on mobile.
🔲 Read reviews of your company on Glassdoor and respond to any outstanding comments. 
🔲 Make a list of employees you believe have a compelling story that could be recorded for testimonials.  
Top Ways to Get Started with Recruitment Marketing THIS MONTH 
🔲 Interview 1-3 top performers in your company to build or refresh your personas. Then, you can start building personalized content targeted to them across your career site.
🔲 Re-visit your job descriptions and refresh them to ensure they're clear, persuasive, and align with your employer brand. 
🔲 If no one has been assigned to regularly review and respond to comments made on public-facing review sites, like Glassdoor, assign that task to a team member and develop an ongoing strategy. 
🔲 Record testimonials from a few employees (or empower them to record it from their homes), and post them across your career site and social networks.  
Thanks for joining us for our kick-off week! 
Check out what's coming up next week where we dive into "Candidate Screening" and register for more summer fun today.