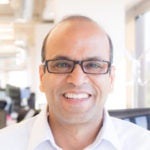 As CTO, overseeing the technology and product innovation at Jobvite, it's incredibly rewarding to announce that Jobvite was named as a leader in the Forrester Wave™ report on Talent Acquisition Vendors. Forrester's report  — which draws assessments from analysts, research associates, vendor response teams and customer references — is a highly respected evaluator of the leading software, hardware and service vendors. In addition to being recognized as a leader in our space, Jobvite also received the highest score among all companies considered in both "Current Offering" and "Strategy" categories.
Beyond calling Jobvite "a clear leader with deep social tool functionality," the report also mentions that "customers give Jobvite high marks for ease-of-use, satisfaction in product performance, implementation, and sourcing candidates and providing metrics on sourcing solutions."
While it's certainly rewarding for my department to see our recruiting platform achieve distinction, this recognition reflects so much more than just our work alone. From customer success to marketing and everyone in between (Top Dog Pancake included), this is a win on all levels. What's more, it's a great reflection of all the effort and collaboration that takes place within the company.
But Jobvite is not a company content to rest on its laurels — we're constantly innovating and thinking future-first. While we're honored to hear such a positive assessment of our company, it also serves as yet another reminder to keep up with the dynamic nature of the recruiting industry and continue finding new ways to delight our customers. We'll celebrate our acknowledgement, but we'll also continue to work on maintaining our status as "a cutting-edge company leading the way in the talent acquisition space" for the long run.
I encourage you to read the Forrester Wave Talent Acquisition report and see for yourself how we stacked up against the competition.