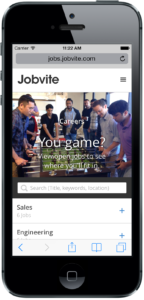 Last week, Jobvite announced our new mobile career sites solution while I was at the SHRM Conference in Orlando, Florida; 2,800 miles away from the Jobvite office in San Mateo.
As the Product Manager for this solution, I was definitely bummed not to be at the "unveiling" with the fantastic team that designed and built this new product.
Although I wasn't with the team at the launch, it was equally as exciting to be with customers and potential customers to get their reactions as a SHRM exhibitor.  Check out our own Jobvite career site as an example (be sure to visit using a mobile device, we auto detect the device to provide an optimal experience… while you're there, apply to a job if you'd like to join our team!).
Prior to the announcement, I had showed early designs and prototypes to customers and others during our research to build the best mobile career site experience, but it doesn't beat the thrill of showing it off "live."  The response and feedback I received from booth visitors were overwhelmingly positive.  From the beautiful and easy-to-use design, the ability to quickly search and browse jobs, and the frictionless apply process, visitors were really impressed.  It's fun to see people interact with it because as the Product Manager I recognized some opportunities to make it even better.
Have any ideas on making our mobile career sites better?  We'd love to know so post them here!