This fall, we commissioned a new nationwide survey on the use of social networks to find job opportunities.  The Social Job Seeker Survey 2011 polled over 1,200 members of the workforce;  more than two-thirds (69%) are job seekers – people either actively looking for work or employed but open to a new job. The survey provides the first in-depth look at how the power of being social can lead to employment and which job seekers make the most of social networking.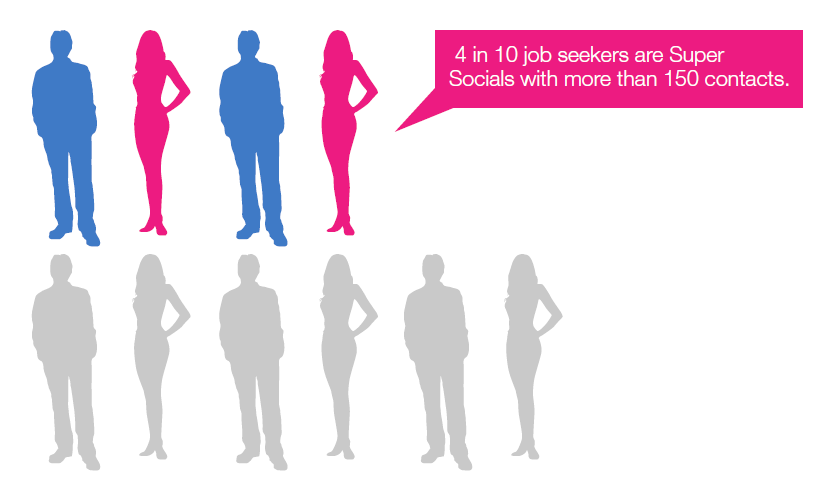 The survey reveals that more than 22 million Americans used social networks to find their most recent job opportunity – up 7.7 million from last year's survey. One in six members of the workforce say an online social network was one of the sources they used to find a job, and those with more contacts get better results.  Referrals continued to be the leading job resource for 36% of respondents.  (And, in fact, receiving job referrals from contacts in online social networks  proved to be highly effective for job seekers.)
The survey found a marked difference in job hunting activities and success when job seekers were "super social" – having more than 150 contacts on any single network. More than four out of 10 job seekers  are super social on at least one network, and they do more social job hunting and get better results than their less social counterparts. More than 1/4 (28%) of these super social job seekers found a job through online social networking.
Here are a few examples of how the behavior of Super Socials differs from others:
Updated Facebook profile with professional information: 32% of Super Socials, 20% of all job seekers
Had contact with a recruiter on LinkedIn: 45% of Super socials, 9% of all job seekers
Searched for jobs on Twitter: 48% of Super Socials, 11% of all job seekers
The polling company™, inc./WomanTrend conducted this nationwide online omnibus survey of 2,049 adults (aged 18+) on behalf of Jobvite. Fielded October 24-27, the survey included questions on current employment status (1,205 respondents were part of the American workforce) and the use of social networks to find job opportunities. Respondents for this survey were selected from an opt-in panel, and had expressed prior consent to participate in online surveys such as this. The demographics of this audience closely match the nationwide population of adults (age 18+) with respect to gender, age, and region, and race and ethnicity.
The survey results were initially covered in TechCrunch, The San Francisco Chronicle, RedWriteWeb, PCWorld, Forbes, ERE and other publications.