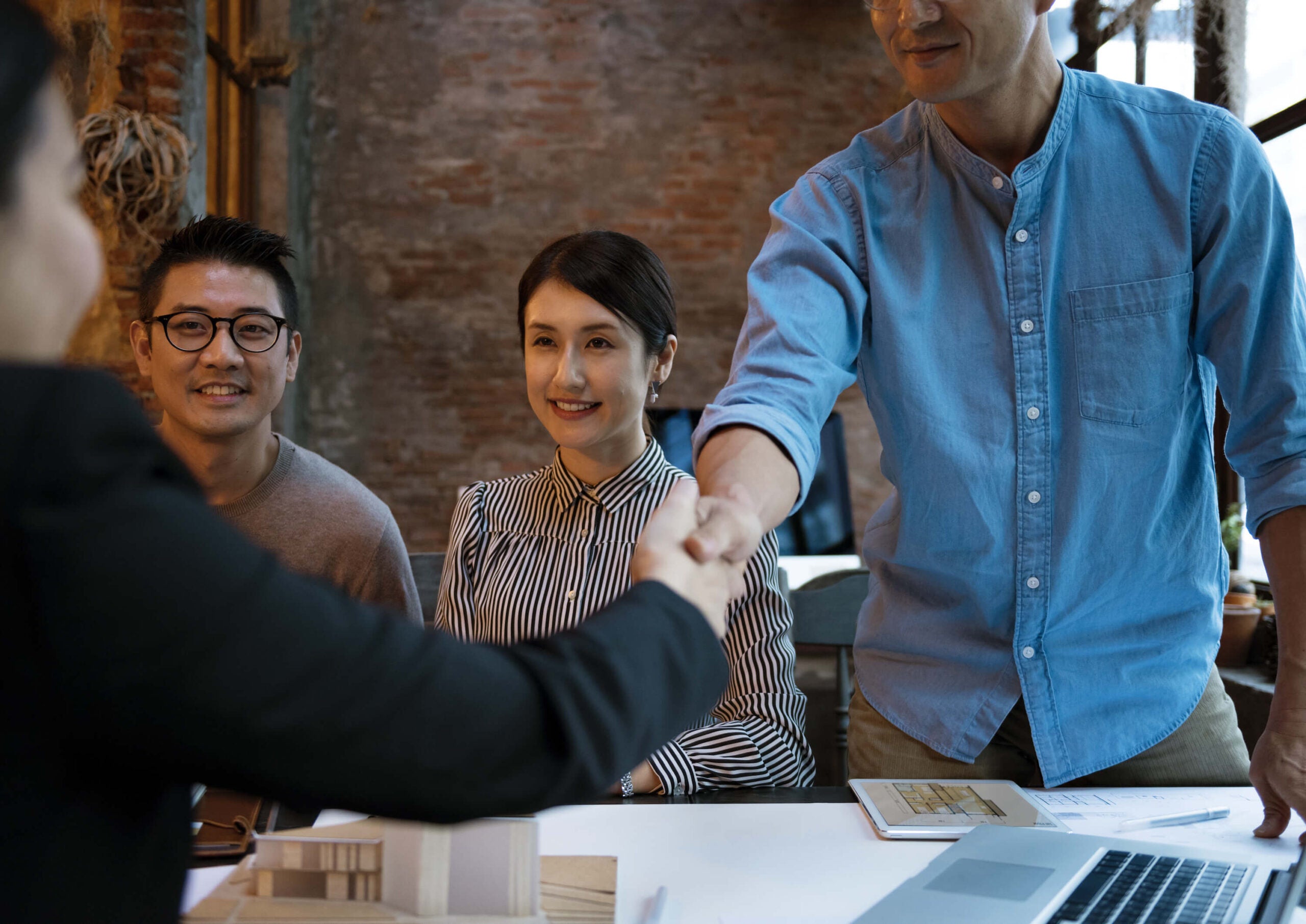 Maintain eye contact with job candidates. Have a prepared list of questions to ask. Ensure positive body language the entire time. Arrive several minutes early. Have multiple copies of resumes for leads. Be ready to ask job seekers for their point of view on certain work styles and approaches.
These are all good interview preparation tasks to keep top of mind when speaking with prospective hires. That said, regardless of the type of job interview you conduct, these are admittedly more of the (comparatively) minor details. You also need to think about your overall interview techniques too.
9 interview techniques and tips from the experts
Your interview techniques will differ from other employers. But, the goal of said techniques is the same:
Make the interview process less nerve-wracking for job seekers while ensuring you and other hiring team members get the info and insight you need (through both competency-based and behavioral interview questions) to make intelligent, unbiased hiring decisions.
So, how do you ensure that you secure the details required to ensure you hire the right candidates?
By taking advice from experts who regularly conduct a variety of types of interviews with job seekers — and know a thing or two about fine-tuning their respective interview techniques.
1) Use behavioral Interviewing and active listening
Teach your hiring team the foundational element of behavioral interviewing: the order of an answer.
For example, what were the pros/cons of your last role? Tell me about a major challenge in your career and the outcome. What was a piece of advice you still follow and would tell others to run away from?
The answers are important. But, the order, context, and storytelling of the answers are more telling.
Where does someone start? The pro or the con? (This can be biased, based on how you phrase the question, so mix it up.) How often does someone go to a negative example or how willing is someone to share authentic challenges and faults vs. providing the G-rated version of the answer?
Teaching a team to actively listen (and even digging deeper with follow-up questions) can increase the value of an interview and lead to greater insight into future behavior.
Stacie Baird, Chief People Officer, Community Medical Services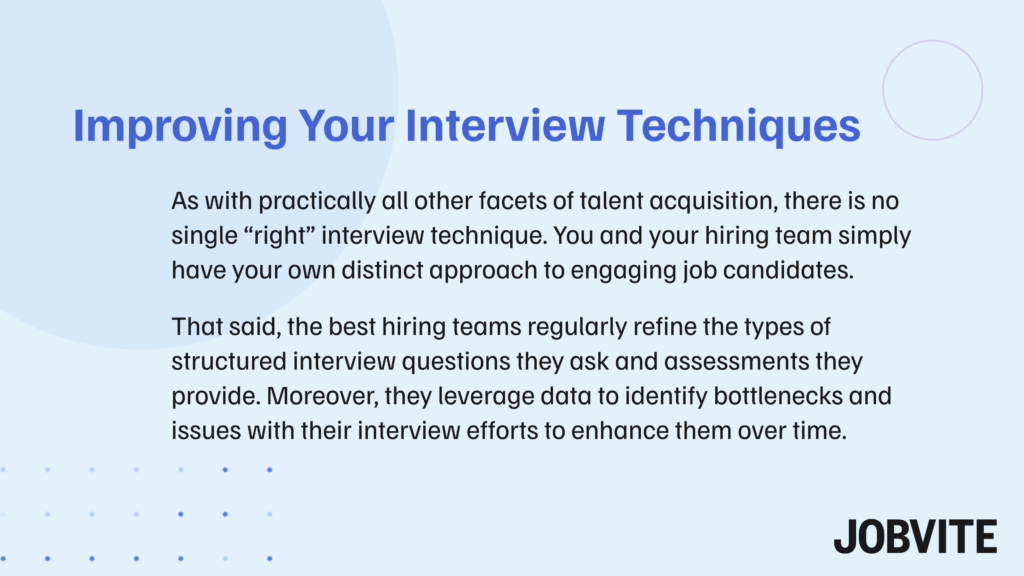 2) Promote an open dialogue with job candidates
I allow them to speak. Oftentimes, interviewers will bombard candidates with questions, without letting the candidate elaborate on their point or get through the interview jitters.
Once a question is asked, I make an effort to listen to the interviewee, allowing them to have their say and think of an answer properly, rather than feel rushed and forced to give a reply that they think we want to hear.
Even if a candidate appears to have finished speaking, I let a couple of seconds of silence go by. This is to allow the candidate to gather their thoughts and add anything that they think they might've missed before I ask another question.
Piotrek Sosnowski, Chief People and Culture Officer, Life And My Finances
3) Coordinate with interview panelists beforehand
The most effective tool in assessing candidates at our company has always been the prep work around identifying what behaviors and skills are needed to perform the role, and identifying who, throughout the interview process, will deep-dive into assessing those aforementioned areas.
Before any interview cycle, a recruiter will sit down with the hiring manager in an intake session and flesh out what the ideal candidate looks like.
In addition, before any "team fit interview," we will gather all the participants in the interviews and break down "who" will cover "what." It allows us to coordinate, and efficiently get the answers we need out of the conversations and improves the candidate's experience!
Zak Michalyshyn, Senior Talent Acquisition Lead, Knak
4) Provide a task-based assessment to job seekers
One of the best techniques I've found is to allocate tasks based on specific candidate experience from their CV and past roles.
It helps to analyze their approach to a specific task based on their experience, and you can learn how to potentially allocate this to the vacant role or learn if there's a "fit" for future role expansion.
Wendy Makinson, HR Manager, Joloda Hydraroll

5) Share scenario-based situations to candidates
Instead of asking the same questions, look at the specific experience of the candidate and create a scenario or requirement for them to showcase their skills specific to the role.
You can actually discover whether there is scope to bring someone with "outside of the role" skill sets as a means of role market expansion, and you can do so by actually seeing how this "fits" with your scenario or task within the hiring process.
Tracey Beveridge, HR Director, Personnel Checks
6) Use open-ended questions to identify strengths
One of our big beliefs when it comes to talent is that it's more valuable to know what an employee is great at than to focus on what they don't excel at.
For strategic hires, I manage the initial screening calls with potential candidates, and one of the first questions I ask the candidate is "What is the hardest you've ever worked on something?"
This question allows an open-ended space for the candidate to tell me something they're passionate about, something that motivated them, and something that they did well.
Based on this information, we can start to form an opinion of where this person's strengths lie and how they can be channeled into success for our business.
Brett Ungashick, CEO and CHRO, OutSail
7) Closely assess job seekers' critical thinking skills
Asking applicants questions that will measure their problem-solving skills and critical thinking is a highly efficient and effective way to assess your candidates.
Critical thinking is a good indicator of an applicant's performance and productivity potential as it shows his ability to think, analyze, judge, and produce results or answers under pressure.
It will also show their decision-making process which is a very important part of working in a company. One good question to ask is: "How will you do a task if your manager gave you incomplete instructions and information?"
This question will show how they will solve the problem at hand and show their process to acquire all the needed information to finish the task.
Steven Mostyn, Chief Human Resources Officer, Management.org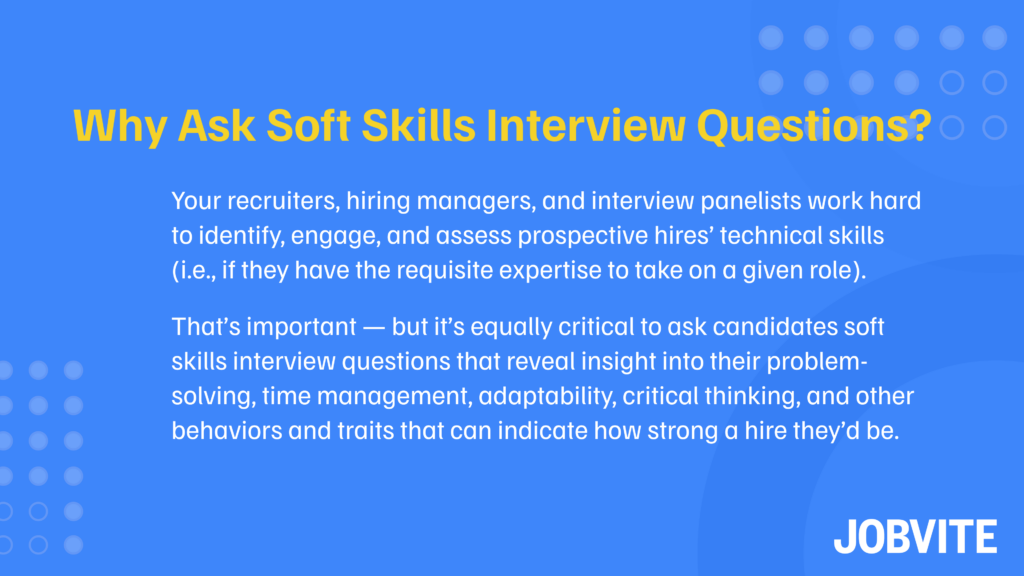 8) Use competency-based interview techniques
I've found that structured, competency-based interviewing is highly effective for many roles.
Based on the key competencies required for the job, the hiring team designs interview questions that align with each competency. Interviewers then ask every candidate the same set of questions.
For example, you could assess for cross-functional collaboration by asking, "Can you share an experience where you worked with a colleague in a different department to solve a problem? How did you approach working together? What was the outcome?"
Using predetermined criteria, interviewers can decide how each candidate's response aligns with what is necessary for the role. Not only is this technique scalable, but it allows you to evaluate candidates more consistently and objectively.
This also ensures the entire hiring team remains calibrated while making important business decisions.
Alex Lahmeyer, Founder and DEI Consultant, Boundless Arc
9) Address negatives on leads' resumes head-on
When interviewing a candidate, I always want to tackle any negatives head-on. There is no such thing as a perfect resume; everyone has a job that ended badly or a past project that went off the rails.
How candidates describe these experiences is incredibly important. I'm looking for someone who can admit their faults and explain how they've improved over the years. If it's experience or a skill set that's lacking, I want to hear how they intend to upgrade.
The biggest red flag? A worker who is unable to recognize that every journey contains struggles. If they can't or won't admit their own weaknesses, they'll have trouble in any company.
Ensure successful interviews and strong hiring team collaboration in every recruiting cycle with help from Jobvite's advanced ATS. Schedule a demo of our recruitment platform today.