Exciting news! Jobvite won a prestigious Silver award in the Best Advance in Sourcing Technology category for its Zero-Click Intelligent Sourcing (ZCIS) tool. The win was announced on December 8 during the Brandon Hall Group Excellence in Technology Awards live event.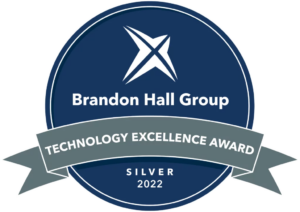 Jobvite Sourcing Innovation: Zero-Click Intelligent Sourcing
Jobvite's Zero-Click Intelligent Sourcing solution is an AI and automation tool that helps employers identify, evaluate, engage, and source applications from high quality candidates. The intelligent tool combines world-class artificial intelligence and automated email marketing to solve four major challenges in talent acquisition:
Finding candidates
Evaluating talent to identify qualified candidates
Engaging candidates with meaningful content
Converting candidates into applicants
ZCIS saves recruiters time, and often results in open rates that exceed 67%, with click rates over 25%. Approximately 1 in 10 candidates receiving a Zero-Click Intelligence Sourcing communication apply for a job. Zero-Click Intelligent Sourcing also delivers quality candidates as customers experience more interviews per applicants. Based on customer feedback, offer rates among candidates can be two to three times higher than other sources.
Criteria for the Excellence in Technology Awards
Entries for the Excellence in Technology Awards were evaluated by a panel of veteran, independent senior industry experts, Brandon Hall Group analysts and executives based upon these criteria:
Product: What is the product's breakthrough innovation?
Unique differentiators: What makes the product unique and how does it differ from any competing products?
Value proposition: What problem does the product solve and/or what need does this product address?
Measurable results: What are the benefits customers can expect to experience as a result of using this product?
"We are honored to celebrate the foresight and ingenuity of our technology award winners," said Brandon Hall Group CEO Mike Cooke. "More than 80% of employers are optimistic about advancing digital transformation in 2023, our research shows, and that is because these organizations and individuals who are laser-focused on technology innovation."
The complete list of winners can be found here: https://excellenceawards.brandonhall.com/winners/
About Brandon Hall Group
Brandon Hall Group operates the largest and longest running awards program in Human Capital Management. As an independent HCM research and analyst firm, they conduct studies in Learning and Development, Talent Management, Leadership Development, Diversity, Equity & Inclusion, Talent Acquisition and HR/Workforce Management. These benchmark studies help organizations by providing strategic insights for executives and practitioners responsible for growth and business results.
Coupling the research studies with the best practice from the awards, Brandon Hall Group has helped more than 10,000 clients globally and more than 28 years of delivering world-class research and advisory. Learn more at www.brandonhall.com
Learn How Jobvite Can Deliver Recruiting Results for Your Business
Ready to learn more? Take a look at how the Evolve Talent Acquisition Suite can help you deliver better recruiting results for your business. View our on-demand product tour now. Or stay up-to-date on the latest hiring insights from the Jobvite blog and resource library.