Throughout the social Web, you can find articles that exemplify and pride employee referrals as the top source of quality candidates and hires. Statistically, these hires last longer and have greater job satisfaction. However, hard data on this topic is often difficult to come across.
Earlier this year, SHRM indicated that new hires from
employee referral programs are roughly 24% for non-exempt positions. Browse around the Internet, and you'll find varying numbers.
Being the head of technology here, at Jobvite, I decided to delve deeper into our big data (customer data set) to understand the true value of these prized referral candidates. Here's what I found.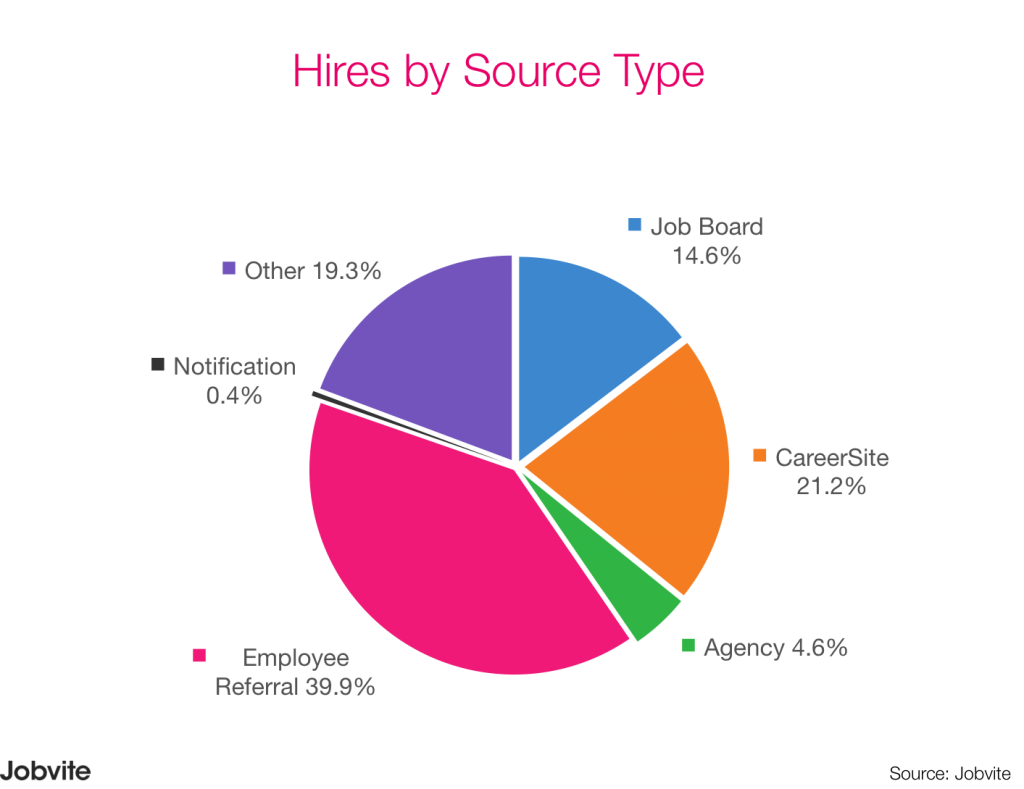 From Source to Hire Recruiters use a variety sources to capture applications, such as career sites, job boards, agencies, employee referrals – to name a few. Naturally, the top sources of applicants for Jobvite customers are job boards (42.9%) and career sites (32.1%).
But still, recruiters are always looking for the golden ticket1 – the one applicant that is perfect for the job.
So, which of these applicants were actually hired?
About 21% came from career sites, 15% from job boards and, not surprisingly, employee referrals produced the highest number of hires by source. What's truly amazing is how many.
Of the small number of applicants coming from referrals (6.9%), nearly 40% of hires came from referrals. That's nearly double SHRM's average! If you're a Jobvite customer, you should be proud!
Moreover, out of every 100 referral applicants, about seven of these will get hired; while job boards will produce one hire for every 246 applicants.
Of course, it's common knowledge in the recruiting realm that referrals are more likely to get hired. However, they are also faster to hire and stay much longer.
Referral Hires Are Fast and Last
The average application to hire time for career sites is 45 days and 39 days for job boards. Employee referral candidates move through the hiring process 55% faster than those who came through the career site, taking only 29 days from application to hire.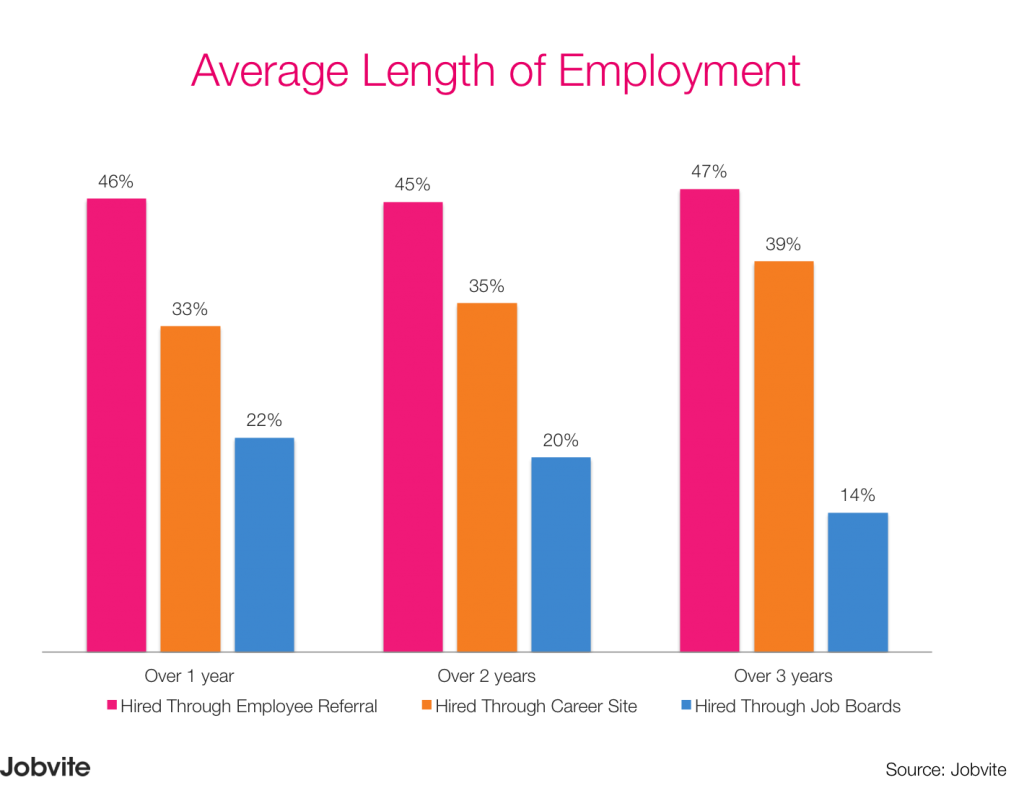 Referral hires also stay at a company for much longer. About 46% of referrals and 29% of those hired through career sites stay for three years or more, while only 14% of those hired from job boards stayed.
Top 5 Fields with the Highest Employee Referral Hiring
It's true that the more your employees refer, the better your referral rate will be. Jobvite customers show that the largest number of referral hires is within the following fields:
Sales
Engineering
Customer Support
Photography
Marketing
Interestingly enough, sales referral hires are twice as high as engineering.
In essence, employee referrals are extremely effective when many employees in the company refer and refer often. So keep sending those Jobvites!