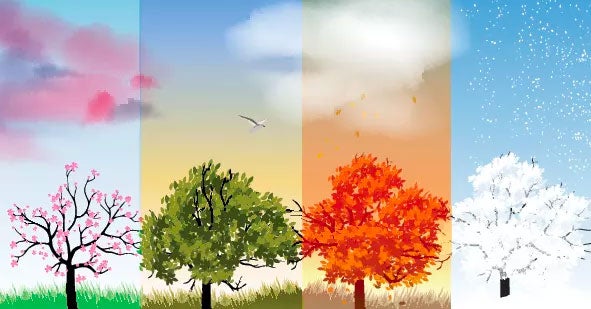 You are probably already aware that the weather affects moods. However, did you know it can affect hiring, too? People are always looking for work regardless of the season. The first six months of the year are generally busiest for recruiters and job seekers. However, tailoring a recruitment strategy through your applicant tracking system based on the time of year ensures you reach the right people at the right time.
Fall
Fall is generally a busy time for recruiters. This is the time of year when people return (refreshed) from summer vacation. With a full staff in place once again, you can fill vacant roles more quickly and easily before the holidays arrive. At this time of year, hiring managers are motivated to use up any remaining budget before the year's end. This creates an extra incentive to fill positions. On the flip side, fall is a busy time of year for personal activities and other events. It is especially important to keep in touch with prospective candidates through an ATS tracking system to pique their interest.
Winter
Wintertime recruiting has its ups and downs. People get busy with personal and family obligations around the holidays. That goes for both job seekers and recruiters. Hiring tends to slow down from the end of the year through New Year's. Historically, however, it picks back up in late January or February and lasts through the summer. In fact, January through June is the busiest time of year for hiring. That's especially true for executive-level positions.
Spring
Spring is a great time to bring new hires onboard. It is also a good time to look for jobs as companies are looking to fill positions before summer vacation starts and hiring slows down. It is an especially busy time for companies looking to hire recent college grads. However, as the weather gets warmer and thoughts turn toward vacation, it is also important to keep employees motivated. In addition to reducing turnover rates, continually engaging employees pays off. Statistically, companies with engaged employees are about 21% more profitable than those with an unmotivated workforce.
Summer
Between vacations and holidays, work life slows down in the summer. However, it can be a great time to get a leg up. Since people are less motivated to apply for jobs this time of year and spend less time checking email, what better time to try recruiting through social media platforms like LinkedIn or Facebook? About 74% of the U.S. population uses some form of social media site for job searching. People will continue using social media even if they take a break from traditional work-related computer activities. Posting vacancy notices on social media is very effective for catching the attention of passive job seekers who are not actively seeking work. Integrating social media into your recruiting solutions facilitates the hiring process and lets you see which recruitment strategies and campaigns are working. Now that you know how the seasons affect hiring and recruiting, you can tailor your approach to recruit candidates accordingly. Even during the seasons when hiring slows, you can still attract and retain top talent using effective strategies.