Evolve Leadership Review
A dedicated space for enterprise leaders to share, discover, and refine the strategies they use to hire and retain their greatest asset — their people.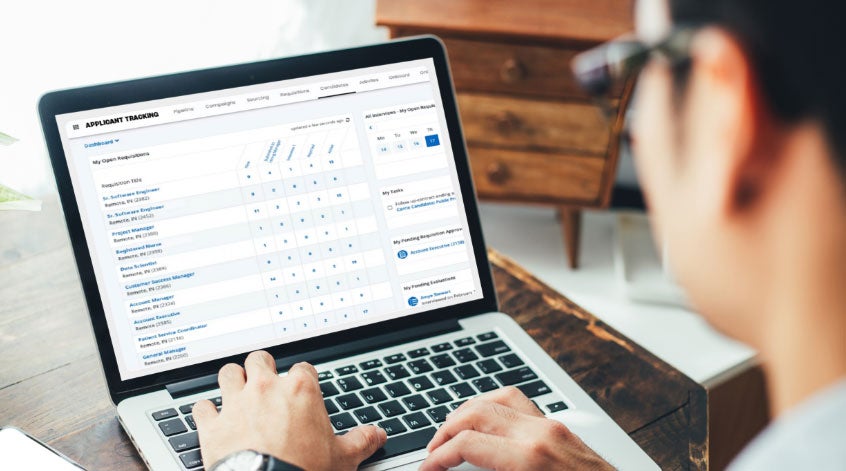 Read the Latest Articles
---
Get Data & Enlightenment
The Latest
What Recruiters Want Their Bosses to Know
Empower your talent acquisition team to tackle its recruiting challenges. Learn three things recruiters want their bosses to know for 2023.
HR Leaders Say Executives with These 15 Traits Are Most Likely to Succeed
How Your Employer Brand Online Impacts Recruiting Effectiveness
What is your online employer brand? More than three-quarters of job seekers look at a company's employer brand online before applying. Learn how it impacts recruiting and what you can do to improve it.
Employee Retention Begins At Recruitment: Five Ways to Get it Right
Did you know that employee retention begins at recruitment? Recruitment is important for employee re…
Want Quality Employees? Invest in Your Hiring Team
Learn why top companies invest in their hiring teams and get five ways it pays to invest in your rec…
The Data-Driven CEO: How to Achieve Agile Recruiting and What it Means for a Volatile Job Market
Learn how a data-driven approach can help company leaders make smarter, faster hiring decisions and …
CEO Considerations: Supporting Hiring Complexities for Enterprise Companies
Empower your talent acquisition function in streamlining the hiring process. Get seven ways to suppo…
Three Insights for Amplifying Diversity Hiring in Your Business
Get three key insights that will help you as an organizational leader learn how to amplify diversity…
CEO Considerations: The Journey to Holistic Talent Acquisition Technology
As a CEO, learn what to consider to help your company stay competitive in an uncertain hiring market…
Why Leaders Should Care About Candidate, Recruiter, and Hiring Manager Experiences
Learn why the candidate, hiring manager, and recruiter experience are all essential within talent ac…
What All Executives Need to Know About Hiring Right Now
How can leaders navigate the chaotic labor market with challenging headwinds and talent teams stretc…
How to Build a Great Employer Brand
From the first time a potential candidate learns about your company through the application, intervi…
50+ Low-Cost Perks to Boost Employee Engagement, Retention & ROI
How to Make AI Accountable: Why Ethics Matters in Recruiting
The hiring process shapes the world's capacity for innovation, transformation, and accelerated pro…
Three Ways to Recognize and Support Women in the Workforce
Today, we celebrate International Women's Day (IWD) across the globe to recognize and acknowledge …
4 Ways to Avoid 'Quit-Tok'
'Quit-Tok'. It's the latest trend to come out of the Great Resignation. Workers are using soci…
What Business Leaders Should Prioritize in 2022 for Better Recruiting
We recently released the 2021 Recruiter Nation Report, where over 800 recruiters were surveyed about…
The Hybrid Office: Merging the Physical & Digital Worlds
We don't have to tell you that the pandemic changed everything — including our expectations for w…
Nobody wants to work anymore?
The US created 850,000 new jobs in June as restrictions were lifted and more of the population was v…