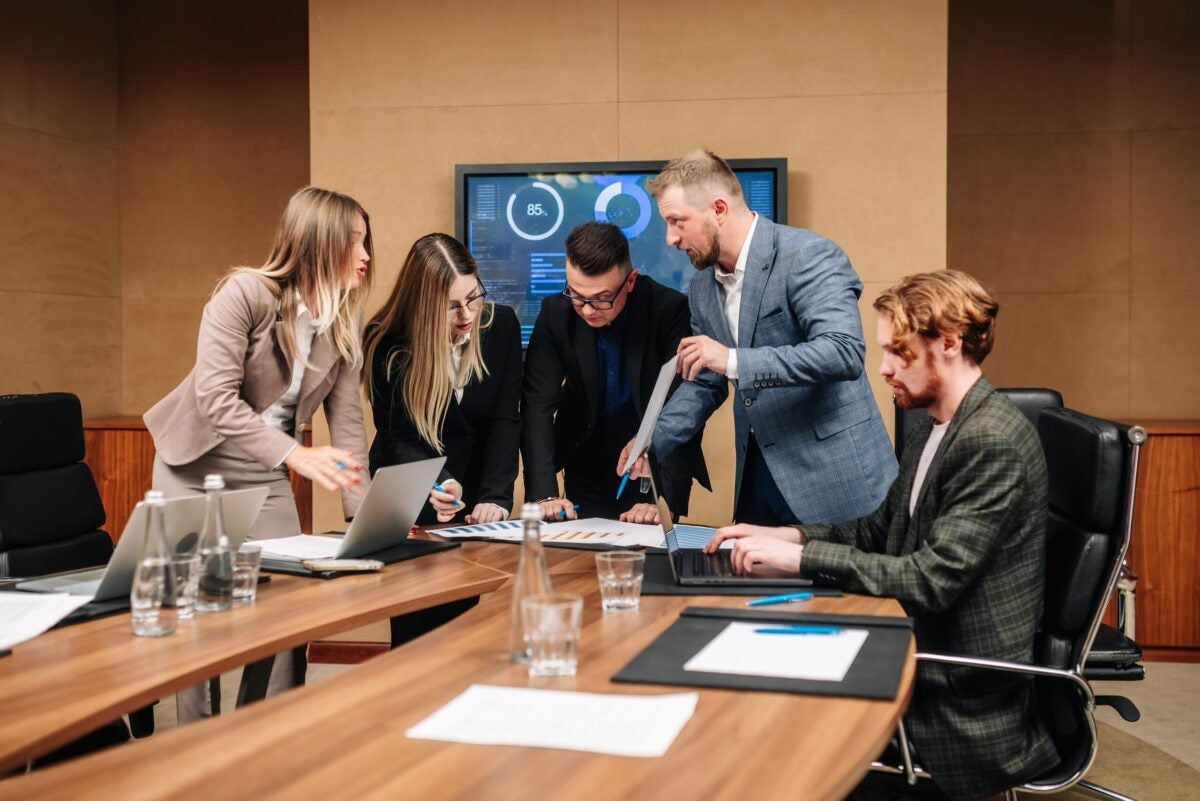 With all the headwinds recruiting teams have seen in recent years, how do they perceive the coming year and what investments will they make going into 2024? The good news is that HR decision makers and recruiters are both realistic and optimistic for the future of recruiting.
Recruiting outlook
Based on data from the 2023 Employ Recruiter Nation Report, more than half of talent professionals (57%) believe within the next 12 months, hiring new employees will be at least somewhat challenging, mostly because there are not enough quality candidates (58%), because of competition from other employers (46%), fewer recruiters or recruiting resources (43%), and more employees leaving the organization (41%).
The challenge of not enough quality candidates is anticipated more within SMBs (63%) than at large enterprises (48%); however, more than 4 in 10 recruiters from enterprise companies believe they will have more open roles to fill (42%) versus 23% at SMBs.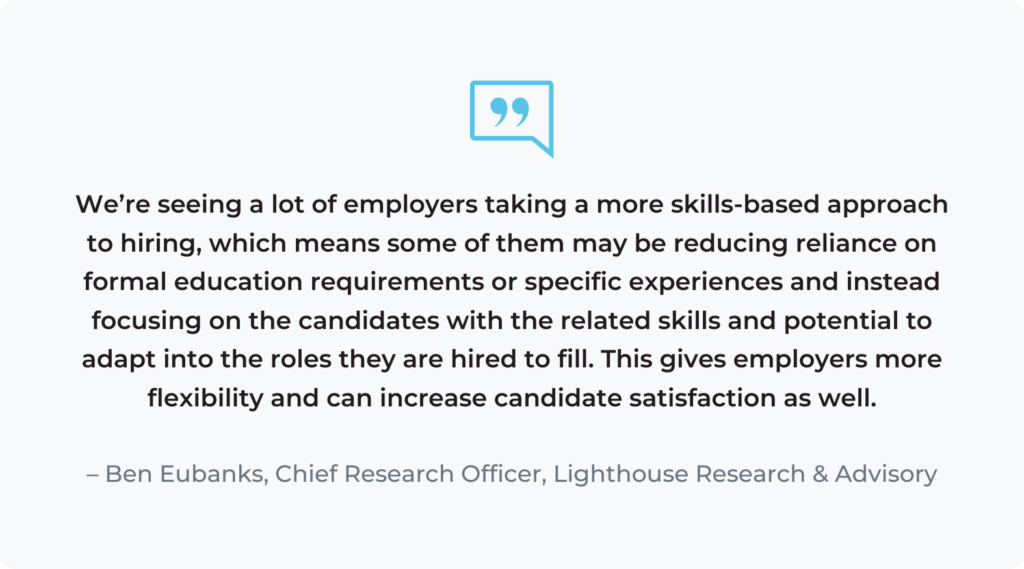 Recruiting volatility
When it comes to fluctuations in the coming year, recruiters have mixed opinions. While one in three recruiters do not believe the next 12 months will be volatile in recruiting, half of all talent acquisition professionals do think hiring will be turbulent into 2024.
The future of recruiting
At the same time, HR decision makers are extremely optimistic about the future of recruiting. An incredible 86% of talent practitioners shared that they are positive about what the future of talent acquisition holds, while only 8% are not. So, while volatility is expected, optimism remains.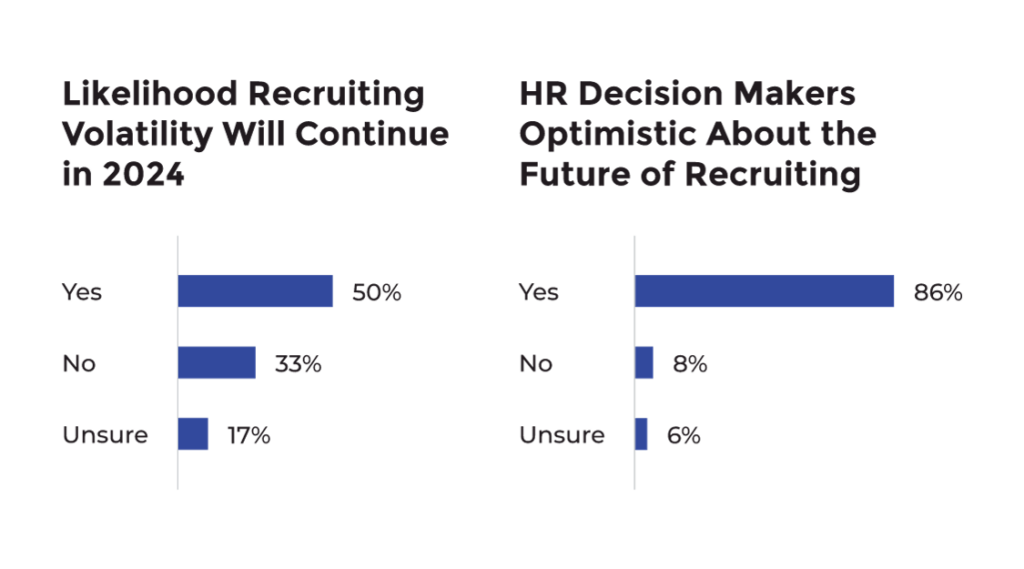 Where talent teams plan to invest in 2024
Investment outlook
One important consideration for talent acquisition teams is the ongoing investment made to their function. The good news: investment in recruiting will likely increase or remain stable in the coming year.
Over the next 6 to 12 months, an overwhelming majority of talent acquisition professionals expect to either increase (61%) or keep their recruiting spend the same (29%). Spending increases are more likely expected in medium-sized companies (70%) versus 58% at enterprises and 47% in small businesses.
Talent teams that plan to increase their recruiting spend will most often do so by increasing their budgets for new recruitment technology purchases (50%), expanding existing recruitment technology stack (47%), new recruiting team role hires (47%) and job advertising (47%), investing in additional team training (46%) and investing in recruitment process outsourcing (RPO) (43%).
Technology investments
From a technology perspective, more than half (59%) of the budget increase will come from AI-powered recruiting tools, followed by diversity, equity, and inclusion (DEI) initiatives (50%), candidate relationship management (CRM) (48%), applicant tracking systems (ATS) (47%), career site (39%), sourcing technologies (36%), job boards (34%), and offers and onboarding (30%).
No matter where each organization falls, continued investment should be a priority to help recruiters feel more supported in their roles. Business and talent acquisition leaders must support recruiters in reducing manual tasks through recruiting AI and automation technology, so recruiters can do what they do best — focus on the human aspects of recruiting.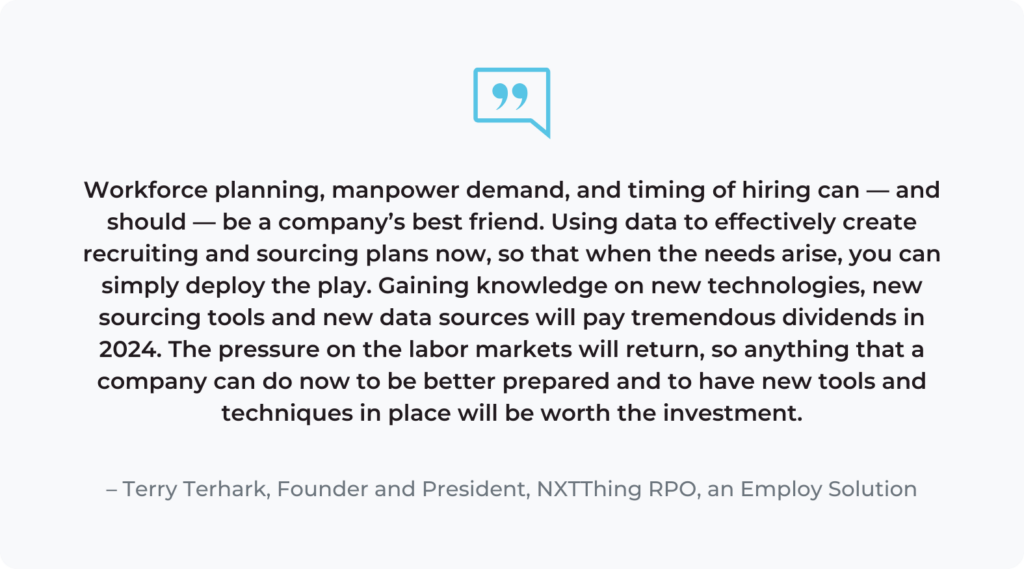 Diversity, equity, and inclusion (DEI) initiatives
Candidates today are emboldened more than ever to seek out roles and companies that match their own values. They want a supportive and inclusive workplace culture that affords equal opportunities to each team member and makes people feel included in the success of the business. In a competitive hiring environment, companies must clearly communicate their commitment to DEI and demonstrate program effectiveness to attract top talent.
And when it comes to investment for 2024 hiring initiatives, three quarters (75%) of HR decision makers reported that their organization will place more emphasis on diversity hiring.
Recruiters who have been successful in attracting talent indicate they focus on the diversity, equity, and inclusion (DEI) efforts of their organization. This enables recruiters to connect with candidates who recognize the value of these initiatives in the workplace.
Specific areas for improving diversity hiring
Looking to 2024, talent teams report that the top three areas their company has specific goals to improve in diversity recruiting are race/ethnicity (47%), gender (44%), age (36%), and LGBTQ+ (26%). But there still is a long way to go. With nearly one-third of talent teams indicating they have no specific goals, it will take continued focus and consistent efforts to improve DEI for the long-term.
Businesses that have a wide diversity of representation in employee ability, gender identity, ethnicity, neurodiversity, familial status, and personal beliefs are more likely to succeed in their industries compared to others that don't.
It's become a key metric for success that it's now an evaluation category for the Fortune 500 list, reminding companies just how important it is to consistently improve their organizational DEI — and proving that the best lead by example.
Recruitment process outsourcing
Recruitment process outsourcing (RPO) provides a different approach to recruiting. RPO is when an organization outsources or transfers some or all of its recruitment process to an external partner.
An RPO provider acts as an extension of an organization's talent acquisition team and offers scalable resources to fill open roles quickly and efficiently. The RPO team works directly with the internal HR team, hiring managers, and the business to define recruitment success and executes against agreed upon objectives to achieve successful outcomes, including time to fill and quality of hire.
According to Employ data, 55% of HR decision makers are considering outsourcing recruitment in 2024. And while RPO is not for everyone, a growing number of companies are looking to RPO to ensure they stay competitive in an unsteady job market.
One of the main benefits of working with an RPO provider is that it frees up internal resources so that the business can focus on other strategic talent acquisition priorities. RPO teams also ensure internal talent teams have real-time information and data on requisition health, and other key performance metrics, including time to hire, quality of hire, recruiting efficiency, source yield, and daily activity to keep the business in the know and able to report on recruiting effectiveness.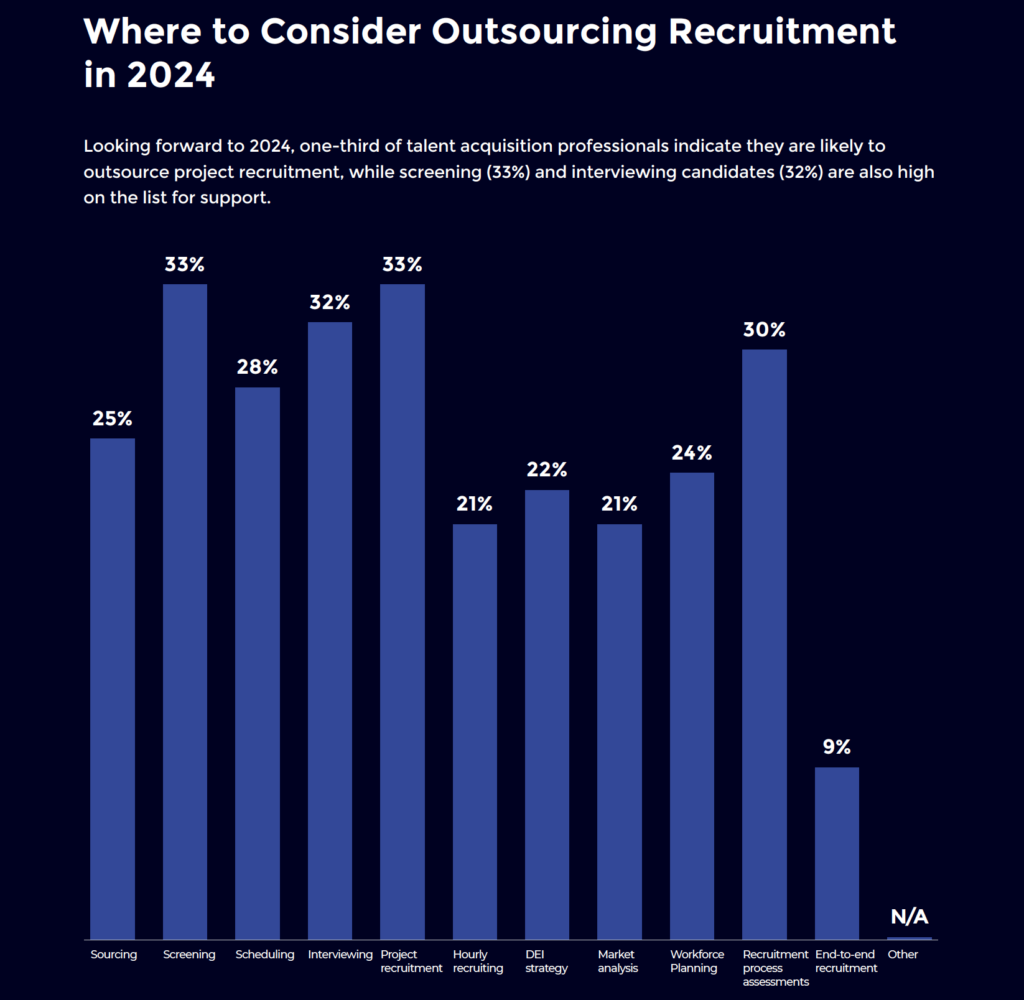 Move forward with confidence
Talent teams have tackled unimaginable challenges caused by global events, labor market changes, and economic conditions. Looking forward, the opportunity for talent acquisition is limitless. And it's why talent acquisition professionals remain optimistic for the future.
As your team forges ahead, leverage the latest in industry research and insights to do so with confidence. Download the 2023 Employ Recruiter Nation Report: Moving Forward in Uncertainty.