2011 Jobvite Social Recruiting Survey
Social recruiting on the rise: Employers will invest more in recruiting across multiple social networks as competition for talent intensifies
When we began this annual survey four years ago, social recruiting was a new idea to many companies. Between then and now, comScore reports that time spent in social networks grew from 1 out of every 12 minutes spent online to 1 in out every 6 minutes. Employers have clearly followed their target talent into social networks. Our 2011 survey found that 89% of respondents will recruit through social media this year, up from 83% in 2010.
As competition for talent grows, social recruiting tops the list two years running as the most popular area to increase investment. Not surprisingly, respondents' plans to increase spending on candidate sources are closely aligned with their views on the quality of those sources.
55% will increase their budgets for social recruiting; referrals, corporate career sites and direct sourcing are other top categories for increased investment.
Referrals, direct sourcing and social networks are the top rated external sources for quality candidates.
Only 16% will spend more on job boards and a third of respondents plan to spend less on job boards, third party recruiters and search firms.
The data indicates that recruiting departments, like marketing departments, increasingly utilize the unique environments of multiple networks to reach and engage their targets.
LinkedIn has led in recruiting usage each year and now almost all of those surveyed (87%) use the professional network, up from 78% last year.
Recruiting usage of other major networks stayed fairly steady with 55% using Facebook and 47% using Twitter.
But now, most (64%) have expanded their social recruiting programs to two or more social media channels; and 40% use all three top networks – LinkedIn, Facebook and Twitter.
Proof of a continued recovery for the labor market, 67% of survey respondents said they plan to increase hiring over the next 12 months, up from 56% in 2010. And they indicate that social recruiting will be an essential element of recruiting strategy as hiring competition heats up.
77% of survey respondents expect increased competition for talent.
Nearly 2/3 of companies intend to recruit from competitors in the year ahead.
1/3 expect the average new employee to stay 2 years or less
Among companies anticipating increased hiring this year, 95% now use or plan to start using social recruiting.
Fortunately, the connections, data and reach offered by social networks can help employers successfully adapt to this environment of high churn and increasing competition for talent – an environment in which they must always be recruiting.
89% of U.S. companies will use social networks for recruiting
Do you or your company use social networks or social media to support your recruitment efforts?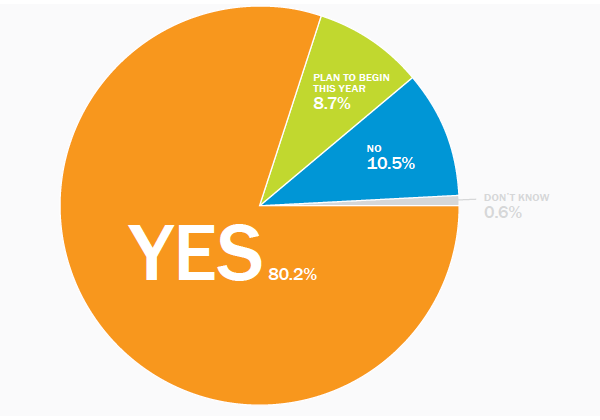 Significant growth in social recruiting since 2009
Do you or your company use social networks or social media to support your recruitment efforts?

87% use LinkedIn and 2/3 use two or more networks for recruiting
Which social media do you use for recruiting?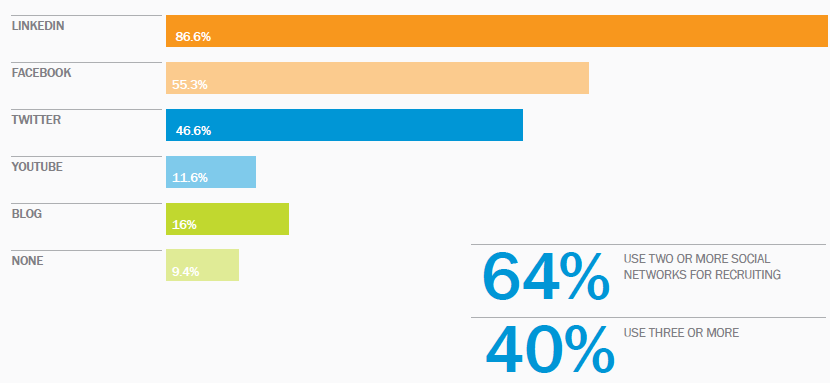 LinkedIn gains 8% while Facebook and Twitter hold steady
Which social media do you use for recruiting?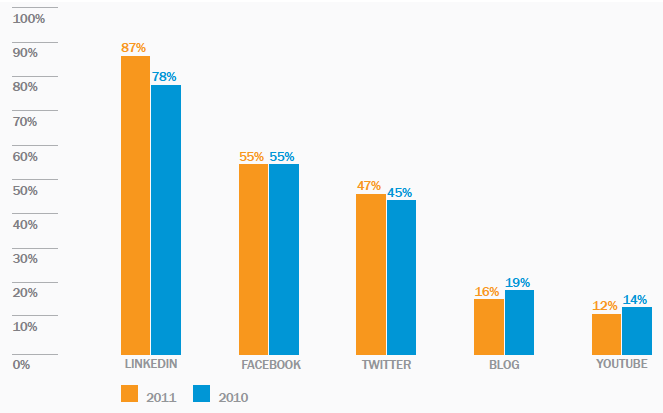 Social recruiting works: 2/3 have successfully hired through social networks
Have you successfully hired a candidate through a social network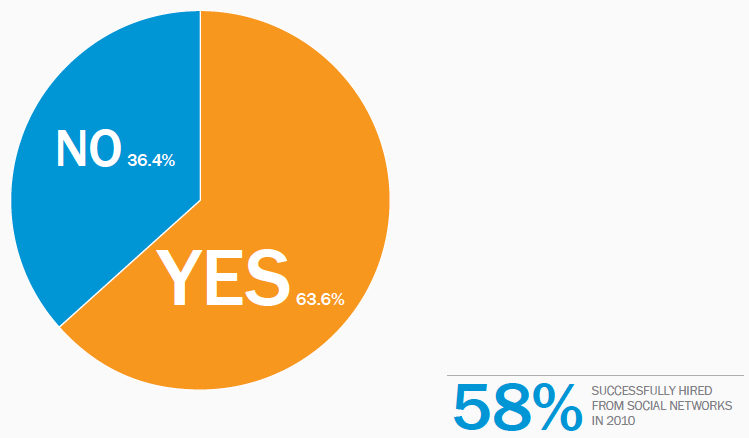 95% report they've hired through LinkedIn
HAVE YOU SUCCESS FULLY HIRED THROUGH ONE OF THESE SOCIAL NETWORKS

Best outside talent comes from referrals, direct sourcing and social networks
Rate the quality of candidates from these sources where 10 represents the highest quality.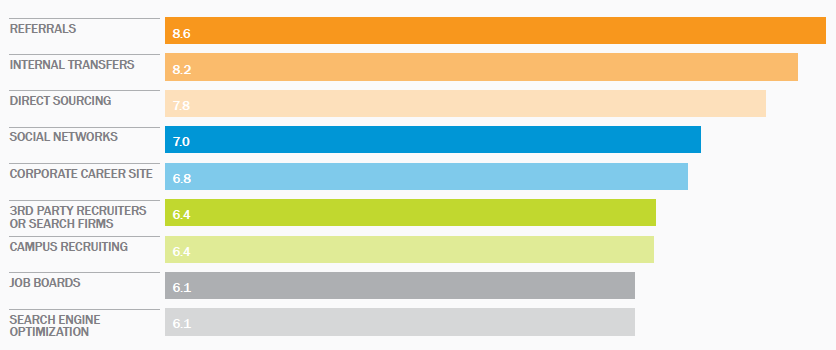 Social media leads all other categories for increased investment
How is your company changing its investment on these candidate recruiting sources in 2011 compared to 2010?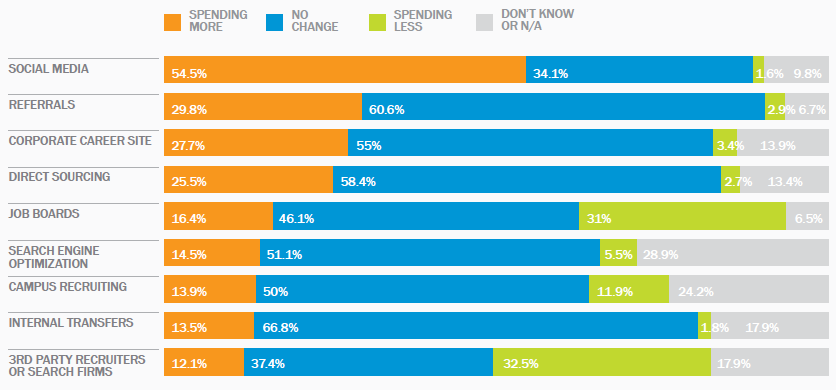 Candidate online profiles matter even more to companies in 2011
How do you use the online profiles of candidates?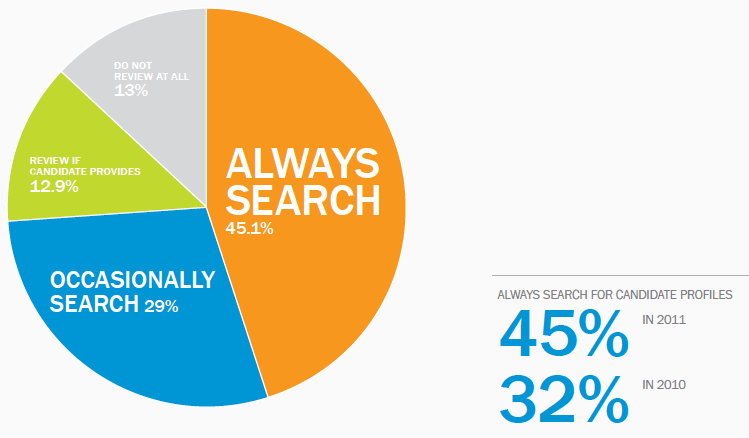 Always important, high quality referrals matter even more to those with increased hiring
Do you compensate employees for referrals?
Want quality candidates? Use referrals
Which of these are true about hires from referrals compared to those from other sources?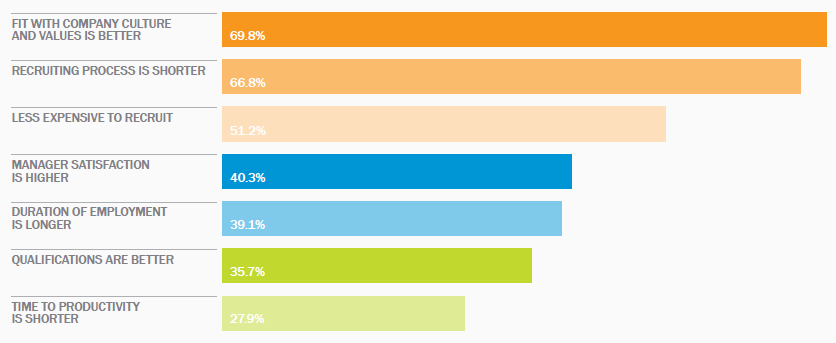 2/3 of U.S. companies expect to increase hiring in the coming year
What are your expectations for hiring at your company in the next 12 months?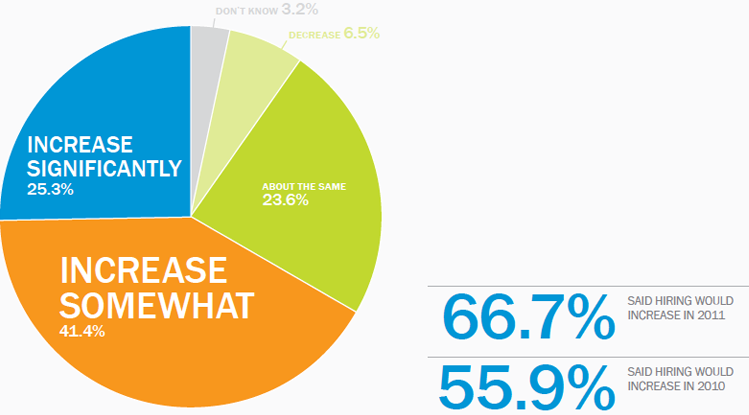 Employers expecting significant churn – more intense recruiting efforts ahead
How long do you think your average new employee will stay with your company?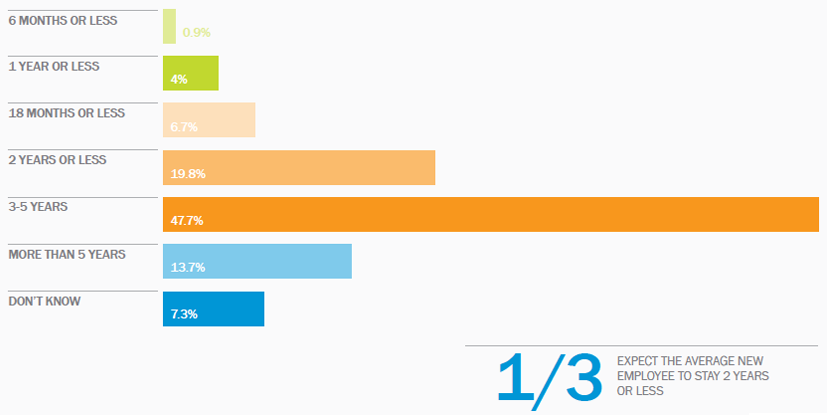 The war for talent heats up
How do you expect hiring competition to change over the next 12 months?
Competitive hiring requires a strong offense AND defense
Do you currently or plan to recruit employees from competitors?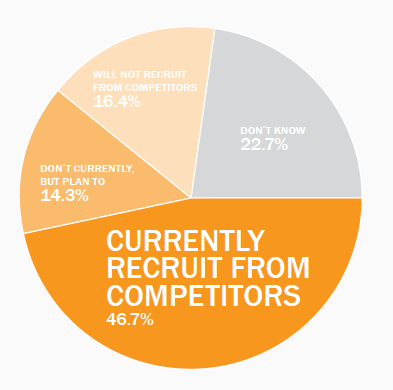 How concerned are you regarding competitors recruiting your employees?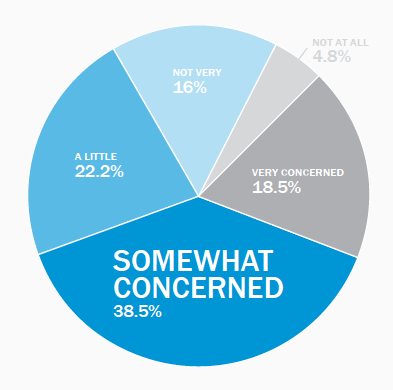 Recruiting passive candidates is the leading strategy for competing against other employers
What steps do you take to compete against other employers?

Respondent Demographics: Employer and Job Role
What type of organization do you work for?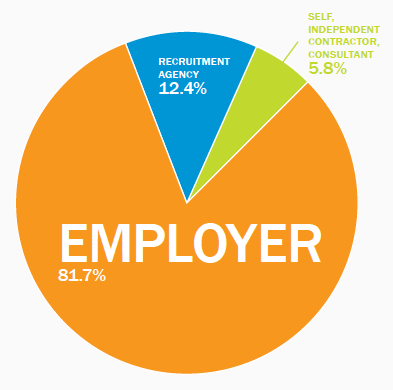 What is your role at your company?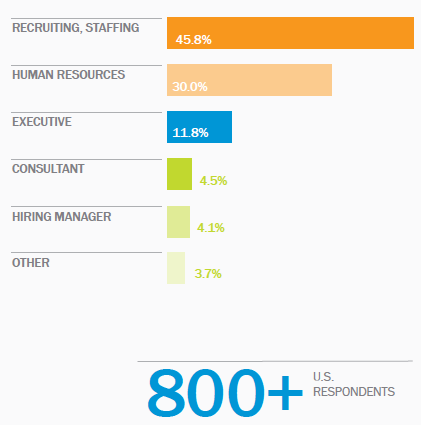 Respondent Demographics: Company Size & Industry
How many employees does your company have?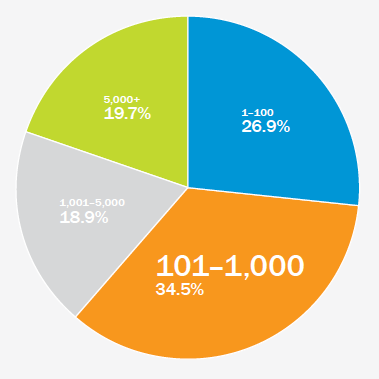 What industry do you work in?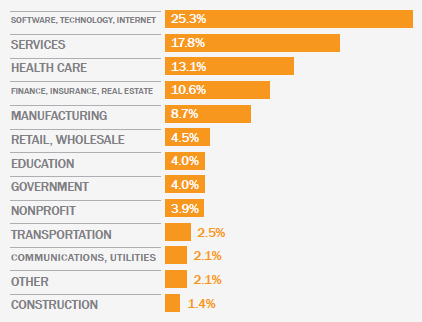 ABOUT THIS SERVEY
The Jobvite Social Recruiting Survey 2011 was conducted online between May and June 2011; over 800 people U.S. respondents completed the survey. The survey was completed by individuals responding to an email invitation sent to a registered list of human resources and recruiting professionals. Respondents answered questions using an online survey tool and the response data is available only in aggregate form. For more information about the survey, please contact our media relations team at .
ADDITIONAL SOCIAL RECRUITING RESOURCES
The State of Social Recruiting Infographic
Embeddable Charts
Jobvite Index
Job Seeker Nation 2010 Survey
Jobvite Customer Videos
Jobvite Product Tours
Download this eBook in PDF
---