Jobvite Talent Market Insights: Summer 2020 Applications Report
COVID Impact on Recent Job Application Activity
INDIANAPOLIS, IN (Sept. 11, 2020) – Summer 2020 saw a return of job seekers to the workforce marked by a significant improvement in job seeker application volume and a return to pre-COVID application levels. The overall improvement in application volume corresponds to other macro datapoints such as the reduction in unemployment rates and an increase in job openings across the United States and Canada. "The size and shape of the recovery in application volumes is encouraging. What we're seeing is employed job seekers are increasingly confident to explore new opportunities and the newly unemployed are returning to the labor market," said Chief Data Scientist Morgan Llewellyn, PhD.
Representing a combination of job and workforce availability, Jobvite tracks total application volume as a key indicator of general economic health. Jobvite is pleased to report that in August 2020, application volume exceeded the comparable August 2019 monthly application volume. Tracking the broader economic picture, application volumes took a sharp and significant drop in April and May 2020, with total application volumes dipping nearly 30% from 2019 levels. Consistent with the overall summer improvement, application rates improved significantly over the 2020 summer with the largest gains experienced in June. Jobvite attributes the speed of rebound in application volumes to non-management positions where total application volume is up nearly 6% from 2019 levels.
Research by the Bureau of Labor Statistics (BLS) and Statistics Canada shows that across much of North America women are more likely to be employed in a job capable of being performed remotely. Perhaps related to this research, Jobvite finds that the speed of the rebound in application volumes is led by women applying for non-management positions. Coming off the late Spring lows brought on by COVID, where both male and female application volumes dropped nearly 30%, female application volume for non-management positions has experienced the quickest and sharpest recovery. August female applications for non-management positions were up nearly 10% from 2019 levels; and corresponding male volumes were up 3% over 2019 levels.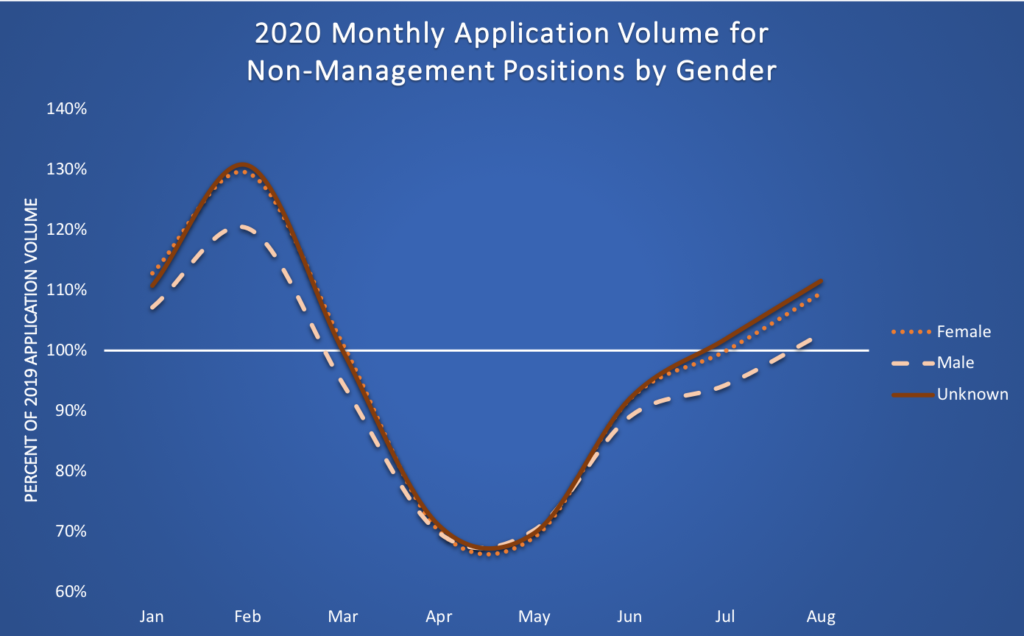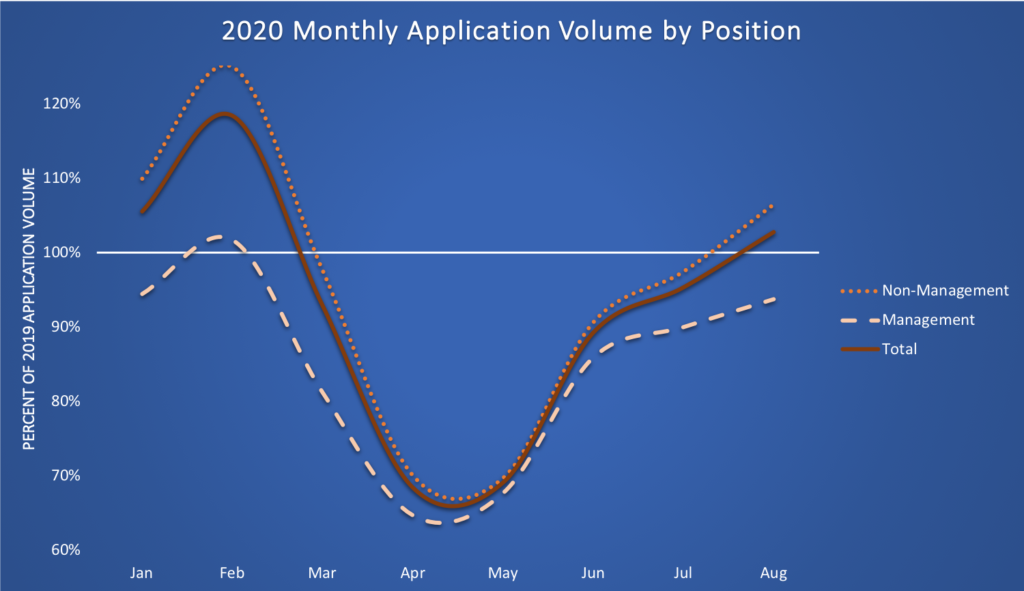 Overall, the trend in application volume remains positive, but there is some lingering sluggishness among application volumes for management positions. For instance, August applicant volume for management positions was down about 6% from 2019 levels. While overall management volumes remain below 2019 levels, the month-over-month increase in management application rates remains positive for this segment.
Morgan Llewellyn, PhD concluded, "Zooming out across the United States and Canada, the summer of 2020 saw a rebound in job applicant activity as more job seekers applied for an increasing number of open positions. While too soon to draw long-term conclusions about the impact of COVID on female workforce participation, women are leading the way in the return to job-seeking behavior as underlined by the August numbers." This is the first article in an ongoing series published from Jobvite's AI Innovation Lab to share Talent Market Insights with the marketplace. Stay tuned for more updates!
About Jobvite
Jobvite is leading the next wave of talent acquisition innovation with a candidate-centric recruiting model that helps companies engage candidates with meaningful experiences at the right time, in the right way, from first look to first day. The Jobvite Talent Acquisition Suite weaves together automation and intelligence in order to increase recruiting speed, quality, and cost-effectiveness. Jobvite is proud to serve thousands of customers across a wide range of industries including Ingram Micro, Schneider Electric, Premise Health, Zappos.com, and Blizzard Entertainment. To learn more, visit www.jobvite.com or follow the company on social media @Jobvite.
---