When it comes to attracting—and keeping—top talent, it's a jungle out there. With near perfect unemployment, candidates have more choices and are increasingly in control; they choose you, not vice versa.
As we talked about in last month's blog, The New Model for Modern Recruiting: Continuous Candidate Engagement™, the recruitment model of the past, which was built on administrative efficiency, recruiter-centered processes and transactional relationships, no longer applies. New rules call for a new approach to recruiting: one that puts the candidate at the center of the experience.
A candidate-centric recruiting model encompasses both technology solutions and strategies to continuously engage candidates at the right time, in the right way, from first look to first day.
That's where Continuous Candidate Engagement™ (CCE) comes in. At the heart of CCE is a call to improve the candidate experience by orchestrating high-quality engagement across the entire recruiting process.
Three Requirements for CCE
An effective Continuous Candidate Engagement strategy encompasses both process and platform: a fresh focus for recruiters and hiring managers to deeply engage with candidates in meaningful ways, along with a technology platform to seamlessly support high-quality, flawless and fast interactions.
The top three requirements for CCE are:
#1: Supports every stage of the candidate journey, from 'first look to first day'—delivering a single source of truth spanning the expanded recruiting process: from recruitment marketing to the hiring experience to new employee engagement.
#2: Enables deep engagement with candidates at the right time, with the right message—supporting meaningful experiences for candidates (any demographic, any location, any channel) and creating brand consistency at every touchpoint: career website, marketing campaigns, hiring, onboarding
#3: Infuses automation and intelligence to increase recruiting speed and quality—driving efficiency and intelligence across the entire organization, from AI-powered smart scheduling and candidate matching, to consistent, easy-to-generate insight and measurement for recruiters, executives and hiring managers.
While we're only in the first inning of AI, it's already having an impact in this emerging CCE world. By automating your ability to continuously cultivate relationships and nurture talent pools, AI frees up recruiters and hiring managers to spend more time on the human work: that special touch that can make or break a candidate experience.
Jobvite Is Pioneering the Shift to CCE
Once again leading the next wave of recruitment innovation, Jobvite is the only solution on the market purpose-built to make the entire Continuous Candidate Engagement process easy and efficient. Here's how we do it: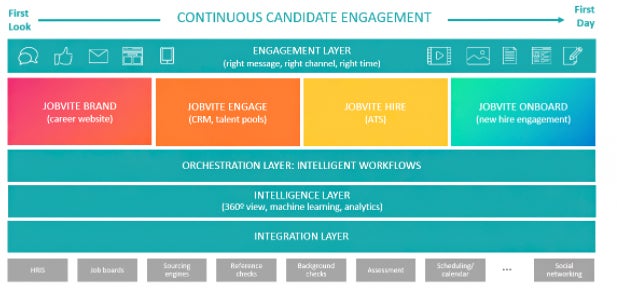 Engagement layer: Jobvite engages candidates, and we also engage recruiters and hiring managers with our hiring team app.
Comprehensive suite: our four products—Jobvite Brand, Jobvite Engage, Jobvite Hire, Jobvite Onboard—span the entire breadth of candidate engagement.
AI-powered workflows and intelligence: we provide you with predictive analytics and benchmarks aggregated from over 62M+ job seekers and 1M+ jobs filled to provide unmatched intelligence around the candidate journey.
Integrations: Jobvite integrates with any other HR systems and applications you need to connect with, including HRIS systems.
A Continuous Candidate Engagement strategy supports a laser focus on what's most important—the people. By evolving your process to CCE, you'll be on the fast track to optimize the candidate experience and carve out competitive advantage.
Stay tuned for the final article in our CCE blog series, where we'll detail questions to ask to help get you started on your Continuous Candidate Engagement journey.