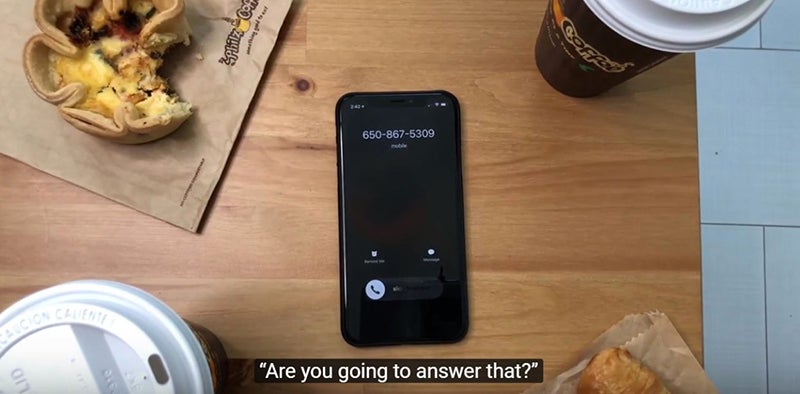 How often are candidates answering your calls? Or replying to your emails? Only 1%-3% of cold calls result in a response, and nearly 80% of emails are going unread. Not only is it challenging to connect with talent, it's difficult to connect directly with anyone – people are busy and have clear preferences for how they want to be contacted.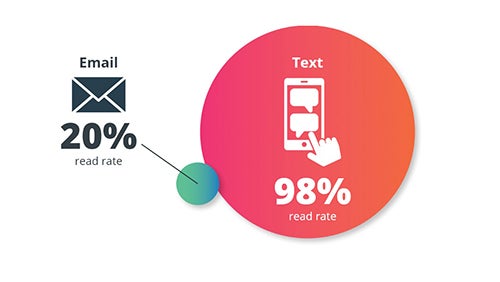 When was the last time you responded to email from someone you didn't know, or answered a call that wasn't scheduled, or worse yet, from a number you didn't recognize? People place a high value on their personal time and space, and texting honors that, allowing candidates to answer when it's convenient, and on their own terms. At the same time, we're in a world of instant gratification and near real-time conversation. Think about how you communicate. At work, it's Slack, Google docs, video calls. In our personal lives, it's Instagram, Messenger, text.

The same expectations for how you communicate at work and in your personal life need to be applied to how you communicate with candidates. Long forms, cumbersome requirements like cover letters and non-mobile communication simply don't match the way we converse today. Recruiting organizations who realize that – and who are willing to adapt – will win the talent war. If you want to win over candidates, you need to reach them in a way where they "live" – via text, social, chat, video, and any other channel that supports convenient and real-time conversation. Communication is your competitive edge; in the time that another recruiter has left a voicemail and sent an automated email, you've already texted with the candidate to schedule his second interview. Ready to cut time-to-hire in half? The new way of multi-channel conversational recruiting has you covered In the traditional recruiting process, a candidate submits a resume and cover letter, answers a handful of questions from you, gets an email to schedule a phone interview, then another email to schedule an on-site interview, and if that goes well, the offer follows. According to our most recent recruiting industry benchmark report, this back-and-forth process, handled mostly by email, took an average of 38 days.

While that's still standard for many companies, recruiters have an opportunity here. Simply recognize the way you communicate on a daily basis and apply that to how you communicate with candidates. With a more innovative, conversational recruiting approach that's dynamic, fast and continuous, you have the opportunity to cut time-to-hire in half. How do you do it? They key is clear, consistent and simple communication across multiple channels.

Companies spend a lot of money, time and effort building their career website to attract candidates, yet when candidates land on the site, they don't have anybody to connect with; in some cases, they might reach out and never hear back. The modern approach to converse with candidates disrupts this old model – it's all about immediate response, constant feedback and meeting candidates where they are. For example, you can use a live chat widget to converse with a candidate as soon as they land on your website, exchange phone numbers and auto-schedule a phone interview via text. You can then leverage video for screenings and interviews; the candidate doesn't have to leave the house and you don't have to pay travel costs. Rather than canned emails days later, you can communicate via text message to provide instant feedback and discuss next steps. The new requirement: a multi-touch, multichannel approach To stand out and attract candidates, it's important to evolve your communication strategies to make it easy for candidates to engage – and converse – with you. We call this "conversational recruiting": a recruiting strategy that uses multiple channels to continuously engage with candidates – throughout every stage of the recruiting process, when and where they're most receptive to hearing from you. Conversational recruiting hinges on making yourself accessible to candidates in a way that encourages two-way conversation. Conversational recruiting isn't about getting rid of emails or even phone calls, but rather about adopting an innovative multi-channel approach that keeps your company top of mind and gives you – and the candidate – several ways to create a connection For example, I recently talked with Casey Manning, Director of Recruiting at Kixeye, who posts his company's open jobs, as well as his email and phone number on his LinkedIn profile, to make it easy for candidates to reach out directly. By adopting a conversational recruiting mindset, he's opened the door for connection and communication that may lead to his next best superstar hire. In addition to the simple step of sharing your contact information, here are a few other tactics you can use as part of a multi-channel approach:
Add a chat function to your career website
Text with candidates throughout the application process
Advertise your job opening on different social channels
Reach out to candidates via social channels
Allow candidates to text you
Conduct video chats
New approach, new value Conversational recruiting is unlocking new value for recruiting organizations, enabling hiring teams to focus on the meaningful moments that win over candidates.
Cut time to hire and reduce your costs. Customers like OpenTable report that they cut time-to-hire in half, saving around 944 hours a year leveraging texting technology.
Create connection. When you allow candidates to easily converse with you, it turns recruiting into a two-way conversation. By meeting candidates where they are, you can speed up the process of creating a connection that is authentic and personalized.
Gain competitive edge. How you communicate can be your number one differentiator in how you keep up with candidates and stay ahead of competitors. BE innovative and keep adopting new technologies and channels that present a forward-thinking face to the world of candidates.
Changing the way we engage with candidates will revolutionize how we source and recruit talent, and in turn, transform the candidate experience.