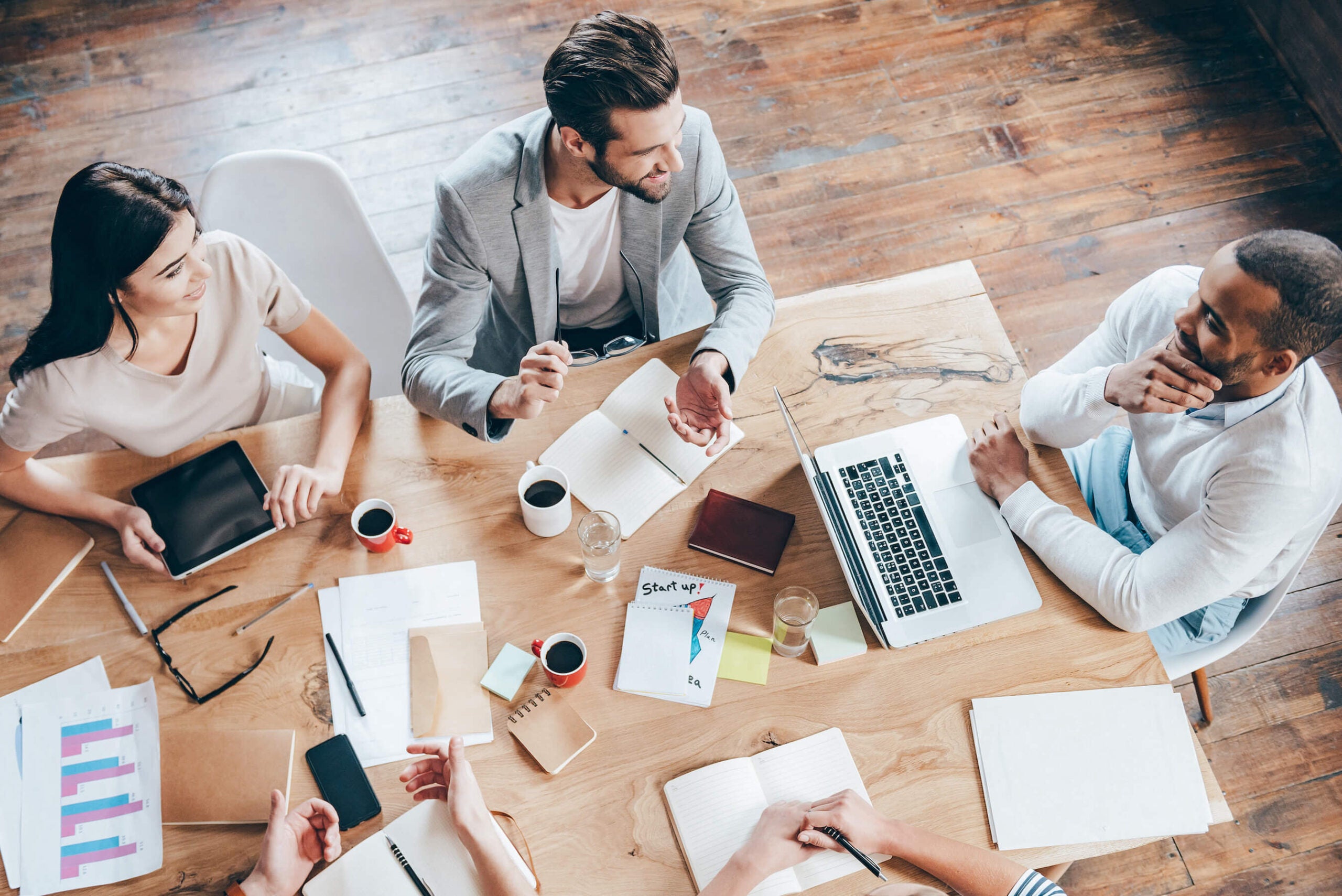 Employee retention has a direct impact on your enterprise's business performance and success in both the short and long term. That's why leaders across your organization — not just your CEO and CEO, but also your CHRO, talent acquisition director, and departmental leaders — need to work closely with one another to keep your high-performing team members.
The good news? There's a clear path your company can take to increase employee retention. (And avoid having to frequently backfill critical roles.
All you have to do is regularly evaluate of your work environment (e.g., workers' career growth aspirations and job satisfaction, general employee morale, etc.), and you'll put your business in the best possible position to retain employees for the long haul.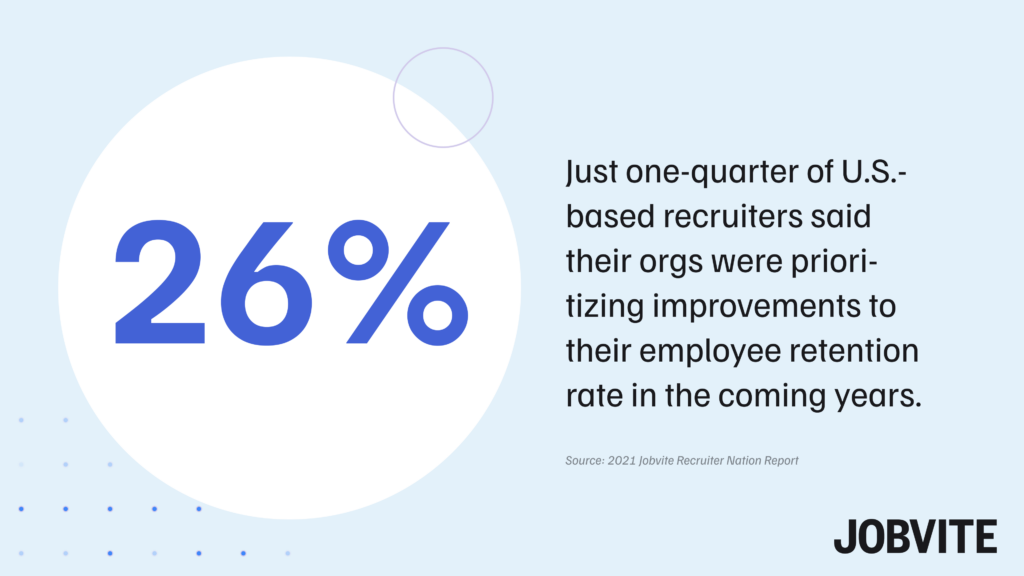 5 ways to improve employee retention (and prevent top talent from leaving your org)
There isn't just one area you and your C-suite should hone in one to build highly effective employee retention strategies. Rather, to develop a strong employee retention program, your company must account for workforce sentiment, wants/needs, and career development goals.
Consider recent research from laptop and accessories brand Targus.
That represents an 11-point rise from the year before.
Beyond prioritizing flexible/work-from-home policies, there are facets of your business like employee engagement levels and whether your staff members have a healthy work-life balance that ultimately impact your retention (and, thereby, your employee turnover) efforts.
So, that begs the question: Where can you and your executive team get started? Here's some expert advice and insights that can help your enterprise optimize your employee retention strategy today.
1) Define what exactly employee retention means
This may sound odd. Everyone at your org understands why employee retention matters.
That being said, not all members of your workforce (or even your leadership team) may know how retention is defined at your business, as there are nuanced versions of it from one org to the next.
Does employee retention mean keeping everyone who works at the business for at least one year, or is the ideal target retention date much longer?
Are only certain types of employees (e.g., full-time/permanent workers vs. entry-level/temporary staff members) accounted for in your retention rate?
Is there "segmentation" with your particular employee retention rate (e.g., executive-level vs. mid-level vs. entry-level and/or by business unit)?
Before you can start to create an action plan to rectify your retention issues and encourage your employees to stick around for the foreseeable future, discuss these (and any other relevant) questions to ensure all business stakeholders involved in improving retention are on the same page.
2) Make sure your recruitment process is solid
Your recruitment process is the first opportunity you have to engage potential new employees and express what it's like to work for your company. Thus, it needs to be a well-oiled machine.
If your recruitment process is disorganized, dysfunctional, inefficient, or otherwise off-putting to prospective hires, it will be difficult to convince candidates that your company is any different.
Remember: You can only make a first impression once, so make it count. Ensuring your recruitment process is as smooth and engaging as possible sets the tone for a positive employee experience.
Of course, it's not just on talent acquisition to impart how great it is to work at your business and answer all questions posed by candidates so they feel comfortable accepting an offer.
Hiring managers play a pivotal role in setting the table, so to speak, to define what they're looking for in new hires, how their team typically operates, and what they do to empower their direct reports to thrive in the near and long term (e.g., regular 1:1 checkins, career-pathing discussions).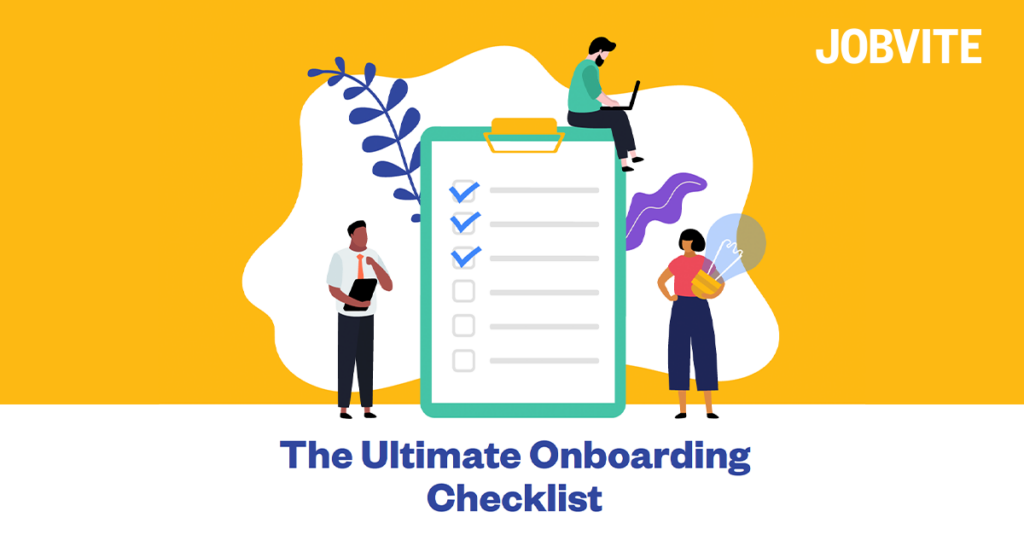 3) Onboard new employees efficiently and effectively
The onboarding process is crucial for employee retention. This is the time when new employees are learning how to operate in your organization, being trained and finding footing in their roles, taking on new responsibilities, and getting their first experiences as an employee with your company culture.
If they have a positive onboarding experience, they're more likely to stay with the company long-term.
The most successful HR teams have clear and comprehensive onboarding objectives. They include:
Easy access to new hire paperwork (eSignature capabilities are table stakes for orgs today)
Onboarding checklists for new hires to refer to as they move through the onboarding process
An intro to the company's mission, vision, and values as an extension of employer branding
Facilitating intros to departmental colleagues to begin team-building and spur collaboration
Offering resource centers for "everything you need to know" starting on Day 1 and beyond
Beginning the learning development process and making training available to interested workers
Providing a resource center for all questions a new hire may have (co-owned by HR and managers)
A clear roadmap of a 30-60-90 day plan for all new employees so they can hit the ground running
Ensuring that new workers who join your business catch on to how things are done and assimilate with your company culture is paramount to their success in your org.
4) Communicate with your workforce regularly
Open communication with your internal team, as well as the candidate, is essential for employee retention. Employees who feel unsure of what they'll be walking into within their new company or have uncertainties about what's expected of them are more likely to look for opportunities elsewhere.
When seeking to create both positive candidate and new-employee experiences, communication is key. No prospective or recent hire likes to be kept in the dark.
Rather, these individuals want to stay informed and updated regarding where they are in the hiring process and what impact they're expected to have.
Unfortunately, many recruiters and employers treat hiring and onboarding as a one-way street, requiring prompt answers and updates from candidates without offering the same thing in return.
Make sure you communicate early and often with late-stage job candidates, those you extend offers to, and those you ultimately hire to keep them in the loop on company news, changes, and developments and ensure they understand what their people manager and your C-suite expect from them.
Writing for Fast Company, Ragan Communications CEO Diane Schwartz said many leading enterprises are hiring for the role of "communicator" to listen to the wants, needs, complaints, and questions of their workforce and be proactive in sharing organizational info to these employees.
The cumulative effect of which is lower workforce turnover, higher employee retention, and greater job satisfaction and morale.
A communicator is the "heart and soul of the workplace" and "secret ingredient to employee retention."
"There has never been a time quite like this for communicators to leverage their unique position as chief storyteller and brand protector to co-create a better workplace experience that makes quiet quitting and the great resignation lowercase words with lower impact," said Diane.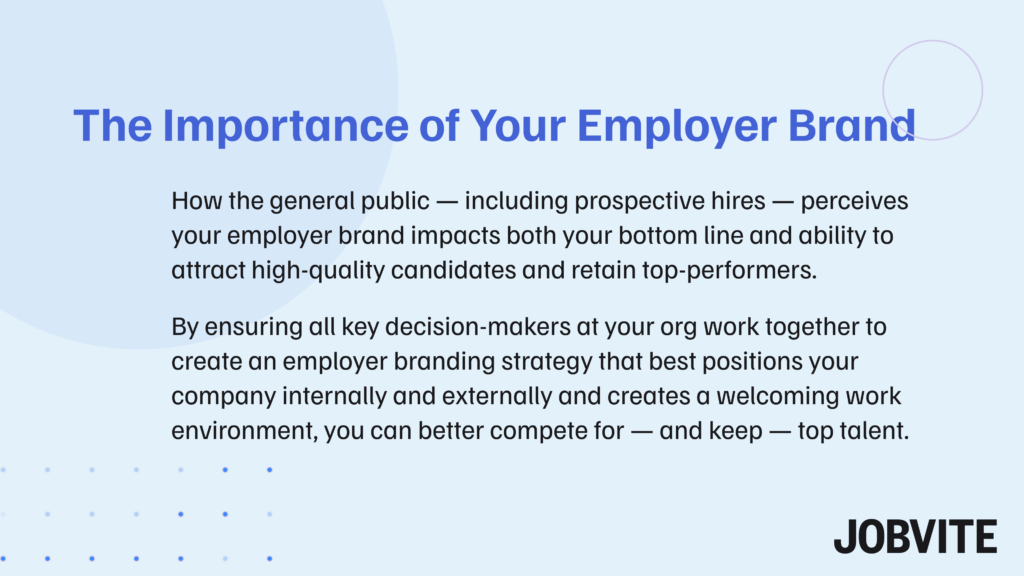 5) Offer competitive pay and perks to employees
Employees who feel they're being paid fairly, have good benefits, and can easily access career development options (e.g., your L&D programs, internal mobility paths) are likely to stick around.
Simply put, many employees today are no longer accepting lagging wages and weak benefits packages from companies — and they're still in a strong position to get what they want.
To ensure the salary, bonuses, benefits, and perks you offer to employees are seen as strong and, thus, will help keep them around — have your HR team conduct regular "retention interviews."
Let's say your retention interviews reveal a strong desire to upskill and reskill. The BCG quartet noted that, if you "show current employees that you value them even more than potential new hires by providing them with new opportunities to grow and advance," they're much more likely to stay.
Senior-level changes like these to your business have a trickle-down effect. For instance, the introduction of new L&D programs gives your talent acquisition team the ability to relay said programs in job postings on your career site and published to job boards like LinkedIn and Indeed.
At the end of the day, if you want to retain the top talent at your org, make sure you're offering competitive salaries and benefits — something you can ensure you do by comparing your pay and perks offerings to other companies looking to hire high-performing talent.
Enhance your talent attraction and retention efforts with Jobvite. Schedule a demo today to learn all about Evolve, our unified Talent Acquisition Suite for enterprises like yours.