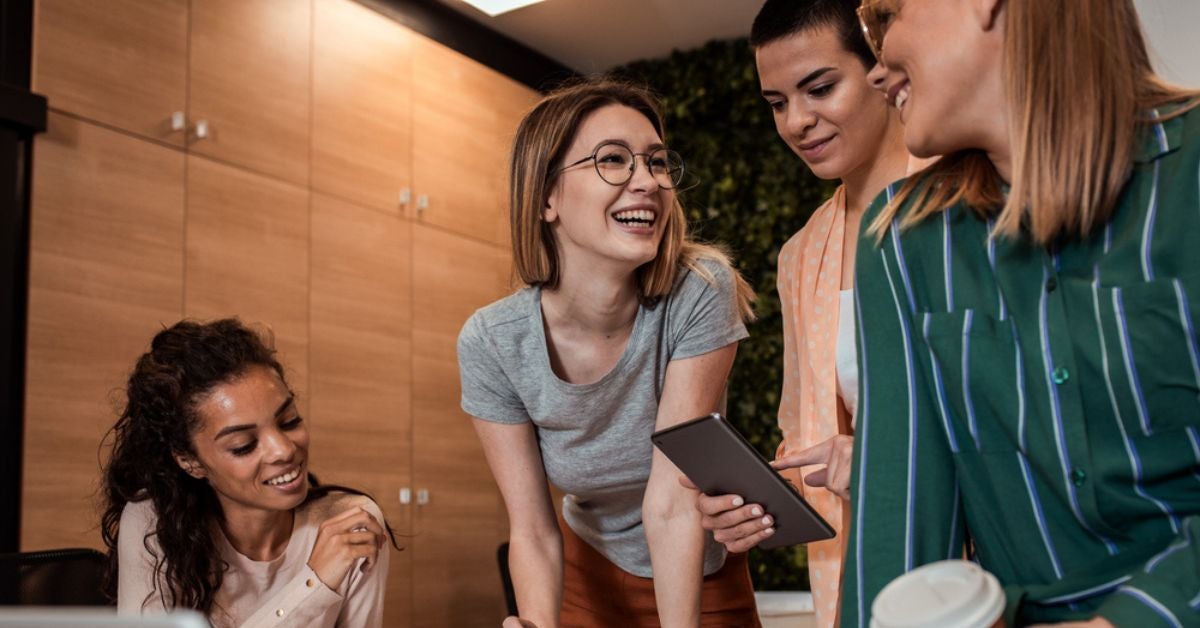 Employers continue to face unprecedented challenges in the current hiring environment. Low unemployment, a strong job market, and job openings hovering around 11 million contrast the high profile layoffs and looming recession that regularly make news headlines.
The uncertainty that exists as a result of these conditions make it difficult for employers to know how they should respond in this difficult talent landscape.
The Employ Quarterly Insights Report was created to help companies and talent acquisition professionals make sense of today's chaotic labor market, providing actionable insights for talent teams to improve their hiring efforts.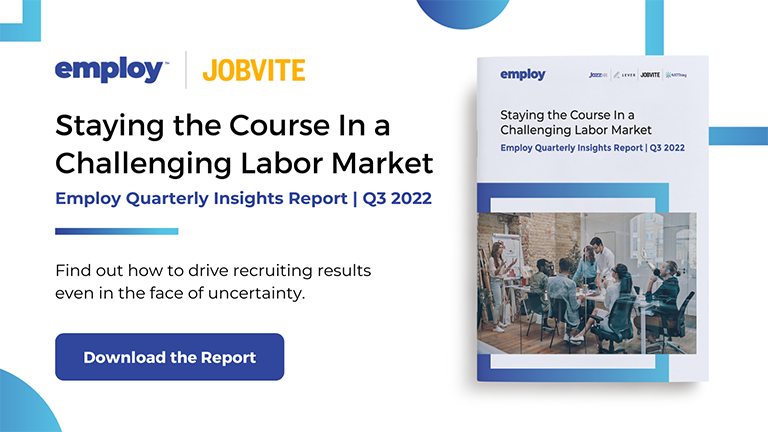 10 hiring statistics from Employ's latest research
Looking for a quick overview of the full report? We've compiled 10 key takeaways your company should know. Here's what talent teams are experiencing in today's hiring market.
Recruiting stress hasn't gone away
#1: 81% of recruiting teams reported that hiring is more challenging today than a year ago.
High levels of employee turnover and low levels of unemployment in the market are making it more difficult than ever to recruit top candidates. Recruiters need the right recruitment technology that helps them manage the complexities of hiring in today's market.
#2: 65% of recruiters reported that their job is more stressful today than this time last year.
In such an uncertain hiring market for employers, it's not surprising that recruiters are more stressed than ever. The most successful employers today have invested in recruitment technology and services to help talent acquisition teams find the right candidates with fewer headaches.
#3: 63% of talent acquisition professionals shared that their hiring volume is higher than last year.
Record turnover in the job market means that recruiters are hiring more candidates compared to last year. Talent teams are working to fill empty roles as well as add new positions to expand across their organization. An increase in hiring volume can contribute to recruiter stress, especially if they don't have the right recruiting technology.

Talent acquisition teams shifting focus
#4: 62% of recruiters indicate that improving quality of hire is the top priority right now.
It's no secret that there's a shortage of qualified candidates in the market. Many talent pools are tapped out and recruiters are struggling to find and retain quality employees.
Employers and talent teams recognize the need to prioritize quality of hire in their recruiting programs to help hire better candidates and improve employee retention.
#5: 45% of TA teams plan to outsource more jobs to freelancers and contract workers to hit hiring goals.
Recruiting teams are becoming more agile in their talent acquisition strategies and sourcing help from third parties to find and hire qualified candidates. Partnering with recruitment process outsourcing providers and freelance recruiters are helping fill the gaps on talent acquisition teams.
Outsourcing is saving talent teams valuable time and helping them scale their hiring efforts.
#6: 52% of recruiters shared that their org is retaining employees that aren't a cultural or role fit.
With employees shuffling around to new companies looking for better benefits and wages, talent acquisition teams are doing everything they can to avoid losing more employees and having to backfill for already filled roles.
This means companies are keeping employees who may not be performing to standard, so the cost of replacing them isn't so high.
#7: 85% of organizations reported that their time-to-hire window was four weeks or less.
Key recruiting metrics like time-to-hire show how quickly talent teams can fill a role with a qualified candidate. In a competitive market, it's crucial to lock down quality candidates as soon as possible.
And advanced recruitment automation tools are helping talent specialists to save time on all stages of the hiring process, allowing them to win top talent ahead of competitors.

Candidates continue to have edge over employers
#8: 59% of recruiters think workers are mostly switching jobs due to the availability of remote work.
A candidate-driven market has shown employers that remote work flexibility has become non-negotiable for employees. The ability to work remotely full- or part-time is essential for recruiters to compete in the market for the small pool of qualified candidates that are available.
Be sure to add remote work flexibility to job descriptions to stand out to potential applicants.
#9: 72% of recruiters have encountered candidates who have received multiple offers simultaneously.
With candidates still in the driver's seat for job offer negotiations, recruiters have seen multiple offers on the table when negotiating with a new hire. This means that benefits like salary and PTO are crucial to attracting and hiring top talent.
Candidates want transparency from recruiters regarding role responsibilities, pay, remote work flexibility, and company culture to make the best decision.
#10: 71% of recruiters are taking chances on different kinds of candidates due to the tight labor market.
Tapped-out candidate pools and burnt-out recruiters have led talent teams to change hiring strategies and increase flexibility in job requirements.
Recruiters are ignoring gaps in resumes, missing industry experience, or job hopping, and instead focusing on soft skills, like leadership and communication, when sourcing candidates.
Talent teams are also focused on finding a wider diversity of qualified talent by keeping the candidate funnel wider during the screening process.
Get the complete report for more hiring stats
Looking for more information on how your company can adapt its talent acquisition approach within today's labor market? Download the Employ Quarterly Insights Report to get more recruiting insights and see how your company can stay competitive in this challenging hiring environment.