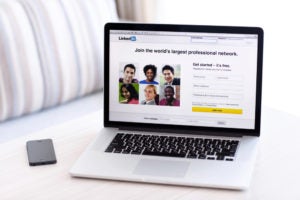 Welcome to the first in a three part series on using LinkedIn, Twitter and Facebook for Social Recruiting.
According to Jobvite's Job Seeker Nation Study, 87% of recruiters use LinkedIn to search for candidates. Are you utilizing LinkedIn to its full recruiting potential? Here we'll look at 10 ways you could use LinkedIn better to attract, source and approach your ideal target candidates.
1. Define your LinkedIn strategy and conversion funnel
The first key step is to have a clearly defined strategy for your presence on LinkedIn. This applies to both you as an individual recruiter–and as a company if you're also managing your corporate presence on LinkedIn.
Who do you want to reach on LinkedIn, what are the next steps you would like those people to take – and how will you ultimately measure your success? Someone in charge of enhancing a company's employer branding on LinkedIn would answer this very differently to a recruiter who typically works on attracting candidates for a niche set of requirements.
The former might want to cultivate relationships with influencers, become a recognized publisher on LinkedIn, be an active member of some of the most prominent groups in the sector. They might want content about their employer brand to be seen as extensively as possible – and want this exposure to convert into increased traffic to the company careers pages and ultimately candidate registrations onto the company ATS. This is the funnel that would then be refined and tweaked to maximize conversions to ATS registrations over time.
A recruiter who works on attracting candidates for a niche set of assignments would have a very different strategy and funnel. They'd want to build relationships with as many specialists in that market as possible and become a trusted expert recruiter. They'd want to target their posting, publishing and group activities in ways that target their desired audience. And they'd want to become experts at researching and approaching candidates in that specific domain, experimenting to see what messaging works best and what tactics can uncover more of the right candidates. Their end goal might well be to maximize the number of shortlist candidates generated from LinkedIn activities.
2. Write yourself a compelling LinkedIn headline
Having your strategy and end goals clearly defined is important as it then impacts everything else you do on LinkedIn. A clear example of this is your LinkedIn headline. Consider for a moment that the information candidates (and potential clients) are most likely to see about you on LinkedIn is 1) your name, 2) your photo and 3) your headline. Your headline should therefore immediately convey to people why they should click through and take a look at your profile and/or be interested in the content that you've shared or the discussion you've started.
Yet so many recruiters simply state their job title and employer here – what a waste of this valuable LinkedIn real estate! Compare and contrast "Recruiter at Burnley Taylor" with "Helping Marketing Executives to move into roles with fast-growing technology start-ups". Which headline do you think a marketing candidate (or indeed client) would be more intrigued by – and therefore more inclined to act upon? It's a no-brainer isn't it?!
3. Invest time in a keyword rich, candidate-focused profile
A common mistake on LinkedIn is for recruiters to make their LinkedIn profiles be focused on themselves. Yet to spark potential candidate's attention your profile needs to be all about them and how you can help them. Why should they make contact with you rather than any other recruiter in your market? Reading your profile needs to persuade them and make them want learn more about your company and position.
The other angle to consider is what skills, specialisms and keywords potential candidates or clients might use when searching on LinkedIn. Getting all these keywords onto your profile is one sure way to drive up the number of times that your profile appears in relevant users' search results – driving up views of your profile considerably if paired with a compelling LinkedIn headline.
4. Help others. It ultimately helps yourself
Many recruiters kill their visibility on LinkedIn by being overly promotional and endlessly sharing the latest vacancies they are looking to fill. The problem with this approach is that LinkedIn determines what does and does not appear on people's homepage feeds. If your contacts consistently find your updates valuable – they click on them, comment on them and reshare them – then you're elevated to someone whose posts regularly appear in other people's homepage feeds. However,, if you are always promoting your business and spamming out jobs, your posts will quickly cease to appear on people's homepages any longer.
Savvy recruiters instead focus on sharing trends, reports, breaking news and insights that are consistently valuable. By doing so they maintain prominence in the LinkedIn homepage feed and are regularly on the radar of both candidates and clients in their market.
5. Build trust before looking to sell
Who are you more likely to react favorably to. Someone who approaches you at a conference and from their very first word tries to sell you their services; or someone who gets to know you and expresses an interest in the challenges you're facing without initially bringing up what their company does or how they can help you. If you're like 99% of business-people I talk to, the answer is resoundingly the latter!
Yet recruiters often don't apply this logic to LinkedIn activities.
If you want to win new clients on LinkedIn, an InMail out of the blue to introduce your services is unlikely to produce results unless the client is really in dire straits. Similarly a cold approach to a candidate has only a low probability of success. You'll find you have far more success if you build your presence in the market, interact with people in groups, comment on people's updates…generally show an interest in them and in being a helpful contributor in your industry. Then when you do approach people with an InMail yours is far more likely to be a name that they know and trust.
6. Take the time to personalize your messaging
This one's straightforward. If people feel you have written to them personally – rather than firing out a message in bulk – then they are far more likely to respond favorably to the approach. The recruiters having the greatest success on LinkedIn invest time to make sure that every interaction and every message is personalized and makes the recipient feel valued.
7. Add "Apply with LinkedIn"
If you're going to engage with candidates on LinkedIn, it stands to reason that every candidate you reach already has a LinkedIn profile. So in the interests of maximizing the number of quality applicants who apply, it's well worth adding the ability to "Apply with LinkedIn" to your careers site – so that you don't limit yourself to only getting applications from people who have a CV or Resume prepared.
8. Test, learn, test
Whichever social site you're using – and whatever your end goals – you should always be experimenting with what works and what doesn't work. You should always collect data to determine which of your social approaches is working best – and then on an ongoing basis be tweaking and refining what you do to see if you can ramp up your results further. Whether you're publishing content on LinkedIn, running pay-per-click campaigns or listing your latest vacancies, data will help you determine which activities are worth continuing with – and then to refine those activities ever further until your results are optimized. What works well in one industry or geography may not work at all well in another, so you have to do this data mining for yourself rather than relying on the experiences of third parties.
9. Check your LinkedIn score
One quick win you can action straight away is to take a look at your social selling score, an index with which LinkedIn will score your own activities and therefore the visibility and effectiveness of your individual LinkedIn profile. By comparing your score with the average in the industry you'll get some great insights as to where your shortcomings lie.
10. Become an expert at searching on LinkedIn
Last but not least, don't rely on basic LinkedIn searching to find candidates for your openings. Instead use advanced LinkedIn search techniques to track down candidates on LinkedIn – both from within and from outside of LinkedIn. Companies like SocialTalent can help you understand how to use advanced boolean searches to expand your results on LinkedIn – and thereby uncover more candidates for each vacancy you are working on.
I hope these ideas help you to attract and engage with many more candidates on LinkedIn over the coming months. As always your comments are welcomed in the box below.
About the Author
Tony Restell is the Founder of Social-Hire.com and helps candidates and recruiters leverage social media. You can find Tony on Twitter; or join him on one of his forthcoming webinars where he'll walk you step by step through the processes he uses to get results for recruiting teams on social media.