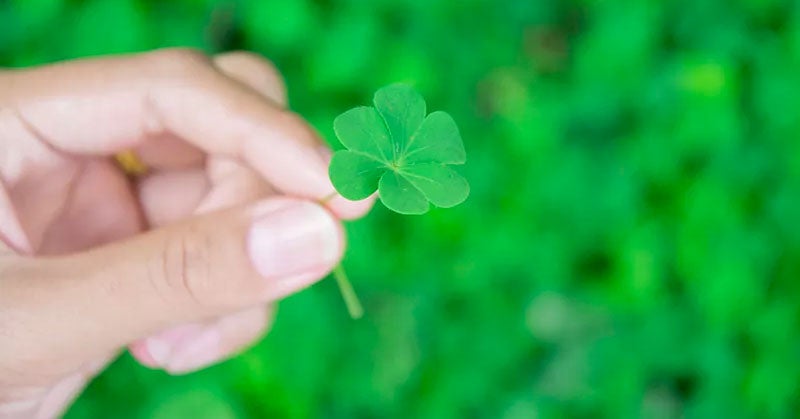 In today's war for talent, it can easily become a hectic environment for recruiters. It's not like you can find a four-leaf clover and all your problems will be resolved. It can be great to have luck on your side, but sometimes you just need some help to guide you in the right direction. Here are four things to consider to help boost your luck in recruiting:
???? 1. Understand Who You Are Hiring
This may seem like an obvious one, but this is easier said than done. It's important to get a good fit for the role right from the start because a lot of employee turnover happens within the first 45 days of employment. To ensure you're hiring the right person, recruiters need to:
Ensure job descriptions are realistic and clear.
Ask about their future plans, not just current skills. You want to hire someone who sees a future with you, not just a quick stint.
Focus on soft skills such as leadership, temperament, or emotional intelligence as well as technical capabilities.
Let the candidate ask questions and be honest with your answers. You want to accurately represent the job as well as assess their curiosity and attraction to the role.
???? 2. Employment Branding
Is your company's message compelling enough to bring them to the table? When it comes to attracting top talent, companies are going to have to bring more than just a competitive salary and employee perks. Job seekers are looking to join organizations that essentially serve as an extension of themselves—with similar missions, vision, values and goals in line. In fact, more than 75% of job seekers consider an employer's brand before even filling out an application. Your career site especially functions as a window into your unique culture and brand. Here are a few things to consider when telling your company's story through your career site:
Power up your employment branding. When job seekers look at your company's career site, they should instantly understand your company identity, personality, and values. If your brand is not fully and engagingly incorporated into your career site, then potential candidates may look elsewhere.
Tell your story visually. One of the most important things your career site can accomplish is the visualization of life—not just work—at your company. Photos, illustrations, videos, and social media feeds can shape the story about your company's culture, work atmosphere, and the opportunity offered.
???? 3. Candidate Engagement
According to the Bureau of Labor Statistics, the United States unemployment rate fell to 3.7% in October 2018, a record low since December 1969. Today's job market is a candidate-driven environment, and young job seekers are looking for company cultures where they'll be acknowledged and encouraged to grow. An effective Continuous Candidate recruiting strategy encompasses a fresh focus for recruiters and hiring managers to deeply engage with candidates in meaningful ways. The top two requirements for Continuous Candidate Engagement are:
Supports every stage of the candidate journey, from 'first look to first day' — Delivers a single source of truth spanning the expanded recruiting process: from recruitment marketing to the hiring experience and new employee engagement.
Enables deep engagement with candidates at the right time, with the right message — Supports meaningful experiences for every candidate and creates brand consistency at every touchpoint: career website, marketing campaigns, hiring, onboarding.
???? 4. Applicant Tracking System
Technology is your friend. Within just a few clicks, a robust ATS tracking system will give you the competitive edge you need to streamline your entire hiring process. You'll gain the ability to:
Automate repetitive tasks.
Zero in on the best candidates.
Attract more candidates by making the application process simple.
Track every touchpoint you have with every candidate.
Forget the hiring agencies and job boards! Rare talent often won't appear on resumes, so your hiring department faces a big challenge. Recruiting software can automate many screening functions, search for unusual keywords, and expand searches to include social media tracking and integrations with third-party employment agencies. Using social media platforms, the software can look for keywords, behavioral patterns, and even what kind of products and websites interest potential job candidates.
Still Feeling Unlucky? Then Remember This…
As a recruiter, when things are not going your way and you're feeling unlucky due to losing a great candidate, budget cuts, or lack of communication from a hiring manager— try to keep the following in mind: Consistency WILL pay off! If you continue the outreach to a candidate or hiring manager (text, email, voicemail, social media), the message will be heard. While things might not be going your way at the time, candidates will see you as someone who cares due to your consistency. This will pay off for you at some point…might not be immediate, but it will pay off! Patience AND Positivity! We all have those moments where things don't go as planned and we feel very unlucky – candidate goes rogue, negative interview feedback, drastic change in compensation expectations. Whatever the case may be, stay positive. Try to avoid sending a response right away and when you receive an unfavorable message, reply once that unlucky moment has passed. Your message will have more meaning and come off more professional and trusting than had you sent it immediately!