This is our third year to conduct a survey among recruiting and human resource professionals on the use of social media for recruiting. The information people provide about their social recruiting practices helps us all gain deeper insight into how social media is changing the landscape of hiring.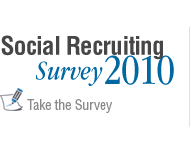 When we started, we measured how many people were using social networks for hiring and which networks were used. This year, we've added new questions that delve into more detail.
If you use social media for recruiting, what are your objectives?
How do you measure the impact of your social recruiting programs? (Or do you measure it?)
Through which social networks have you hired?
We also ask respondents to put social recruiting in context of the other recruiting investments you make.
How much investment will you make in a range of sources?
How do these sources compare in quality?
The survey will be open for participation until June 2 and we invite you to share your experiences and outlook with us. After the survey is closed, everyone who completes the survey will be sent a report with the aggregate results and analysis.
Take the Jobvite Social Recruiting Survey.