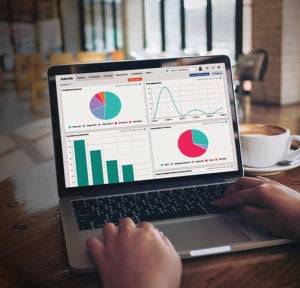 A recruiter's value to an organization is measured by the number of open jobs they can fill and how quickly they can fill them. When positions go unfilled, organizations lose money – bottom line.
So even while candidate engagement and quality of hire grow in importance, recruiting is still a numbers game. Recruiters need to know if they'll hit their number for the month, and they need to know before it's too late. In this role, speed and timing are everything.
Recruiters, leadership, and the hiring teams around them, need to know their key recruiting metrics and answer questions like:
How many of their requisitions remain open and why?
Which requisitions need the most attention?
Which workflow steps are causing the biggest bottlenecks?
These are the types of questions Jobvite's new Dashboard Analytics aims to answer.
The new real-time dashboard is made up of pre-built charts that come out-of-box to let recruiters know exactly where they stand in meeting their specific recruiting goals. Each chart is easily customizable by the end user to display the metrics that matter most to them.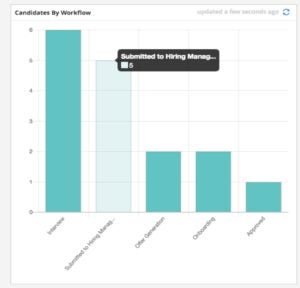 Dashboard Analytics allows recruiters to proactively keep an eye out for potential bottlenecks in the recruiting process. For example, the Candidates By Workflow chart displayed to the right shows a large number of candidates remaining in the Submitted to Hiring Manager workflow step. We know that waiting for hiring managers to move candidates through the hiring process creates the biggest bottleneck for recruiters according to the 2018 Jobvite Recruiter Nation Survey. A recruiter who sees a large number of candidates waiting for hiring manager approval in a Dashboard Analytics chart like this one can take the following actions:
Hover over the bar to see the exact number of candidates currently in that workflow step
Click on the bar to go to the exact list of candidates in that workflow state
View which hiring managers need to be reminded to approve or reject those candidates
Send a note to those hiring managers to move candidates along in the process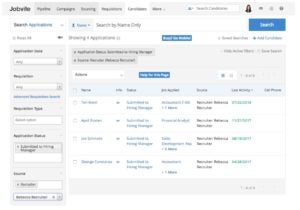 Dashboard Analytics helps recruiters spot and immediately address potential bottlenecks in the process early on before they become real issues. This helps recruiters up their game and become more proactive, data-driven, and strategic in their role.