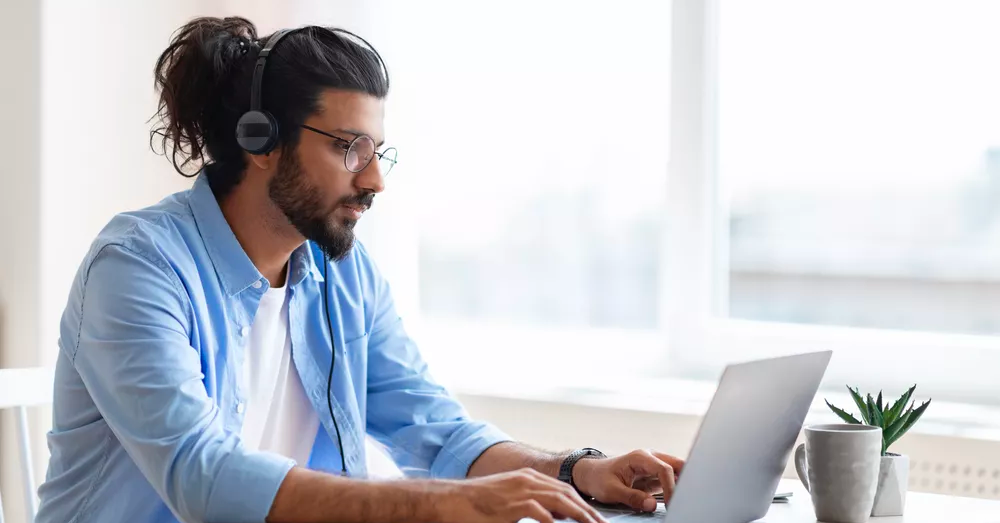 Whether you're trying to organically identify passive candidates who are seemingly strong fits for available positions or entice active candidates to apply to your paid job listings, social recruiting is a highly valuable part of your recruiting process that can greatly bolster your talent pipeline.
Simply put, the benefits of social recruiting (i.e., publishing job postings to popular social media platforms and proactively reaching out to users on said social networks) are many. Notably, you can:
Conduct deep-dives into the profiles of prospective candidates to learn more about them
Pay to promote your open roles to target segments of candidates to get more job applications
Have members of your workforce share your postings to generate more employee referrals
Showcase your company culture and employer brand via your organization's business profile
Your social media recruiting strategy is (and likely will remain) a critical component of your talent acquisition approach — one that helps you turn potential candidates into new employees with ease.
And there's on particular channel that should be the central focus of your social recruiting work today.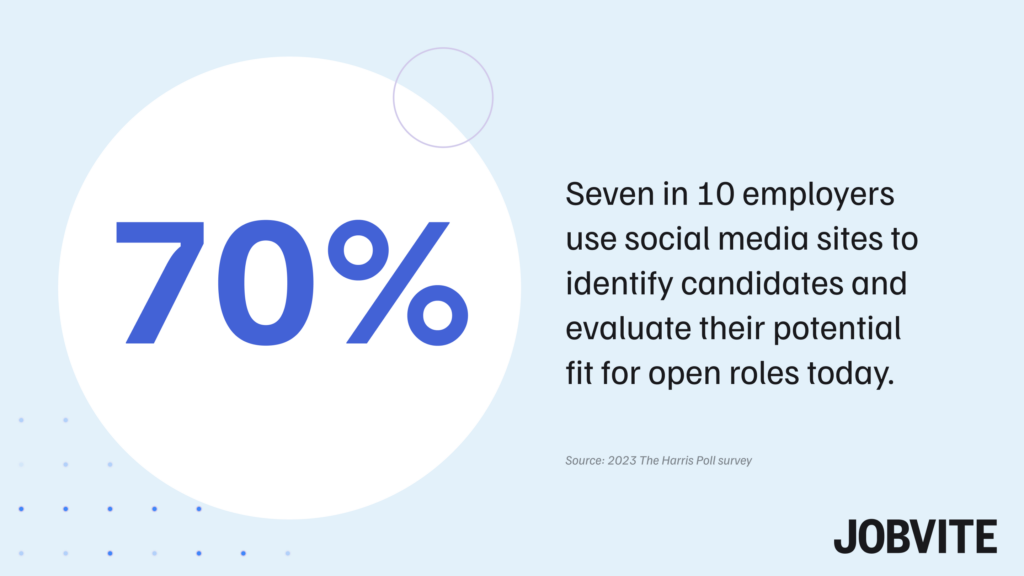 10 LinkedIn-centric social recruiting tips
LinkedIn is the top social network for business professionals for good reason. The platform connects millions of companies and individuals across the globe and makes it easier than ever for the former to amplify reach of their job openings and the latter to augment their networks of like-minded pros.
When it comes to talent teams like yours, LinkedIn is the premier place to find a steady stream of ideal candidates whose backgrounds, areas of expertise, certifications, and skill sets align closely with requisitions they've been assigned.
Thus, LinkedIn is an optimal place to source and nurture top talent.
If you want to optimize your social recruiting efforts on the channel, you've come to the right place. Here are 10 tips to help you and your TA team better connect with premier candidates on LinkedIn.
1) Define your recruiting messaging strategy
As with any type of recruiting, messaging is key. Work with your hiring team to solidify your recruitment messaging before you start posting and engaging on LinkedIn. Create a messaging guide for easy reference when creating new campaigns that any recruiter can access and use.
Factor in posting cadence, personalization, and language to create a consistent brand message.
2) Automate sourcing to match leads with job reqs
Automation and AI are helpful ways to source your talent network when a new job is posted. They save time and effort of recruiters by filtering through digital piles of resumes.
Use your LinkedIn candidate pool to match skills and experience with job requisitions your team has been assigned in recent weeks to get a head start against competitors with sourcing.
3) Personalize messaging
Nobody wants to get spammed with a generic message about a job opportunity that's completely irrelevant to their skills and experience. Long gone are the days of mass messaging candidates.
Today, it's more important than ever to deliver bespoke, personalized messaging to candidates based on their interests, experience, activities, and network connections to maximize engagement.

4) Develop a content strategy tied to your "EVP"
Social recruiting on LinkedIn isn't all about messaging candidates and posting job requisitions.
An effective social recruiting strategy on the network entails posting high-quality content to your feed (and often — think twice daily) that communicates your strong employer value proposition.
This is a great way to share with candidates your company values, progress with ongoing DEI initiatives, and employee stories (even videos) to show them why they would love to work there.
5) Use tools to invite applicants and engage users
Integrating LinkedIn with your ATS doesn't just make it easier to filter applicants. It also offers automated tools to make engaging with your talent network more efficient. Your recruiters can utilize these tools to send invites to candidates and compel them to apply for a newly posted position.
Put plainly, these tools save time and effort for TA teams, especially in high-volume hiring.
6) Update your employer profile on LinkedIn
Your company LinkedIn profile should give candidates an idea of what it's like to work for you. Go beyond just filling out your business address and contact information.
Your company feed is a great place to share employee stories, thought leadership in your industry, company updates, and more. Keep your profile active to keep your talent network engaged.
7) Share relevant content with top prospects
One of the best ways to engage with a candidate is to show that you care about their interests. LinkedIn is full of great content on the latest trends in work. Find an article that would resonate with them and either share it with them or comment and tag them.
This extra step of personalization will help you stand out and connect.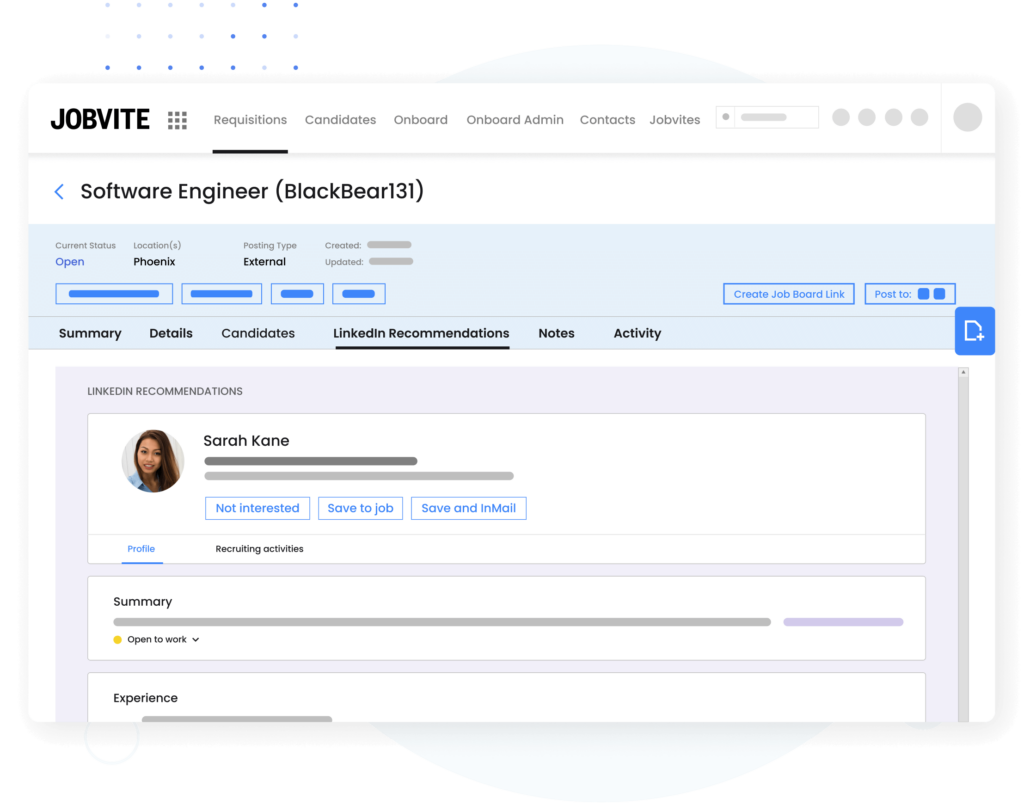 8) Utilize one-click applications and text to apply
Candidates are always on the go and want an easy application process. Don't make them jump through hoops by creating an account on your career site to apply for one job. Utilize easy apply features like One-Click Apply on LinkedIn to allow candidates to easily apply from anywhere.
9) Track metrics to improve strategies
As with all recruiting strategies, it's crucial to analyze key metrics when testing a new recruitment marketing tool. Look at KPIs like candidate conversion rate, career site visits, and post engagement to see what content is resonating with candidates, and how easy it is for them to find what they need.
The best recruiting teams constantly use their data — more specifically, built-in analytics in their ATS — to look for ways to improve candidate experience as well as time saves for recruiters.
10) Utilize three key integrations with LinkedIn and Jobvite
Jobvite was the first applicant tracking system to offer three key integrations with LinkedIn to provide recruiters and job seekers alike with a better experience with finding open roles and active candidates.
Our direct integrations with LinkedIn help talent specialists quickly identify job seekers whose experience matches those tied to current openings and verifies their information. This eliminates the pain of sourcing on multiple disconnected systems and, ultimately, reduces time to hire.
Accelerate your social recruiting strategy and better connect with candidates on LinkedIn and other popular job boards by onboarding our ATS for enterprise talent teams.